12 Bathroom Sink and Vanity Ideas
Sweeten breaks down the styles & benefits of bathroom vanities & sinks
There really are no rules when it comes to picking out vanities, or frankly, any materials, for your renovation. Of course, your fixtures actually need to fit in the space, but aside from that, the style, shape, color—are all up to you! To give you a jumpstart, we broke down different vanities and sink options you can choose from, highlighting their benefits, and showing examples from Sweeten homeowners' own sinks and vanities. 
Pedestal Sinks
If you don't need a lot of bathroom counter or cabinet space, and want a no-fuss, no-muss sink situation, pedestal sinks are the way to go. The classic style is also great for guest baths or powder rooms. In Charon and Lex's green bath, the sink's square base and basin have a more traditional vibe, while in Amy's black and white bathroom, the rounded edges skew more contemporary.
(Above) A pedestal sink in Charon and Lex's renovation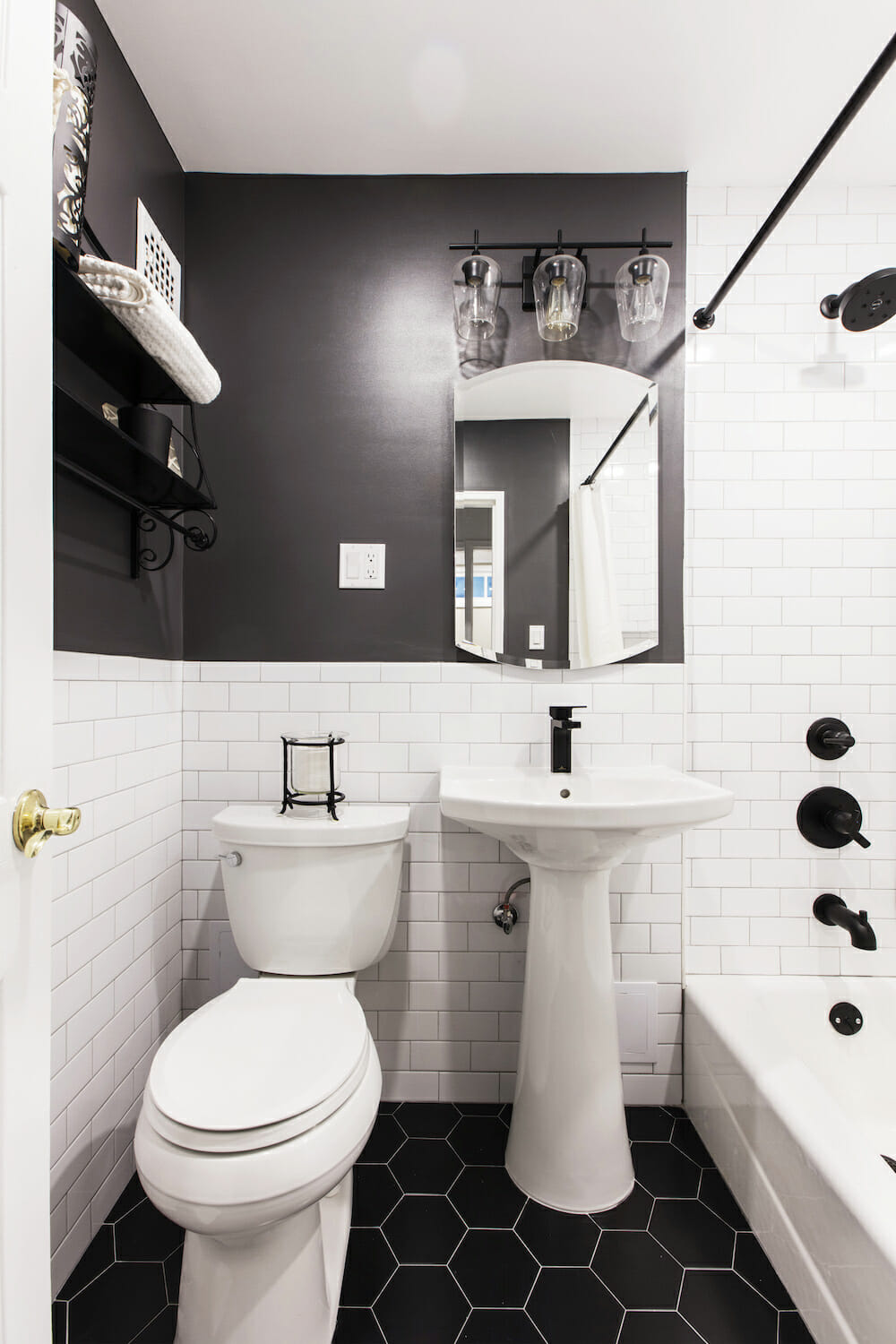 (Above) A pedestal sink in Amy's renovation
Open console sinks
Console sinks are space-savers (similar to wall-hung toilets!). Since they're completely open at the bottom you can add storage bins or baskets underneath, but unlike closed, free-standing vanities, still see the wall and floor (which makes a bathroom look bigger.) They're great for homeowners with more classic or traditional style, like Jeremy and Chris, though can have a more modern look, as seen in Rita and Mark's.
Above) A console sink in Jeremy and Chris' renovation
(Above) A console sink in Rita and Mark's renovation
Vanities with under-mount sinks
Self-rimming sinks were a long-time popular choice in bathrooms, but in our renovations, we've seen under-mount sinks take over. They're installed from underneath the countertop for a seamless look. In one homeowner's bathroom, her contractor installed the under-mount sink to the side of the vanity to allow for more counter space. In Lisa and Chris', it's at the center of the wall-hung vanity. 
Renovate to live, Sweeten to thrive!
Sweeten brings homeowners an exceptional renovation experience by personally matching trusted general contractors to your project, while offering expert guidance and support—at no cost to you.

Start your renovation
(Above) Vanity with an under mount sink in a homeowner's renovation
(Above) A vanity with an under mount sink in Lisa and Chris' renovation
Free-standing vanities with vessel sinks
Instead of a sink dropping into a vanity, vessel sink basins sit on top and make a statement all their own. The basin may take up more of the counter, but if you opt for a vanity with cabinets or drawers, like in the renovators' bathrooms pictured below, you can more than make up for it.
(Above) A vessel sink in Amy and Nick's renovation
(Above) A vessel sink in Mimi's renovation
Vanity bathroom-top sinks
Instead of installing a separate sink and countertop, you can also purchase one combined sink and counter unit. Some manufacturers sell the vanity base with the sink, too. Michelle and Nate's is one such piece with matching drawer and sink hardware. Saira's vanity can be purchased in either configuration.
(Above) Bathroom vanity-top sink in Michelle and Nate's renovation
(Above) Bathroom vanity-top sink in Saira's renovation
Wall-hung vanities and sinks
If your goal is to free up floor space, wall-hung sinks and vanities are the solutions. They also make cleaning easier, since there are fewer nooks and crannies to work around. To take the space maximization to the next level, you can also hang the faucet fixtures on the wall, too. Erin and Chris' master bath was short on square footage, so a small wall-hung sink proved the best fit, whereas Nancy's bathroom had plenty of room for a full vanity.
(Above) A wall-hung sink in Erin and Chris' renovation

(Above) A wall-hung vanity in Nancy's renovation
Feeling inspired by these bathroom vanities and sinks? Tell us about your renovation project to meet expert contractors in your area!

For more on bathroom remodeling, check Sweeten's bathroom remodel cost guide and advice on permitting for bathroom projects.
Originally Published July 29, 2019
Updated on August 25 2023
Sweeten handpicks the best general contractors to match each project's location, budget, scope, and style. Follow the blog, Sweeten Stories, for renovation ideas and inspiration and when you're ready to renovate, start your renovation on Sweeten.