OUR STORY
How one woman's renovation disaster transformed an industry
Jean Brownhill, our founder, is a trained architect with years of high-end residential and commercial renovation experience. Naturally, she assumed she'd sail through her own home renovation. She didn't. After suffering a botched renovation she started wondering how regular people—anyone without her experience and professional credentials—could ever manage renovating on their own.
She also realized that on the other side, general contractors struggled to grow their businesses, often feeling pressure to take on jobs they lacked the expertise to handle.
Jean saw the need for a new approach, and so in 2011 she started Sweeten. Our company quickly grew from a desk in Jean's spare room to to over $2B in projects posted to the platform along with a growing network of the nation's most qualified general contractors.
OUR Mission
Transforming homes, one vision at a time
We believe that a fulfilled life starts at home—and that everyone's home should serve their needs, inspire their dreams, and express their unique vision. We work to bring every kind of vision to life, for every kind of home and every kind of family. And we do it with a minimum of stress and risk. Our formula:
Your vision + Our expertise
= Home sweet home.
How do we do it? Along with our expertise and enthusiasm, we bring our growing network of Sweeten general contractors. These contractor-partners are our lifeblood. They've met or exceeded standards that set us far apart from our competitors. Those who qualify typically stay with us for many years. We believe in long relationships, and we want to see the good people win. Homeowners trust our contractors because we stand behind them. We trust them with our own reputation, and publish contractor reviews from previous clients—with full transparency.
See more about our general contractors
Lexi Entire home renovation Sweeten, 2019
Liz & Kevin Bathroom renovation Sweeten, 2020
Arnish Kitchen renovation Sweeten, 2019
Mickey Kitchen & bathroom renovation Sweeten, 2020
Christine Apartment renovation Sweeten, 2017
Cassandra Juice bar renovation Sweeten, 2017
Jaime & Guy ADU & home renovation Sweeten, 2020
Ylia & Andre Entire home renovation Sweeten, 2019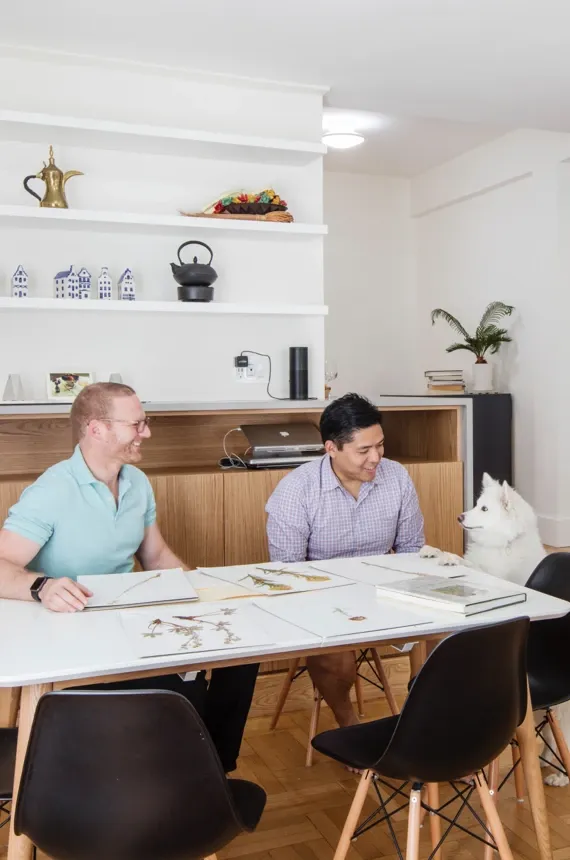 Joel & Eric Kitchen renovation Sweeten, 2017
Martha Apartment renovation Sweeten, 2019
Gayle Entire home renovation Sweeten, 2019
Kasey Kitchen renovation Sweeten, 2017
😘 We are proud of our contractors!
Transforming construction, with equitable access for women and minority contractors
The general contracting industry offers unmatched upward mobility, with a direct path from worker to owner. In order to open this path to everyone, we actively seek contractor firms owned by women and minorities, and we work tirelessly to help them succeed. Today, these firms make up 11% of our network. That number is constantly growing, and includes many of our most skilled and successful general contractors.
Sweetening the Nation
Sweeten has now performed 2,000+ renovations, and has expanded from the Greater New York area to the West Coast, the Midwest, the Southeast, New England, Texas, and Washington DC, with more regions on the way. Our next goal: become such a known and trusted company that people everywhere talk about Sweetening their homes.
Sweeten founder Jean Brownhill on renovation, vision, and values, after winning a 2020 Goldman Sachs Builders & Innovators award
👋 Join us
We're a team of super-ambitious and fun people who are fascinated by construction, design, and tech—and we're dedicated to building the go-to marketplace for major renovations.
See openings