Building a better, balanced future in construction
The Sweeten Enterprise platform connects Minority and Women-owned Business Enterprises (MWBE) with developers and prime contractors for major construction projects.
Our unique platform brings an unparalleled level of transparency, innovation, and inclusiveness to Minority and Women-owned business participation. We combine industry expertise, sophisticated algorithms, and a robust database of certification records.
Just a few of the many Minority and Women contracting firm owners in the Sweeten Network
How Sweeten Enterprise Works
Database of aggregated & verified MWBE companies
Automated data collection & tracking
Intuitively designed platform
Real-time reporting & predictive analytics
Our platform gives everyone the tools they need to get to work—on the real work
For Prime Contractors & Developers
A thorough, searchable, digital database providing up-to-date and verified information on Minority and Women-owned companies.
For Municipalities
Clear, accurate tracking and reporting of Minority and Women owned-companies, using several key performance indicators.
For MWBE Companies
Unprecedented access to growth opportunities, including public works contracts in your communities.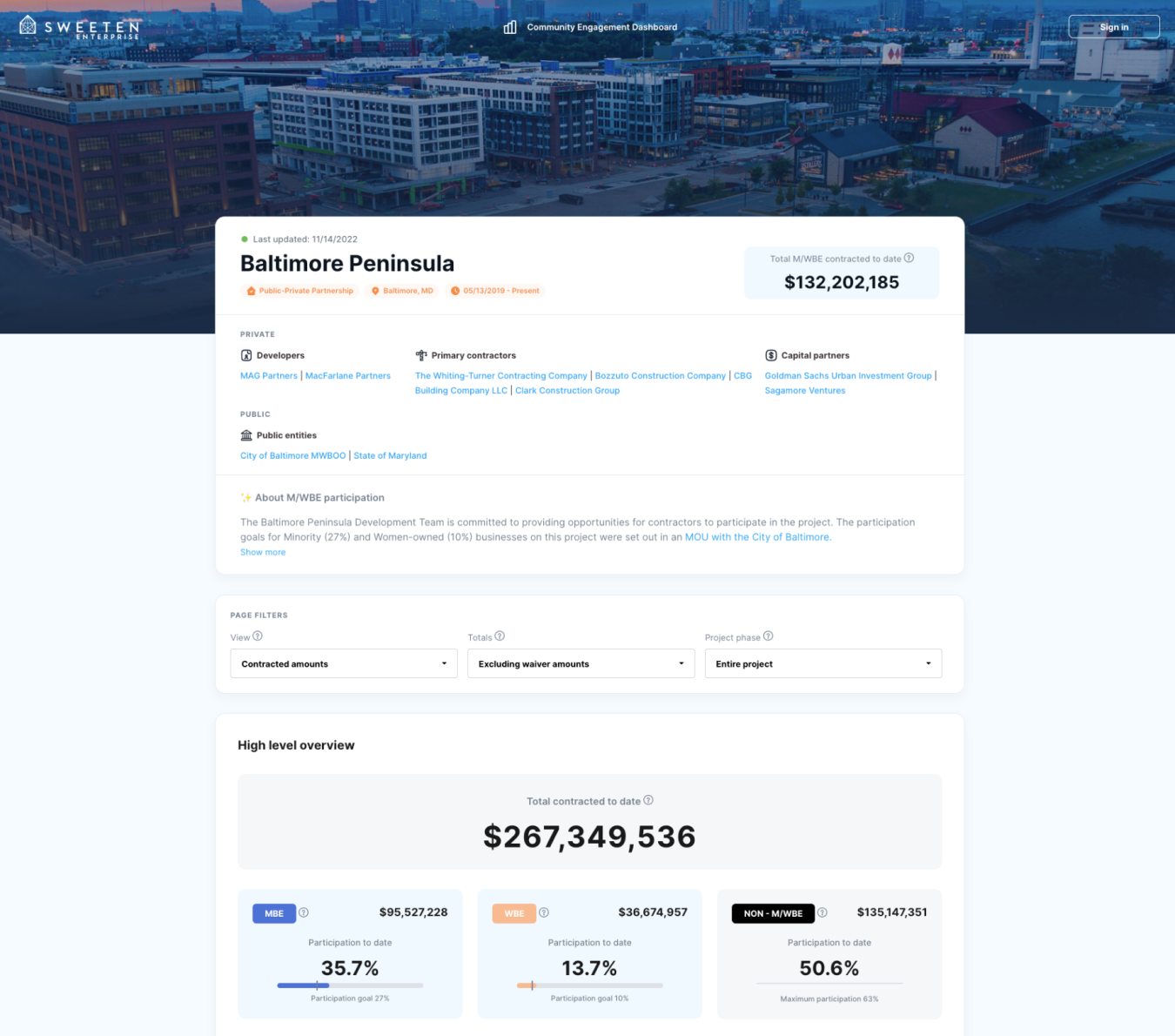 Introducing:
Community Engagement Dashboard
Publically Available
Radically Transparent
Detailed information about MBE & WBE hiring
Additional Sweeten Enterprise Features
Certified Directory
A truly modern search and filtering tool that makes it easier to find and manage qualified M/WBEs.
Procurement Match Tool
Functionality that handles both posting and centralizing contract opportunities for MWBEs, while providing the ability to browse and filter by NCAIS codes.
Good Faith Effort System
Supports prime contractors and the good faith effort process by allowing real time ability to monitor which MWBE firms have been contacted and their response.
Product Pillars
Accessibility
Expose opportunities for MWBE firms to compete for new work
Transparency
Share data across the ecosystem for everyone's benefit
Growth
Equip and empower MWBE firms to realize their full potential
Case Study: Baltimore Peninsula $5.5B Waterfront Redevelopment
The Baltimore Peninsula project team – MAG Partners, MacFarlane Partners, Goldman Sachs Urban Investment Group, Sagamore ventures – partnered with Sweeten Enterprise to provide an insightful, sustainable solution that allows Baltimore developers and prime contractors the ability to source great MWBE talent and engage with them in an efficient and measurable way, while reducing the burden most MWBE firms face when trying to participate in these projects. Sweeten also created the Community Engagement Dashboard, a public portal to help the community stay up to date on the project progress.
Learn more about the project
What our MWBE contractor partners say about us
"With Sweeten, I can see multi-million dollar jobs as well as smaller jobs if I need to fill in my schedule. Clients share valuable feedback with [Sweeten] that they can in turn share with me to help my company grow."
Leah
Sweeten Contractor since 2017
"Sweeten's app and website are easy to use, and it's easy to accept leads. We enjoy the account manager relationship."
Maisha & Saladin
Sweeten Contractors since 2018
✨ Learn more
Minority and Women-owned companies
Are you ready for Sweeten to help you grow?
Register here
Prime Contractors
Are you looking for a simple, effective solution for reaching your participation goals?
Connect with us
Municipalities
Are you ready to make your MWBE certification program more efficient and effective?
Connect with us