Wall-Hung Toilets: A Look at Behind-the-Scenes
If you love the sleek lines of the "floating toilet" style, here's a technical checklist
(Above) Kusum and Dave's wall-mounted toilet in a converted attic remodel
Why wall-mounted toilets are popular
Once prevalent in European commercial spaces, the sleek and smart design of wall-hung toilets continues to be popular in U.S. residential homes. Consider the benefits: the ease of cleaning with no more hard-to-reach spots, the gaining of valuable floor space, and more water-efficient options. For the latter, look for the Environmental Protection Agency's WaterSense label to find a low-flow model that uses 1.28 gallons per flush or less.
Its minimalistic flair is a solution for awkward, tight spaces or that dream powder room with limited square footage. If a general bathroom remodel is already in the works, an experienced general contractor can assess if your space is suitable for this type of fixture.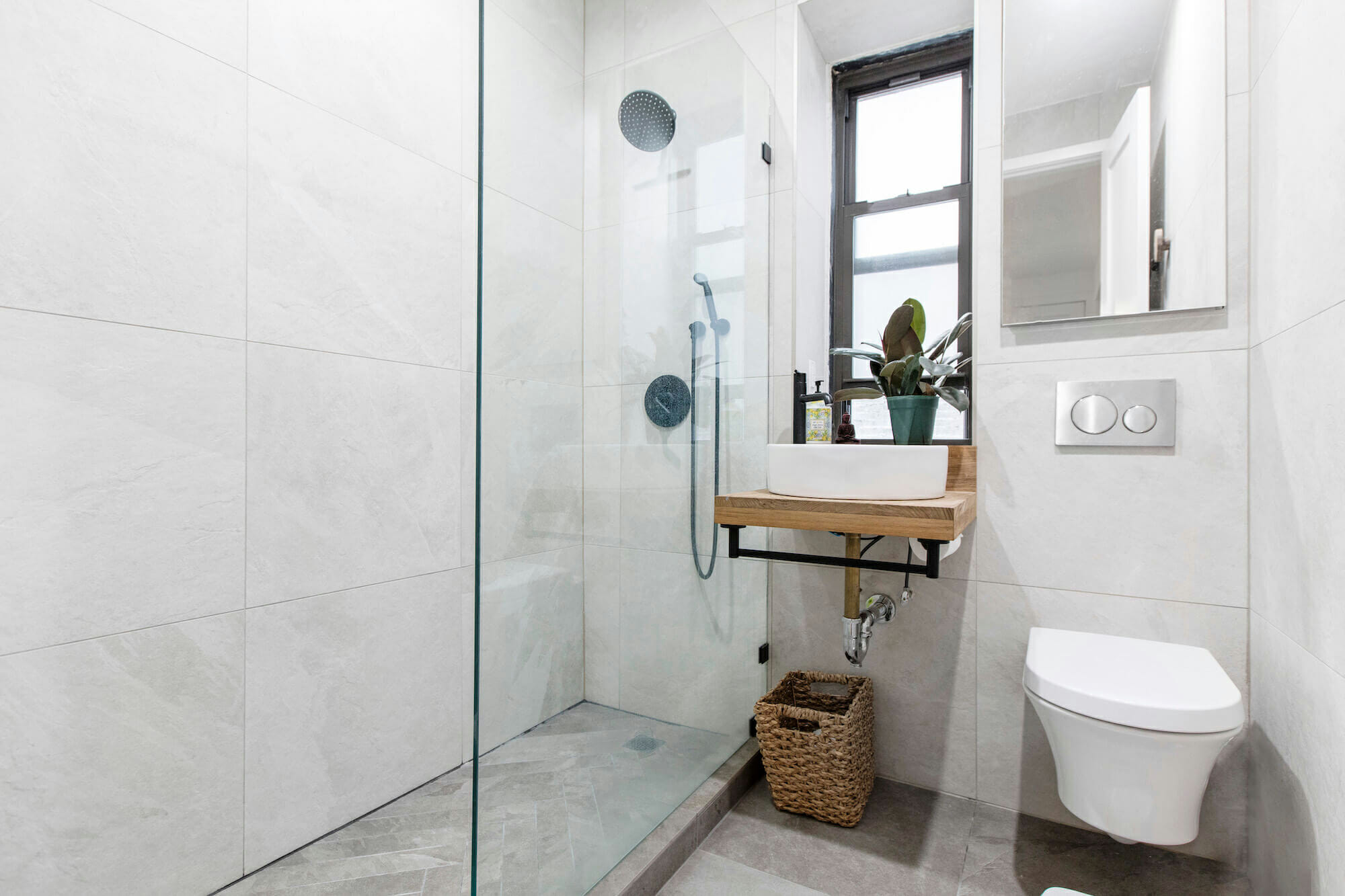 (Above) In Ylia + André's bathroom renovation, the wall-hung toilet added a clean new look.
Renovate to live, Sweeten to thrive!
Sweeten brings homeowners an exceptional renovation experience by personally matching trusted general contractors to your project, while offering expert guidance and support—at no cost to you.

Start your renovation
Do you have room behind your walls?
The most distinctive feature of a wall-hung toilet is that the water tank and plumbing hardware are concealed behind the wall, making the style ultra sleek. If you plan to switch from a conventional toilet to a wall-hung one, you will need to:
Take down your wall
Confirm there is enough room inside of it to accommodate the in-wall system and additional bracing
Have your contractor modify the plumbing/waste system
This upgrade can work well with a full bathroom renovation. However, it may fall into the more-trouble-than-it's-worth category if the toilet is the only feature you'd like to change. In a full gut renovation, your contractor will have a better idea of the depth and/or contents of your wall after taking it down to the studs. Then it can be determined what special accommodations may be necessary, including:
Build out the wall an extra inch
Work with your apartment building to adjust the plumbing
Change the spacing between the studs
Adjust the location of the toilet
There are other points to consider with a wall-hung toilet. Be flexible in your design to navigate unforeseen challenges. Sweeten contractor Claud installed a wall-hung toilet in a Brooklyn bathroom for a Sweeten client. "You won't be able to install this type of toilet in many NYC condos and high-rises. High-rises frequently have concrete slab subfloors and the board won't allow you to break through them," he explained. "The toilet sits on a floor flange embedded in the concrete."
However, owning a house allows you to alter the plumbing system. Claud said of a client's house, "We had the luxury of breaking a hole through the bathroom floor and through to the basement ceiling."
Maintenance and repair of a wall-hung toilet (AKA "floating" toilets)
Licensed professionals should be installing wall-hung toilets—and with great care. Since all hardware and plumbing are located behind the walls, future maintenance will require going back into the walls if any issues arise. Most wall-hung models include an easily removable flush plate that doubles as a maintenance entry point into the wall.
(Tip: Keep a few extra wall tiles or a pint of your wall paint in storage just in case a necessary repair arises.)
Sold separately or together?
A complete wall-hung toilet system includes the bowl, in-wall tank, carrier, and seat and can be purchased together. Pieces can also be sold separately.
Work closely with your general contractor to determine what you need to order. As Claud explains, "I ask homeowners for the specs of their dream toilet. This means they download a specification sheet from the manufacturer's website which explains all the details in order to install the toilet. The spec sheet shows me the plumbing connections and dimensions I need to know."
Experienced contractors should install a wall-hung toilet
Your general contractor will guide you on ordering the right toilet model and all of the component pieces that will work best for your space.
—
Originally published on August 3, 2022
Updated on August 11, 2023
Sweeten handpicks the best general contractors to match each project's location, budget, scope, and style. Follow the blog for renovation ideas and inspiration and when you're ready to renovate, start your renovation on Sweeten.