Support Black-Owned General Contractor Companies with Sweeten
Support Black-owned general contractors and contracting firms
At Sweeten, we value every client's vision for their home. And we value our shared vision for a better, more just, and inclusive world including the Black-owned general contracting firms on our platform.
Many Americans are now wondering how they can best effect change. One way is to hire professionals from groups who have historically been overlooked, and provide opportunities to those who have had to work harder to succeed. Please consider supporting the following Black contracting professionals. Sweeten heartily stands behind their work. 
Sweeten matches home renovation projects with vetted general contractors, offering guidance, tools, and support—for free. Learn more about how Sweeten works.
Sweeten General Contractor Saladin | NYC
General contractor Saladin co-owns his contracting firm with business partner and project manager, Maisha. They joined Sweeten back in 2018. Servicing all of New York City, Saladin can complete full-service gut renovations, additions, decks, and basement remodeling. Additionally, their firm specializes in kitchen and bathroom remodels.
Maisha is also featured in our 5-part series on women general contractors. At Sweeten's annual awards ceremony for their contractors, the firm earned the 2019 Breakout Performance Award. Sweeten featured two of their projects on the blog: Kyli and Luke's 1920 home remodel (top image), and updating the brownstone of actor Danielle Brooks of Netflix's Orange is the New Black (bottom image). Click here to read reviews and see more of Saladin's work.
Sweeten General Contractor Darrell | Washington D.C.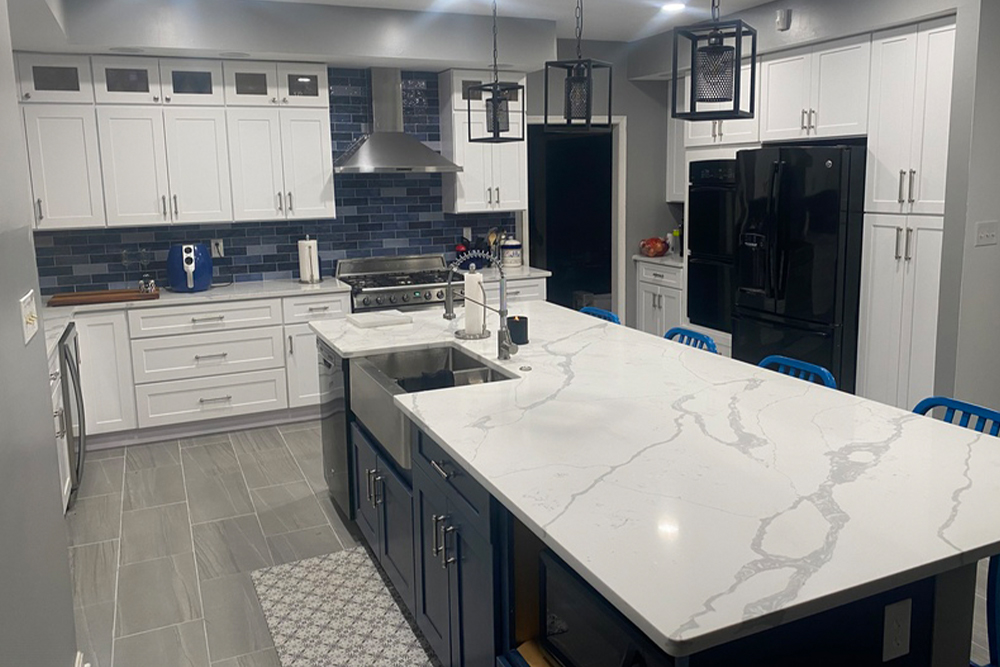 Based in Lanham, MD, Sweeten general contractor Darrell provides homeowners with service in Washington D.C. and surrounding areas. His 25 years of experience includes general contracting, architect referrals, and light creative support. He brings attention to detail for every project he works on. Darrell has completed two Sweeten renovations since joining in 2021. Click here to read reviews and see more of Darrell's work.
Sweeten General Contractor Kimberly | Atlanta
Sweeten general contractor Kimberly is the owner of a design-build firm in Atlanta, a one-stop shop for architectural design, construction, landscaping, and interior decor services. She has experience in full-home remodels, in addition to commercial outfittings. Kimberly understands the current economic climate and works with clients to provide financing options when needed. She is also featured as one of Sweeten's woman-owned firms in a 5-part series on women general contractors.
Her clients give her five stars, and maybe even more importantly, have reported that they intend to use her company for future projects. Kimberly completed a Sweeten bath project which was featured on our blog (bottom image). Click here to read reviews and see more of Kimberly's work. 
Sweeten General Contractor Pat | New York
New York-based contractor Pat has been with Sweeten since 2017. His firm provides general contracting, architect referrals, light creative support, and millwork. They are also family-owned and operated. Sweeten homeowner Jueul J. noted, "They are a very reputable and dependable company. Their workmanship is excellent and their attention to detail is very comforting. I really appreciate how neat and clean they are. I highly recommend them." Click here to read reviews and see more of Pat's work.
Sweeten General Contractor Carlos | Dallas
General contractor Carlos has been with Sweeten since 2020. With an all-around 5-star review, his firm has succeeded in putting a smile on each of its homeowners' faces. Focusing on the Collin, Dallas, and Tarrant areas in Texas, Carlos can handle your scope of work from general contracting and architect referrals to light creative support. His primary goal is meeting the customers' needs and building strong relationships. Melinda S. notes her "project went very smoothly. They handled a difficult and picky customer very gracefully." Click here to read reviews and see more of Carlos's work. 
Sweeten General Contractor Gerald | Virginia (Washington DC area)
Sweeten general contractor Gerald can be found remodeling homes in the Northern Virginia area, specifically Arlington County and Fairfax County. With 15 years of construction experience, his services include general contracting for whole homes, exteriors, kitchens, bathrooms, or basement remodeling. Projects range from small to large, including installing Ikea cabinets and home additions. Gerald helps his clients with permits, board approvals, architect referrals, and light creative support. Click here to read reviews and see more of Gerald's work. 
Sweeten General Contractor Daren | New Jersey
General contractor Daren runs his family-owned design-build firm out of Montclair, New Jersey. He has been part of Sweeten since the beginning of 2018. Daren's renovations are primarily in the Bergen and Essex County areas providing all aspects of residential design, interior architecture, renovation, custom millwork, and construction project management. Yael L, a past client of Daren's said: "They do not cut corners and they follow their proposed budget. They spend as much time as needed to truly understand what you are looking for and deliver it with smiles. I was happy to see them every day, and my kids even missed them when they were gone." Click here to read reviews and see more of Daren's work.
Sweeten General Contractor Kelin | Dallas
Sweeten general contractor Kelin works in the Dallas area on home improvement projects, offering additional services like landscaping and custom finishes. While he has a network of architects he can refer to for projects that require one, Kelin also has an eye for creative design. Isaac, one of his clients, hired Kelin for a few projects, including one property that needed to be remodeled from the ground up after Hurricane Harvey. "He is very thorough and does not cut corners," praises Isaac. Click here to read reviews and see more of Kelin's work. 
From Dallas and Atlanta to Washington DC and NYC, these vetted professionals showcase expertise and dedication. To work with one of the Black-owned firms, post your project at Sweeten and bring your renovation to life.
—
The right renovation team is accountable and protects your project. Here's why a licensed contractor makes a difference.
Sweeten handpicks the best general contractors to match each project's location, budget, scope, and style. Follow the blog, Sweeten Stories, for renovation ideas and inspiration and when you're ready to renovate, start your renovation with Sweeten.