The Women Contractors of Sweeten, Part 3
Support women-owned and women-operated general contracting firms by hiring Sweeten women contractors
(Above) Photo by Madeline Tolle for Sweeten homeowners Liz and Kevin
UPDATED 3/16/22
In honor of Women's History month, Sweeten is spotlighting women contractors in the general contracting field. These Sweeten contractors are leading the charge and closing the gender gap.
With years of experience under their belts, their firms include experts who handle a myriad of projects—from residential room remodels and full-home renovations to commercial work. We will also introduce Maisha who is featured as one of our vetted Black-owned contractor firms at Sweeten.
Sweeten matches home renovation projects with vetted general contractors, offering guidance, tools, and support—for free. Learn more about how Sweeten works.
In the third of a five-part series, we highlight firms led by women contractors who have the skills and industry knowledge to make your home-sweet-home a reality.
Sweeten General Contractor Marisela | Los Angeles
"Our goal is to banish the bad rap contractors get by simply doing what you hire us to do—plus a little more," says Sweeten general contractor Marisela. Working under this philosophy, Marisela built a successful contracting business for the Los Angeles area. Her husband and business partner, Mario, helps to manage the full suite of renovations that her company handles. They have experience in major buildouts and remodels, including additions. See general contractor Marisela's reviews and work.
Sweeten General Contractor Anna | Gaithersburg, MD
General contractor Anna, and her team, work in the Gaithersburg area of Maryland; a popular suburb of Washington, DC. She specializes in general contracting while offering guidance to find reliable architects as well as creative support. The Sweeten contractor's track record is best summed up by one of her client's reviews: "[I have worked with Anna] nine different times and I'm also a real estate agent, so I recommend them to my clients. We live in a rowhouse in DC and hired them personally to repair some drainage and flooding work." See general contractor Anna's reviews and work.
Sweeten General Contractor Maisha | New York City
The espresso bar shown above is just one example of the top-notch quality you get from Sweeten general contractor Maisha and her team. Located in New York, her company has experience in general contracting, completing residential and commercial projects. Painting is another service offered by Maisha and her team, who have worked on full-gut remodels, kitchens and baths, basement makeovers, and deck additions.
She is also a Black-owned contractor firm in NYC. Featured on the blog: Sweeten homeowner and Netflix actor, Danielle Brooks' brownstone renovation completed with Maisha. See general contractor Maisha's reviews and work.
Sweeten General Contractor Mariya | Philadelphia
Located in Philadelphia, Mariya's contracting business is known not just in the City of Brotherly Love but also outside the borders. The Sweeten general contractor's projects span from the Greater Philadelphia area to New Jersey and Delaware as well. Mariya's company offers construction services plus handyman work, and other home-improvement repairs like siding and roofing. See general contractor Mariya's reviews and work.
Sweeten General Contractor Cecille | Los Angeles
Sweeten general contractor Cecille and her team help clients successfully navigate all stages of a construction lifecycle. They consider themselves more than just contractors, acting as problem solvers and creative partners to all clients. "Our team approaches every project with the same care and tenacity as if the investment were our own," says Cecille. And her clients have taken notice, writing reviews like this one: "She is very conscious of her work, honest, hard-working, one of the best GCs I have ever used. She sticks to the budget and timeline, and is very communicative, which is rare." Featured on the blog: Sweeten homeowners Kirsty and David's home renovation completed with Cecille's expertise. See general contractor Cecille's reviews and work.
Sweeten General Contractor Anna | Los Angeles
"I found this team on Sweeten and was initially interested because they were identified as a woman-owned business," says one client. Another describes her experience with general contractor Anna and her team as "always professional and on time." A family business, Anna and her company oversee projects ranging from small-scale interior upgrades to additions and new home construction. The Sweeten contractor also focuses on ADUs (accessory dwelling units), which are popular in the Los Angeles area. Her company has grown steadily over the last 15 years, building a clientele that consistently gives their work five stars. 
Featured on the blog: Sweeten homeowners Liz and Kevin's bathroom renovation scored a 180-degree refresh with Anna's help. See general contractor Anna's reviews and work.
Sweeten General Contractor Sorina | New York
New York-based contractor Sorina and her partner Ion have been with Sweeten since 2017. Their firm provides general contracting, architect referrals, light creative support, and millwork. You'll find them working in Essex, Hudson, and Union counties in New Jersey, as well as Brooklyn and Queens. Sorina has her bachelor's in business and grew up around construction. Ion is an architect. Sweeten homeowner Beth D. noted, Their crew "are well-trained craftsmen. They are responsive to fixes. The contractor is technically knowledgeable. Reliable and worked quickly to finish the job." Check out their work for Taylor's 320-square-foot apartment renovation, which was featured on Sweeten's blog. Read reviews and see more of general contractor Sorina's work.
Sweeten General Contractor Arienne | Washington D.C.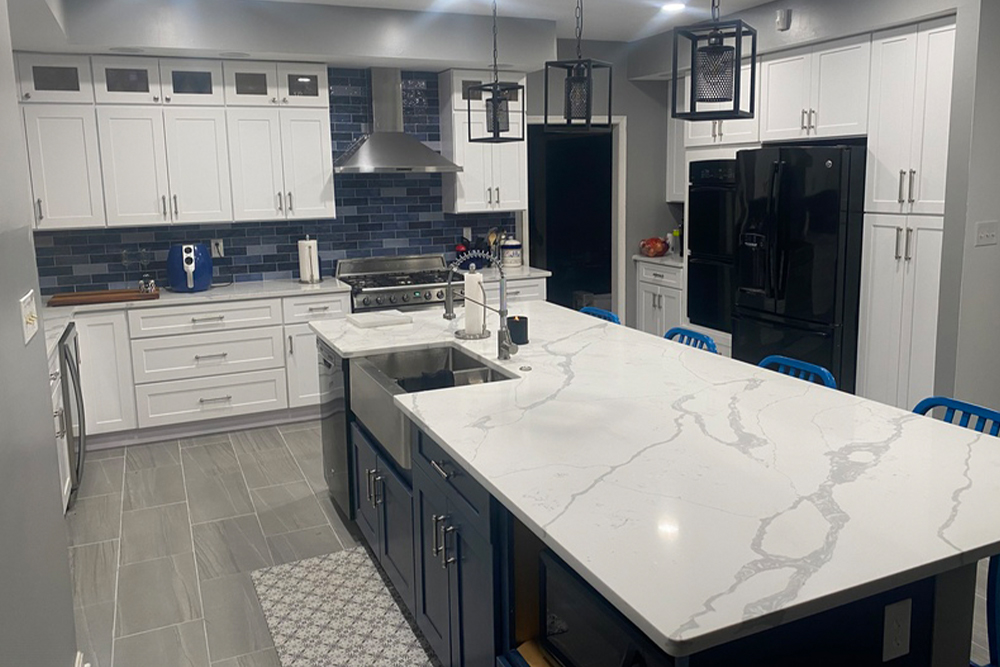 Sweeten general contractor Arienne, and her partner Darrell, provide services in Washington D.C. and surrounding areas. Arienne and Darrell's expertise includes flooring carpentry, additions, and single-home remodels. They find a way to tackle any renovation, big or small and have completed four Sweeten renovations. Sweeten homeowner Micheal B. notes that they "listened very carefully when he described what he had in mind for the project." Arienne's firm provides each homeowner they work with, a beautifully executed job. As a result, they've earned an overall 5-star review. Read reviews and see more of general contractor Arienne's work.
—
Read the rest of The Women General Contractors of Sweeten series:
Sweeten handpicks the best general contractors to match each project's location, budget, and scope, helping until project completion. Follow the blog, Sweeten Stories, for renovation ideas and inspiration and when you're ready to renovate, start your renovation on Sweeten.