A Small Bathroom Remodel in Atlanta on a Budget
This couple wanted to spend $5,000 on their small bathroom in Atlanta. Their Black-owned contracting firm guided them.
Homeowners:

 

Sweeten homeowners

 

posted their

bathroom remodel

on Sweeten
Where:

 

Clarkson in Atlanta, Georgia
Primary renovation:

Refreshing and opening up the bathroom of a split-level house

Homeowner's quote: "[Our contractor]

never took over the vision. She was organized and communicative, and we appreciated her helping us stay (almost) within our revised budget, even after plumbing issues popped up."

Sweeten's role:

 

Sweeten

 

matches home renovation projects with vetted general contractors, offering advice, support, and secure payments—at no cost to the homeowner.
Written in partnership with the Sweeten homeowner. "After" photos by Jaksnap Photography. Stylist: TFStyle Homes, LLC.
Deciding to
remodel an uncomfortable small bathroom
We initially looked for a move-in-ready home, but didn't find many in our budget in Clarkson where we wanted to live. The bathrooms in our new split-level house were built in 1982. They would need to be remodeled eventually but we'd tackle them as we could afford them. Three years later and with a toddler in our midst, we were ready. The master bathroom would be our first big project.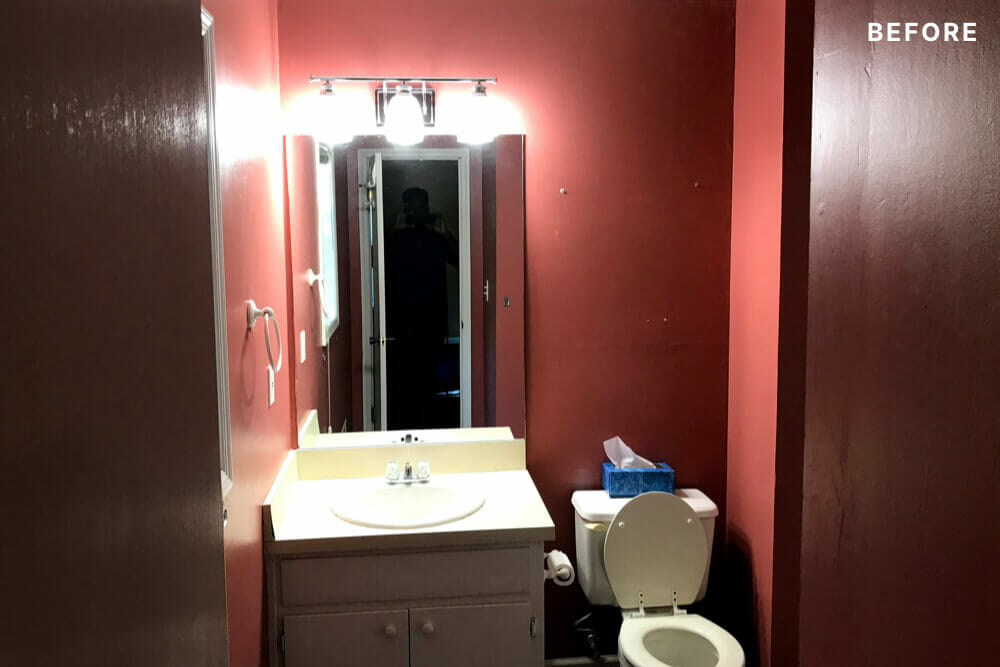 We had many problems with the original en-suite bathroom. Mainly, it was hideous. I disliked the color scheme on the wall, the warped laminate vanity, and the stick-on floor tiles. Not only was the pattern terrible, but the tiles were coming unglued. The plastic-insert shower was the worst offender. It was small and claustrophobic, and no amount of scrubbing would remove the mold and mildew stains. Even if it was just cleaned, the bathroom still felt dirty. I couldn't stand showering in there.
The search for a compatible contractor in Atlanta
I'd already gotten a few estimates, but we were looking to work with a Black-owned contracting firm and hadn't found one with availability. In addition, not many contractors want to take on a small space bathroom renovation, not to mention on a minuscule budget. Then I stumbled on a Sweeten blog post featuring Black-owned general contractors.
I posted my project on Sweeten and found one that was also a woman-owned general contracting firm. I felt really good about her, and she was willing to squeeze us into her schedule.
Renovate to live, Sweeten to thrive!
Sweeten brings homeowners an exceptional renovation experience by personally matching trusted general contractors to your project, while offering expert guidance and support—at no cost to you.
Finding solutions on a shoestring budget
As first-time renovators, our biggest question was, "What does a bathroom remodel cost?" We had a limited budget and no idea what was reasonable. Our budget was $5,000, but quickly realized how below the average cost it was. We would have had to cut too many corners. We couldn't afford to change the floorplan, so we agreed on the goal of transforming the bathroom into a pleasant, relaxing space. As a result, I decided to save money by designing the bathroom myself and doing it around an existing light fixture.
A crash course in a small bathroom remodel
I started gathering bathroom remodeling ideas on Pinterest and making a vision board. We considered replacing the shower insert to keep costs down, but the contractor said it would just get gross again. I had no idea what went into building and tiling a walk-in shower. First, I found out it costs a lot more to install mosaic subway tile than larger tile. In addition, I learned that a shower floor's drainage slope requires mosaic tile, and the ones that come in sheets require less labor.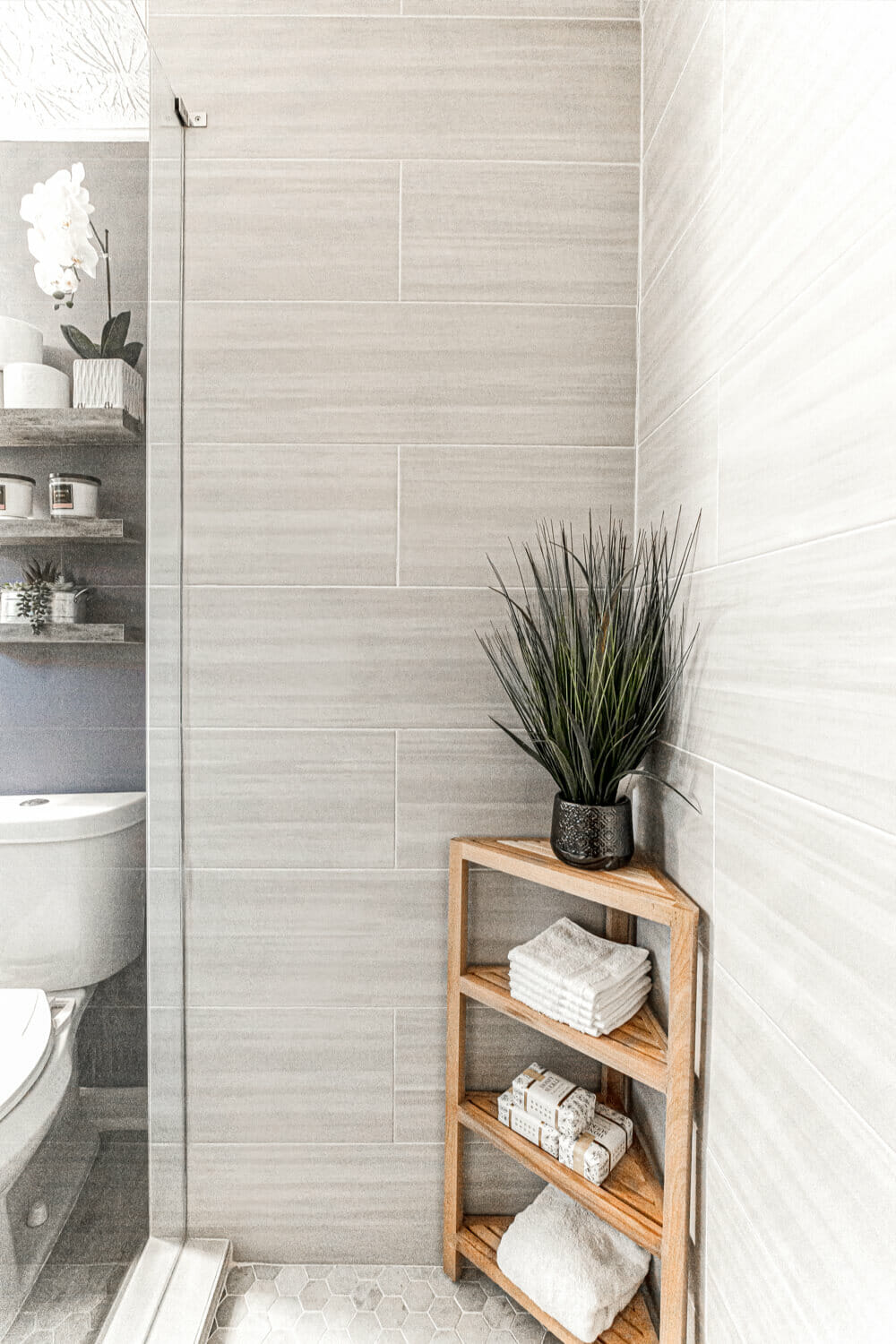 With so many types of tile out there, we were glad to have the options narrowed for us. We chose large-format ceramic tile for the shower walls and hexagonal mosaic tile for the shower floor—in marble—as I wanted just one aspect to be luxurious. Even with the thoughtful choices, the materials and labor were costly. We gave up replastering the walls, removing the stippling from the ceiling, and installing a recessed light in the shower, all to keep costs down. We even kept the existing toilet, since it was fine.
Coaching and seeking economy
There were moments when I felt like, "We just can't afford to do this the right way," but our Sweeten contractor helped us identify projects we could do ourselves (caulking holes and repairing molding). We chose inexpensive bathroom flooring for the room. An inexpensive vanity helped, and I found the mirror at a discount home store for around $30. Consequently, we saved money and used quality materials where they mattered.
Our Sweeten contractor provided great input and direction—including talking me out of some bad tile choices and kindly suggesting bright, simple colors and patterns. She never took over the vision. She was organized and communicative, and we appreciated her helping us stay (almost) within our revised budget, even after plumbing issues popped up.
The final budget—and excellent outcome
All told, we more than doubled the original budget (thanks to our family for the generous gift!) coming in just at the starting minimum cost for a bathroom remodel in Atlanta. This included labor, materials, random plumbing parts, and a zillion trips to Home Depot for the paint and other stuff I did on my own.
The final result feels larger and is the spa bathroom of my dreams. It's so serene. My first bathroom with a walk-in shower and a natural stone floor, both of which feel truly luxe. It's so lovely to step in there now. Everything is well-installed and of good quality. It's exactly what we hoped for.
Thank you for sharing your new space in Atlanta with us!
When you're ready to get started on your bathroom or home remodel, work with Sweeten to renovate with the best contractors in Atlanta.
Renovation Materials
BATHROOM RESOURCES: Alpine Frost Rigid Core Luxury Vinyl Plank (LVT) floor tile; Pearl Veincut polished ceramic shower wall tile; Blue Forest hexagon polished marble mosaic shower floor tile: Floor & Decor. PROFLO chrome towel racks: Target. Spectra-Versa 4-function complete shower system: American Standard. Glass shower doors: The Shower Door Guy. Behr Ultra paint in Brisk Blue; Behr Premium paint in Distant Star; Home Decorators Collection Sedgewood 30 1/2″ bath vanity in Dove Gray with solid surface vanity top in Arctic and white Sink: Home Depot. Pfister Ladera 4″ centerset faucet in polished chrome: Pfister. Toilet and lighting: Existing. 
—
Sweeten handpicks the best general contractors to match each project's location, budget, scope, and style. Follow the blog, Sweeten Stories, for renovation ideas and inspiration and when you're ready to renovate, start your renovation with Sweeten.