My Sweeten Story: A Brooklyn Townhouse Works for Everyone
A top floor holds a playroom, an extra powder room, and a couple's lounge
Homeowners: Part 3 of 

Nazli and Larry's

complete gut and remodel of their Brooklyn brownstone (Read Part

1

and

2

here)
Where: Bedford-Stuyvesant, Brooklyn, New York
Primary renovation: Renovating a sunlit top floor along with a laundry and child's room
Sweeten's role:

Sweeten

matches home renovation projects with vetted general contractors, offering guidance, tools, and support—for free.
Written in partnership with homeowner Nazli
A Brooklyn house vs apartment
Every time I tell the tale of how a room came about, it begins, "This was a big fight over…." I don't know if this is true of all couples who embark on a renovation project of this scale, but both our architect and contractor said they should charge clients for marriage counseling on top of the rest of their work, so I know we're not alone.
floor-plan-before-renovation
floorplan-after-renovation
playroom-bedroom-before-renovation
guest-and-master-bath-before-reno
master-lounge-before-reno
master-bedroom-before-reno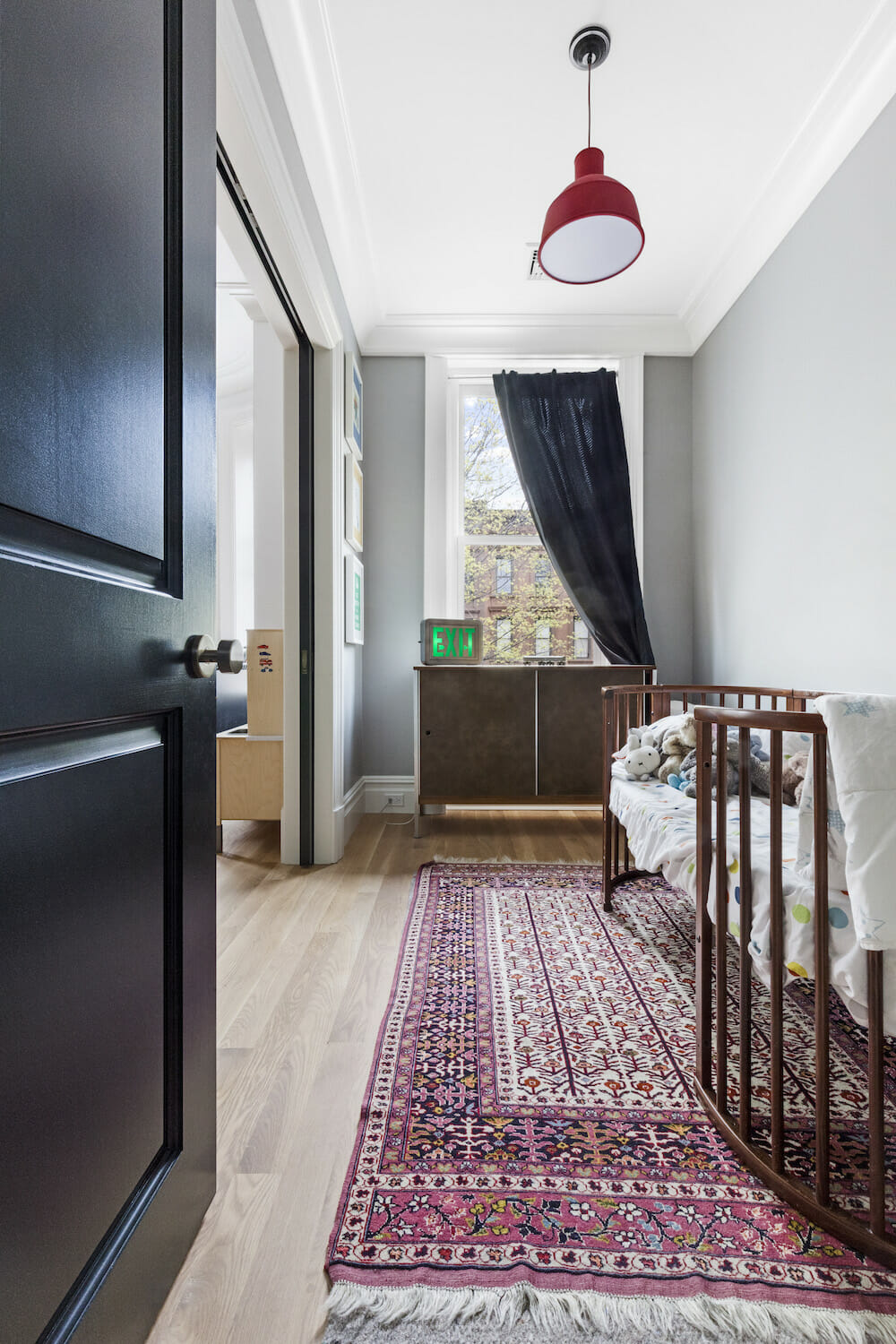 Let's begin with the impetus for the whole move: our little roommate, Nacho. As far as roommates go, this one is not so bad. He's demanding and he struggles to clean up after himself, but man oh man, do we love this guy. We wanted to move into a home to give him a better sense of what it means to grow up in a community: to plant flowers in the tree pits with our neighbors, to attend block association meetings (where he gets to call the meeting to order), to hang on the stoop, meet neighbors and observe street life, and to have the space to run around and be a kid.
There is so much I miss about apartment living. I'm a total city brat, but to see Nacho lose it when he hears birds outside or sees a squirrel running around the backyard is pretty darn amazing.
New life for the brownstone bedrooms
Nacho's playroom is separated by sliding doors from a small bedroom where he sleeps. At some point, Nacho may move to the playroom, or we may convert the small bedroom to another guest bedroom or office or a nursery—who knows? Point is, I like the flexibility with the two joined yet separate spaces.
I love the master bedroom. It's a good lesson on what paint can do for a room. This house taught me to go dark, and to appreciate the power of the color black. The entire room got new moldings and trim, and the original gross color on the walls was removed.
"When we realized we had this little bit of extra space in our master bedroom suite, we quickly redesigned the bathroom…"
Adding character with the color black
This Brooklyn brownstone seemed to call for darker colors. Interestingly, the black paint doesn't make the spaces feel dark or small. It makes our stairs feel like a real feature, it keeps the master bath from feeling like a blah condo bathroom, and it brings out the moldings and woodwork in our master bedroom. All of the rooms look elegant and uncluttered without feeling too stark. I'm a big fan. The colors also looked really different on walls versus woodwork and depending on how the light hit it. I had to choose between 15 different shades of black.
Renovate to live, Sweeten to thrive!
Sweeten brings homeowners an exceptional renovation experience by personally matching trusted general contractors to your project, while offering expert guidance and support—at no cost to you.
A luxury bathroom comes to life
The master bathroom is cool. The whole bathroom started out with the wall-mounted faucet, and I designed the rest of the bathroom around it. I love the black tile wall and the concrete and wood vanity. Our architect created great drawings for the concrete guys and carpenter to use for the vanity and countertop. We saved a bit by using a beautiful teak veneer rather than solid teak.
Design around who you are and how you behave. I realized that I was often late in the mornings because Larry would take forever in the bathroom. When we realized we had this little bit of extra space in our master bedroom suite, we quickly redesigned the bathroom, giving ourselves a long vanity with a single sink (I'd rather have more counter space), and created this little toilet room with its own sink.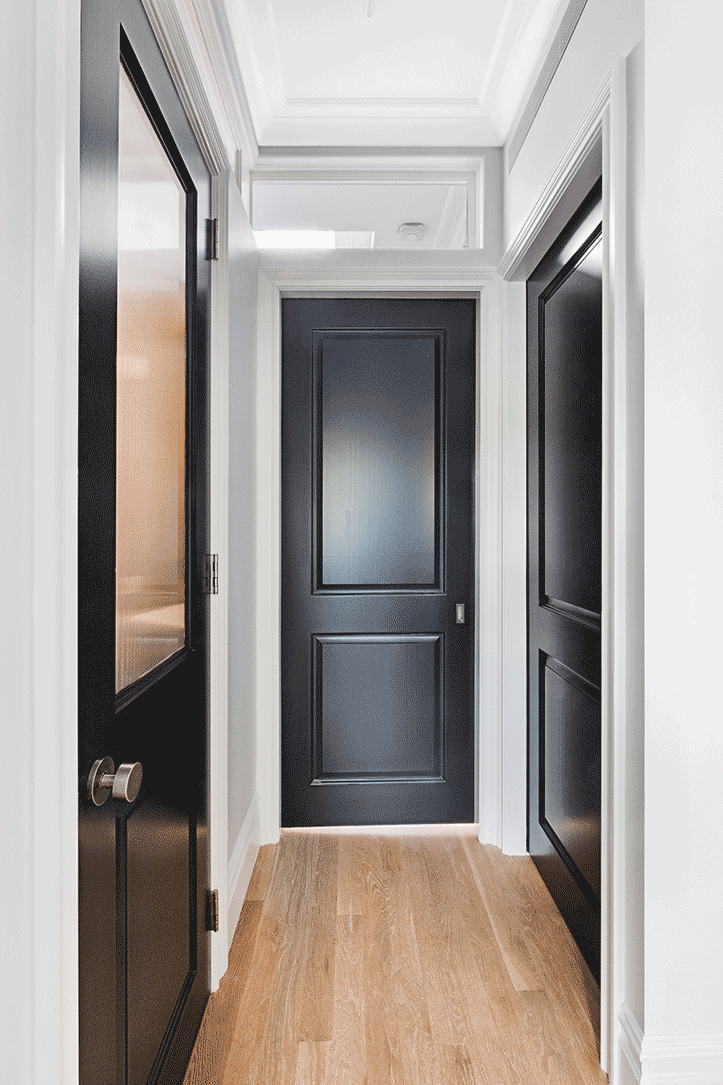 The well-located laundry room
Let's get to the Real Housewives of Brooklyn—all we ever wanted was a laundry room that wasn't tucked away in a creepy 200-year-old basement. After the dining room, this might be my favorite room in the house. I think that architecture directs behavior. When the laundry room is conveniently located, everyone does their laundry in a timely manner. It's less about a love of doing laundry, which I obviously hate doing, and more about having a great appreciation for setting up a space where it can be done efficiently and where towels and sheets can be stored right away after folding.
A man cave full of light
Larry was so excited to have his own office—formerly a bathroom—and couldn't be happier with the setup. Everything is within arm's reach, and there is enough built-in storage for his books and files. When we are running around in the house, he can shut the sliding doors and have his cave, while still allowing light in from the skylights because of the lovely transom windows we built in. Our architect did a great job with the layout upstairs to ensure maximum light.
Our lounge is outside of Larry's office, and it's our Friday night hangout. At the end of every week, we like to tuck Nacho into bed and crawl on the couch to watch a movie. We've never made it past the first 15 minutes without falling asleep. Nevertheless, we love having a space just for us.
Larry likes having the doors to his office open and being able to watch a game while he works late into the night. The ability to open his office up to the lounge allows a lot of flexibility in the space, both now and in the future. We love that there's no door to the lounge; it means stepping into a very open space as soon as you get to the top of the stairs.
I'm going to acknowledge that we are fortunate as New Yorkers to be able to afford and renovate this Brooklyn brownstone. It allowed us access to capital, insurance, and loans not available to most of our neighbors who were in fact systematically denied loans. I am aware that other people were forced to sell their homes for nothing. So while I'm happy to talk about tile, we are grateful for the choices we have been afforded in life, which got us to the point where our fights are about where to put a bathtub. Speaking of which…we didn't get a bathtub. It's just one of a million tiny regrets and shoulda-woulda's that are unavoidable in this process.
Thank you to Nazli, Larry, and Nacho for generously sharing your Brooklyn brownstone!
Renovation materials
KID'S ROOM/PLAYSPACE RESOURCES: Black ceiling light fixture: RH Teen. Red lamp: ABC Home and Carpet Warehouse.
MASTER BEDROOM RESOURCES: Ceiling fan: Minka-Aire. Blacktop paint: Benjamin Moore.
MASTER BATH RESOURCES: Tumbled limestone bathroom floor tile: Daltile. Concrete vanity and shower bench: OSO Industries. Custom vanity: Bear Mountain Woodworking. Faucet, sconces, and mirrors: Restoration Hardware. Black Wall Tile: Nemo Stone. Cabinet Fixtures: Colonial Hardware. Shower Fixtures: Grohe.
WATER CLOSET RESOURCES: Grohe faucet: Build.com.
—
Sweeten handpicks the best general contractors to match each project's location, budget, and scope, helping until project completion. Follow the blog for renovation ideas and inspiration and when you're ready to renovate, start your renovation on Sweeten.