My Sweeten Story: An Epic Brooklyn Brownstone Remodel
A couple's own pied-à-terre in their townhouse is finally complete
Homeowners: Janet and Jerry posted their 1910 Brooklyn brownstone remodel on Sweeten
Where:

Crown Heights

, Brooklyn, NY
Primary renovation: A cramped one-bedroom apartment turns into a loft-like home
Homeowner's quote: "

Through it all, we felt lucky to work with Sweeten, which connected us with both our architect and contractor and helped us troubleshoot on many occasions."
Written in partnership with homeowner Jerry. "After" photos by Pixy Interiors.
The final project for a brownstone remodel
This is it. Our apartment. The pied-à-terre we've long waited to move into. We have a primary residence on Long Island, but we work in NYC and spend about half our time here. We decided to invest in a multi-family townhouse in Crown Heights, Brooklyn, rent each of the main units and keep the smaller, fourth-floor apartment for ourselves.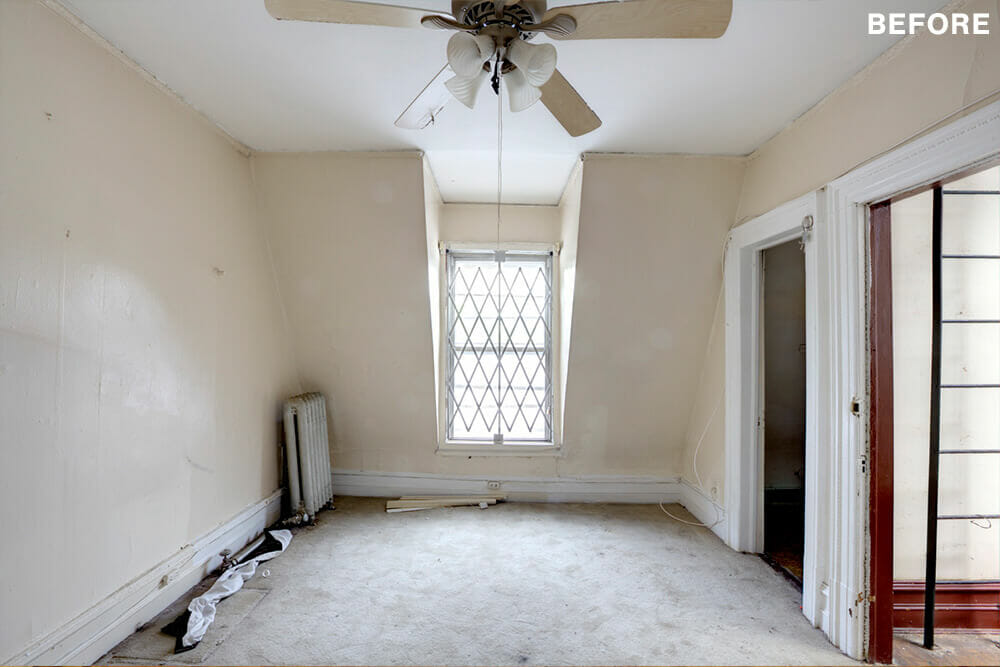 From the time we first saw the top-floor space, we knew it would be our city home. Like the other two rental apartments we remodeled with Sweeten in this brownstone, this one-bedroom unit needed work. It was dark and chopped up, the kitchen was a wreck and the bathroom was in disrepair. We started thinking about how to refresh the under 600-square-foot space and make it feel larger. Our goal was to create an open and airy studio. We planned to maximize natural light and use natural materials for an organic feel. 
More space with natural light
In our rentals, we'd worked to preserve the building's architectural features. But in this unit, previous renovations had removed most original detail. Hardwood floors had been replaced with linoleum. Moldings that might have graced the overhead plaster were replaced with a drop ceiling. Only the window moldings and the fireplace remained. Given this situation, we felt free to rethink the space. We decided to use modern elements as influences for the new interior. Our brownstone remodel had Scandinavian style and Californian mid-century modernism.
Our architects, MNDPC, worked closely with Janet and our Sweeten contractor to achieve several architectural changes. First, we moved the entrance from the fourth floor down to the third, making the stairway part of the apartment's interior. This increased privacy and usable space, and also allowed us to increase the living room's natural light with a skylight at the top of the stairs.
Our contractor suggested the beams looked really good unpainted and unfinished.
A brownstone remodel exposes the beams
Next, we exposed the living-room ceiling. Opening it to the original wooden beams provided for more vertical space and a lofty room. Initially, we were going to paint the wooden ceiling and exposed beams white. Our contractor suggested the beams looked really good unpainted and unfinished. The adjacent sleeping area, however, would have a new lowered ceiling, and an archway. These subtle architectural elements bring the space together while simultaneously differentiating the sleeping and living rooms. 
The arch plays nicely with horizontal lines throughout the apartment, including the exposed beams and the long kitchen countertop. It also connects with a number of graceful curves, like the rounded mirror over the restored fireplace and the rounded lighting fixtures.
Renovate to live, Sweeten to thrive!
Sweeten brings homeowners an exceptional renovation experience by personally matching trusted general contractors to your project, while offering expert guidance and support—at no cost to you.
We moved to the problematic floors, which were covered in vinyl and old carpeting. We wanted natural wood and after much searching, we chose white-oak flooring. The planks would lay in a custom herringbone, or chevron, pattern. Unfortunately, there was a long lead time for the wood to be custom cut (nearly two months coming from Europe), not to mention a high price. Just before going back to the drawing board, we found a pre-cut herringbone at half the price. It came out fantastic.
A minimal kitchen for a second home
Once the floors were down we were ready to build the kitchen. We found dark wood cabinets from Ikea that not only looked great but pleased our budget! We wanted countertops that would complement the cabinets and wear well. Soapstone had the durability and appearance that worked. The veined black goes nicely with the apartment's other dark features and looks fantastic as a backsplash.
To stay minimal, we hid appliances in cabinets; our washer/dryer combo, fridge, and pull-out freezer all fit under the counter. The pendant lights over the kitchen counter, the chandelier above the old fireplace, and the bedroom fixtures are simultaneously industrial, modern, casual, and polished.
Bringing sunlight inside
In the bathroom, we managed another stunning redesign thanks to our architects we found through Sweeten. The shower, a vertical space with a skylight, is flooded by day with natural sunlight, making it feel almost like it's outside. One disappointment that turned out fine was with the stone floor tiles. We spent a lot of time picking them out, but after accepting our order, the supplier said that only one box of tile was available.
Our contractor solved the issue. He took a large slab of the same stone and custom cut it into a single 3'x3' shower base as well as a door saddle, and a stone shelf. We chose an in-wall toilet to maximize space.
Having knocked down walls and invited light in every way imaginable, we felt successful in our visual opening of the space. We went even further by creating an outdoor area. The roof had formerly been inaccessible but we replaced a window with a glass door; it leads to a new roof deck with views of the neighborhood and Manhattan in the distance.
Happy at home
Through it all, we felt lucky to work with Sweeten, which connected us with both our architect and contractor and helped us troubleshoot on many occasions. The process came with so many rewards. Janet says she most appreciated the design work and creative discussions of a brownstone remodel. I'm just enjoying our apartment! It's like staying in a nice hotel with a feeling of being home. The best of both worlds.
Thank you, Janet and Jerry, for sharing your entire home with us!
Renovation Materials
LIVING ROOM RESOURCES: Wall paint in Cotton Balls: Benjamin Moore. Poolesville European white oak flooring: PID. Chandelier above fireplace: Schoolhouse Electric. Theresa Rand coffee table: Menu Design Shop. Doorknobs: Omnia.
DINING AREA AND STAIRWAY RESOURCES: Hackney marble dining table, storage bench: CB2.  Rattan cane chairs: Industry West.
BEDROOM RESOURCES: Ceiling light, sconce lights: Schoolhouse Electric. Mill C bedside table with laptop tray: CB2. Spindle Nightstand: Industry West. Airisto bench/side table in ash: Finnish Design Shop. 
KITCHEN RESOURCES: Paint in Cotton Balls: Benjamin Moore. VOXTORP kitchen cabinets and sink: IKEA. Ipanema Reserve countertops and backsplash: M Teixeira Soapstone. Faucet, #1959LF-BL: Delta. Liebherr undercounter refrigerator and freezer: Liebherr. Pendant lights: Schoolhouse Electric. LG all-in-one 2.3 cu. ft. front-load washer and electric ventless dryer: LG. Fellow Stagg Pour Over kettle: Williams Sonoma.
BATHROOM RESOURCES: 18″ x 18″ Marine Black Phyllite floor tiles: M Teixeira Soapstone. Matte white wall tiles 3"x9": COLORI. Kohler shower fixtures; Contemporary and Purist Line fittings: Kohler. Duravit toilet: Duravit. GODMORGON vanity, ODENSVIK sink : IKEA. Faucet: Grohe. Hardware, lighting, towel bar, tissue holder, robe hook, Swedish utility rack: Schoolhouse Electric. Mirror: CB2. Waffle towels: Snowe.
ROOF DECK RESOURCES: Ultimate Wood Swinging French door: Marvin. Automated shade: Shade Store.
A note on fixture and appliance deliveries: If you're on a tight timeline, Appliances Connection has over 50,000 items in stock and ready to ship nationally. If you're in the NY/NJ metro area, in-stock items typically deliver within 2-3 days.
—
Sweeten handpicks the best general contractors to match each project's location, budget, scope, and style. Follow the blog, Sweeten Stories, for renovation ideas and inspiration and when you're ready to renovate, start your renovation on Sweeten.