From cosmetic to functional concerns, here's your guide to replacing wood floors
Natural, versatile, timeless… wood floors can last for decades or even generations. But if there's damage after years of wear, or the stain just isn't suited to your style, replacing them may be your best bet to safer and better-looking floors. Ahead, five reasons Sweeten homeowners decide on replacing wood floors and revitalizing their spaces.
1. When you want to add soundproofing
When Christina decided to renovate her studio co-op in Murray Hill, the building requested that she install a layer of soundproofing. Even if soundproofing isn't mandated, it can add a layer of ease and "acoustic comfort" to your space. And, Christina pointed out that the installation process isn't as bad as you might think. About replacing her floors, she said: "the entire removal and installation was surprisingly a relatively fast process."
2. When there's water damage

In Sherry's midtown apartment, the wood floors suffered from water damage.  A previous tenant had left the windows open for weeks when Sherry's family rented the apartment out. When she was ready to move into the space, she changed out the damaged floorboards for sleek new oak wide-paneled wood flooring.
3. When they're uneven (and noisy)
When Katie and Marcus' bought their apartment, they knew they'd have to replace noisy and uneven wood floors. Their contractor started to rip open the floorboards, only to find there was no subfloor. He worked to add in new subflooring and soundproofing and replace the floors. They decided on a warm red oak that complements the exposed brick fireplace.
4. When the flooring is mismatched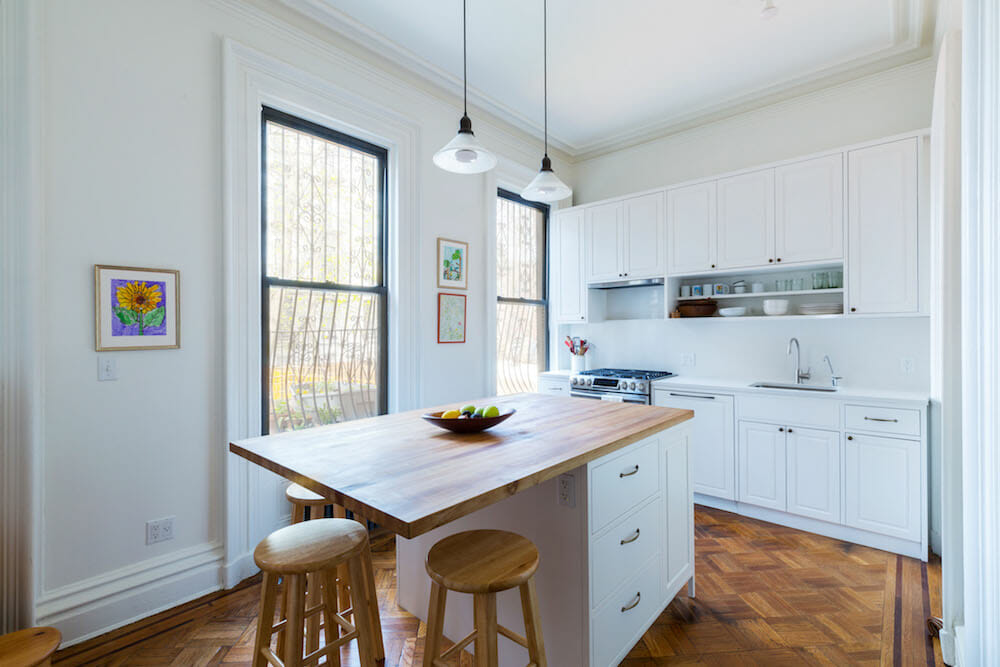 Kate and Graham's apartment in Clinton Hill had a small kitchen that they needed to integrate into the rest of their home. They wanted to remove the white tile floors to make the kitchen feel more cohesive with the rest of the apartment. Luckily, ripping up the tiling revealed beautiful wood floors that matched the rest of the house. This small change, along with some other updates, made the kitchen feel right at home.
5. When you want a new look
Sometimes, the best reason to make a change is the simplest: because you want to. A Manhattan couple decided replacing wood floors with a lighter finish would give their space a brighter look. Their designer helped refresh their space by painting the walls a warmer white hue and by adding translucent drapes to let in more natural light.
5. When you're ready to modernize
Heather and Eric's apartment had traditional parquet floors, untouched since the original construction of the building in the '70.  Replacing wood floors throughout the space with wide-plank style with an espresso stain offered a strong contrast to the rest of their decor.
—
What does it cost to replace wood flooring? This guide breaks it down for you.
Sweeten handpicks the best general contractors to match each project's location, budget, and scope, helping until project completion. Follow the blog for renovation ideas and inspiration and when you're ready to renovate, start your renovation on Sweeten.