Two Modern Bathroom Renovations in a Bucktown Condo
A two-decade-old condo undergoes a resale-focused renovation in Bucktown, Chicago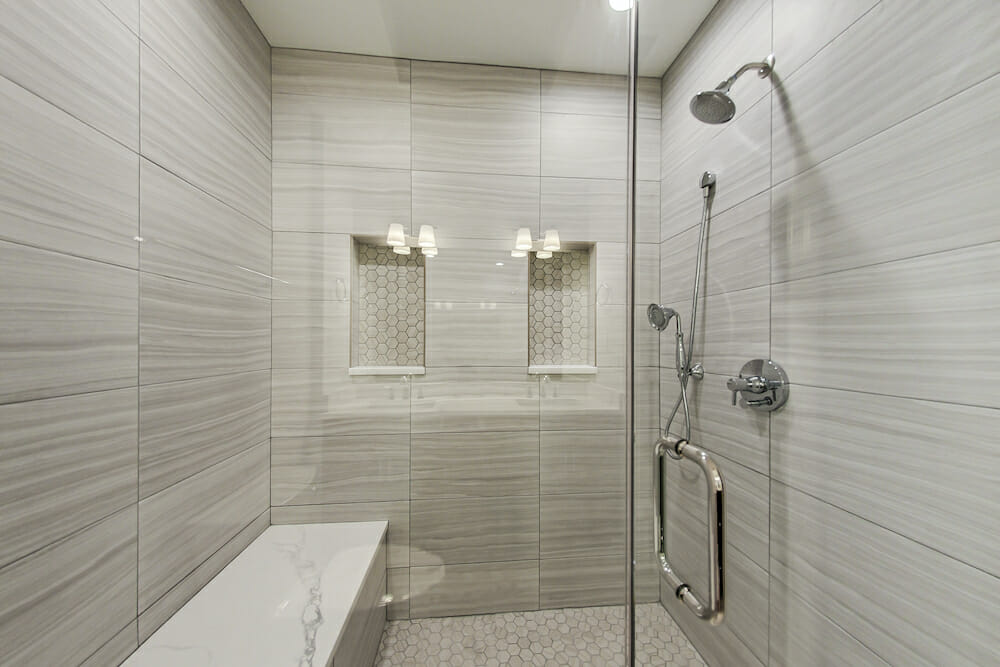 Homeowners: A homeowner posted two bathrooms for resale on Sweeten
Where: Bucktown in Chicago
Primary renovation: Update the bathrooms in a 1,500-square-foot condo
Homeowner's quote:

"He really went out of his way to help make the process easier and save us money."
"After" photos courtesy of homeowner
Making old bathrooms new again
For this Chicago homeowner, updating her bathrooms was important. Plus, time was of the essence: she was living in the 1,500-square-foot condo in Bucktown (located on the northwest side of the city) and wanted to sell. However, she knew that putting some money into refreshing the place with a renovation would increase the resale value. So, that's exactly what she did. 
before-photos-of-bathroom-double-vanity-bathtub-in-Buckstown-resale-remodel
during-photo-of-bathroom-in-Buckstown-resale-remodel
She turned her attention to the primary and hall bathrooms since they were the biggest concern. They felt outdated, with an early 2000s brown-hued vibe. (A well-designed, new bathroom is one of the top aspects that appeal to potential homebuyers.)
This was not the homeowner's first time renovating and knew a good general contractor would make all the difference. She posted her project on Sweeten and found a general contractor in her area who was in sync with her goals.  
A more modern aesthetic to appeal to buyers
Size-wise, the homeowner was in luck. The primary bath had plenty of square footage and just needed some TLC to make it more attractive and functional. The hall bath would be a straightforward rip-and-replace, with no plumbing moving.
After consulting with her Sweeten general contractor, the homeowner focused on sourcing and buying materials and accessories. She wanted to redesign the bathroom with similar features that other new properties in her area were featuring.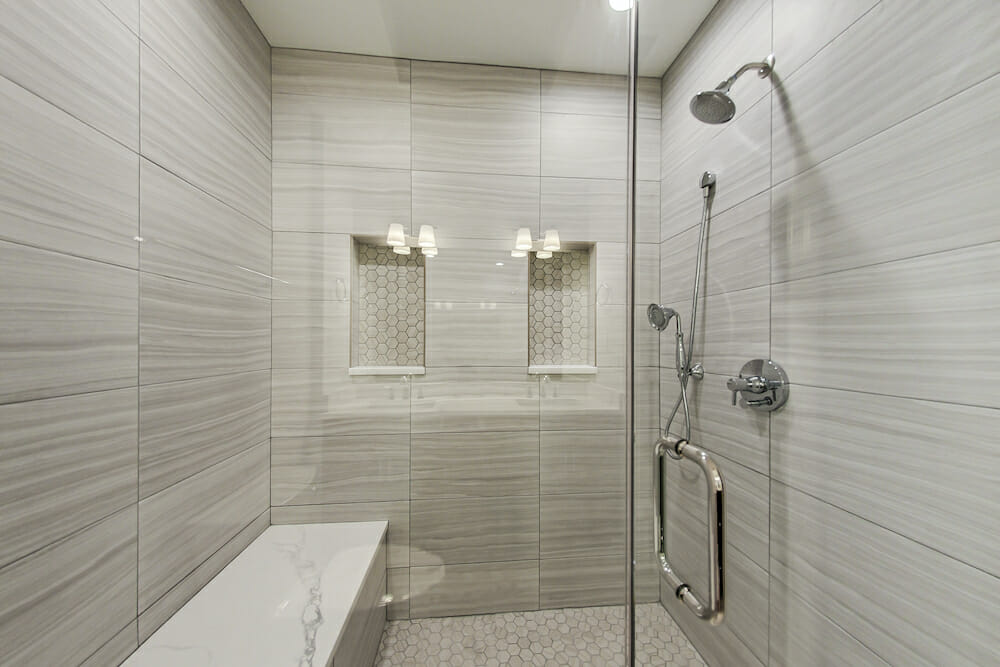 Renovate to live, Sweeten to thrive!
Sweeten brings homeowners an exceptional renovation experience by personally matching trusted general contractors to your project, while offering expert guidance and support—at no cost to you.
First things first: get rid of the old jet tub. Although seen as a luxury in the early 2000s, the jet tub now seemed outdated. Plus, it was awkwardly placed next to a shower stall. To help the flow and the look of the bath, a walk-in shower replaced this configuration. The trend of large-format tile perfectly suited the new oversized shower. Two niches inlaid with hexagonal tile brought a nice contrast to the stacked wall tiles. And, of course, a new primary bath wouldn't be complete without a long bench. 
The vanity also got a much-needed refresh. Another double sink version replaced it, but one with a more modern aesthetic. She updated the hardware and matched the finishes to the overhead sconces. The contractor installed a quartz countertop along with a new backsplash. "It looks great," says the homeowner. "Bigger, brighter, and more modern."
The hallway bathroom's rip-and-replace received all-new fixtures and materials from tile, tub, and toilet to lighting and sink vanity.
All in all, the renovation took approximately five weeks, but then COVID hit Chicago, which curtailed the homeowners' plan to sell. Luckily, the renovation still improved the resale value of her home. She's also hopeful that once things settle down, buyers will consider the new baths a real selling point.
"[My contractor] was super helpful and responsive."
As for the overall renovation experience? "[My contractor] was super helpful and responsive," she says. "He really went out of his way to help make the process easier and save us money, including picking up all the materials we purchased at Home Depot to avoid delivery fees."
Tip from the Contractor: The general contractor recommends having all your materials either already selected or ordered so you don't experience delays. Contractors work within a detailed timeframe. Make sure you have your materials on hand to help avoid delays and frustration for all involved. 
Materials Guide:
Originally published on January 28, 2021
Updated on May 18, 2023
—
Bathtubs, be gone: See how these 7 homeowners swapped jet tubs for walk-in showers.  
Make sure to align your scope with your budget. Our Chicago home remodel cost guide can help you get started.
Refer your renovating friends to Sweeten and you'll both receive a $250 Visa gift card when they sign a contract with a Sweeten general contractor.
Sweeten handpicks the best general contractors to match each project's location, budget, and scope, helping until project completion. Follow the blog for ideas and inspiration and when you're ready to renovate, start your renovation on Sweeten.