A Guest Bathroom So Chic, Visitors Will Never Want to Leave
It's all about the details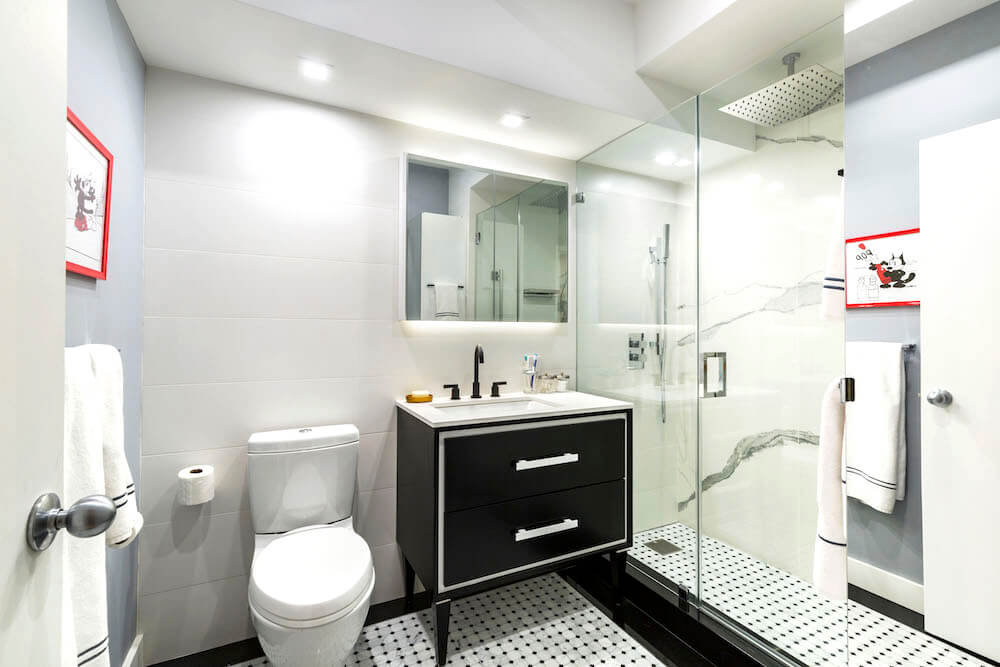 Project: Refresh a guest bathroom 
Before: Nearly 25 years ago, the homeowners were on the hunt for a three-bedroom rental with more space for their two children—who'd long been sharing a bedroom. They stumbled upon a Chelsea apartment, converted from a factory space, that was actually for sale. They agreed to go through with buying their first place—where they've lived ever since. 
Over the years, the couple had their kitchen renovated, but left every other room intact—until they decided to remodel the guest bathroom. "It was embarrassingly retro. The faucets didn't work, there was a gap behind the sink. It just looked old," they shared. Another priority? To convert the bathtub into a walk-in shower. "My dad, who is in his 90s, stays with us a lot, too," one of the homeowners shared, so that update was especially important to give him easier access.
They posted their project to Sweeten and were matched with a general contractor, who would provide design and build help to modernize the space. Guidance picking out and sourcing materials was the main factor in their decision. "Other contractors facilitate the project, file the permits, demolish, install, etc—but then I would've had to go find the sink, the toilet, the faucet. This contractor offered to help us find all of our materials, it was part of their service."
After: Before work could begin, the building's co-op board engineer presented a list of possible requirements, from waterproofing to disability access.  The contractor had to apply for a lot of permits, and at one point in the process, the Sweeten Client Services team stepped in to facilitate an issue and get communication between the homeowner and contractor back on the right track.
Renovate to live, Sweeten to thrive!
Sweeten brings homeowners an exceptional renovation experience by personally matching trusted general contractors to your project, while offering expert guidance and support—at no cost to you.

Start your renovation
Once the approval and permits were all set, the couple and their Sweeten contractor got to work on finding materials that aligned with their vision of a clean, classic black-and-white bathroom. They all went to a showroom together to see what caught the renovators' eyes, including a dotted marble floor tile. The homeowners love natural stone material, so they opted for a Calacatta porcelain tile for the shower walls. The vanity is a custom piece that ties in the bi-tonal color palette and offers plenty of storage. An offset sink (we're seeing more and more of these) lends one side of the counter for more storage, too.
Aside from the initial communication issues, the homeowners had a great experience working with their general contractor. "If you're clueless like we were, the process is overwhelming. The contractor's designer was the perfect partner for us," they shared. 
The contracting team was diligent about cleaning up the dust every single day since the homeowners were living at home during the renovation. The guest bathroom is near the entryway and was cordoned off for construction. "They all took the job seriously, completed the job with meticulous work, and got it done pretty quickly. We saw real care," the homeowners said. 
The renovators really appreciated having Sweeten to count on throughout the process. "I am sure Sweeten helps people of all kinds,  but we were newbies and needed more direction than most folks," they shared.  
Though the timeline shifted a bit given the board approval challenges, once the process got rolling, it was finished in six weeks (and just in time for a birthday party the couple was hosting.) 
Bonus: The renovators were so amazed by the hard work of each subcontractor that handled the demolition, electrical, lighting, and tiling. "I was struck by the uniformly high quality no matter which team it was," one homeowner shared.
Style finds: Bianco Carrara black dot marble mosaic floor tile; floor stone border in black polished marble; FAP Lumin white matte wall tile 10"x 30"; Fondovalle Calacatta porcelain shower tiles: Tiles by Kia. Square Thermostatic shower system with 15" ceiling head and hand-shower: Hudson Reed. Vanity with white quartz counter: Custom by general contractor. Aquasei ceramic under-mount sink: Lacava. Fauceture widespread faucet: Kingston Brass. Contemporary metal pulls on vanity, #6899: Richelieu. Dual-flush toilet, #CST413MF with 10" rough: Toto. Lithonia ultra-in dimmable recessed ceiling light: Home Depot. 
—
Find out how much it costs to renovate a bathroom in New York City.
Sweeten handpicks the best general contractors to match each project's location, budget, scope, and style. Follow the blog, Sweeten Stories, for renovation ideas and inspiration and when you're ready to renovate, start your renovation on Sweeten.