A Clinton Hill Full Home Renovation Scores Storage & Style
Renovate or buy a second home? A new layout in an apartment made all the difference
Homeowners: Courtney + Jim gave their home one more chance and

posted their full

home renovation in Clinton Hill

on Sweeten
Where: Clinton Hill, Brooklyn, New York
Primary renovation: Reconfiguring, more storage, and even a peninsula made 800 square feet work better
Homeowner's quote: "Working with Sweeten made us wonder what we had waited for."
Written in partnership with homeowner Courtney. "After" photos by Kate Glicksberg.
Wrestling with the idea of renovating
We moved to Clinton Hill over a decade ago, and always loved the neighborhood with its history of housing for returning servicemen who worked in the Navy Yard. On a total whim, we went to an open house in the Clinton Hill Co-ops and made an offer on the first apartment we saw: an 800-square-foot, one-bedroom that had been converted into a junior two-bedroom.
SWEETEN Courtney Rattenbury-Apt-Before-06
SWEETEN Courtney Rattenbury-Apt-Before-05
SWEETEN Courtney Rattenbury-Apt-Before-02
SWEETEN Courtney Rattenbury-Apt-Before-01
SWEETEN Courtney Rattenbury-Apt-During-03
SWEETEN Courtney Rattenbury-Apt-During-02
I was frighteningly familiar with the Clinton Hill Co-op section of the Sweeten website. Our neighbor also used Sweeten to renovate her kitchen, and it looked fantastic. It seemed like a simple concept, but Jim and I were just completely overwhelmed with the idea of a renovation. Because our apartment really felt like it was falling down around us, we knew that we would need to change almost everything.
We decided to look for a place upstate, hoping that more room and a home for weekend getaways would help alleviate the stress of our overcrowded and dark apartment. We made an offer on a house, had it approved, started to negotiate, and realized we needed to feel good in our primary residence before we took on a second space.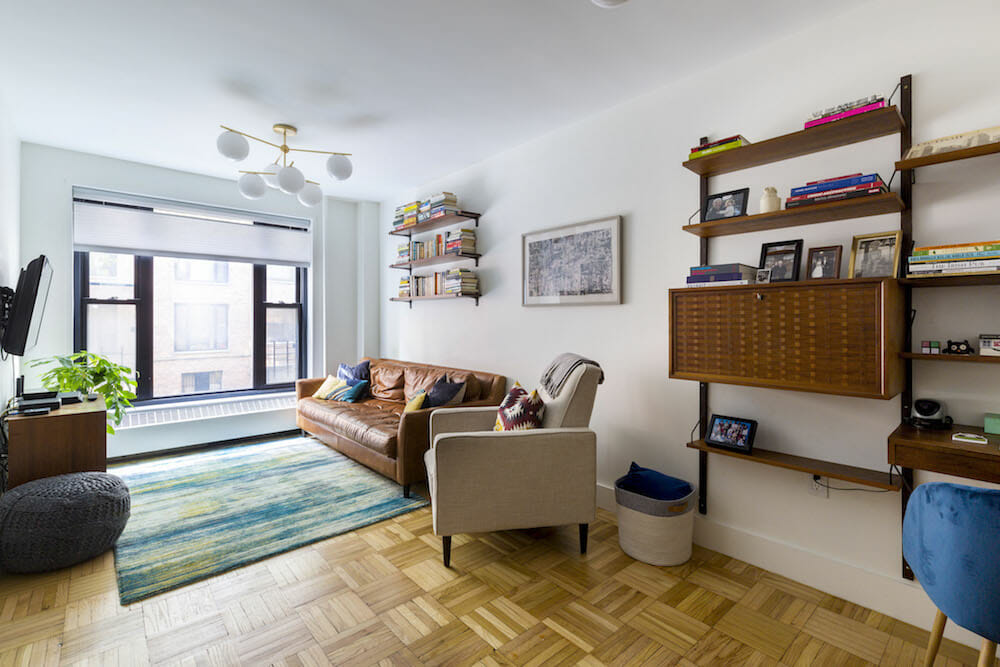 Finding our general contractor
We headed straight to Sweeten, were matched with three general contractors right away, and within a week picked our contractor. He was incredibly responsive and patient with us as we walked through our apartment over and over again, thinking about the best way to open our kitchen, update the bathroom, reconfigure our bedroom, shore up our pockmarked walls and ceiling, refinish our floors, and add storage everywhere.
We were absolutely giddy with the concept of overhead lighting! We were wired for several fixtures in the living room and kitchen, as well as recessed lights in the hallways and bathroom. Because our apartment had been dark and crowded for so long, we gravitated toward a simple, minimalist design with white and gray paint to brighten the space and give it a clean look.
Personalizing the kitchen
Jim grew up with visions of a kitchen island where everyone could gather to eat and socialize–that became our only non-negotiable. It helped us focus our planning on the kitchen first. We knew we wanted custom cabinets, so our contractor brought in his cabinet maker to meet with us and walk through the layout.
Within a week, they had sent us a 3D rendering of our new kitchen, with Jim's dream island, plus an extended butcher block counter ideal for our boys to sit and finish homework while we cook. Our contractor suggested the chalkboard paint—now a huge hit with the kids. He created a lot of extra storage under the island, including drawers for our pots and pans, plus a pantry along the extended counter. We have a dishwasher for the first time ever and love the kitchen tile.
Renovate to live, Sweeten to thrive!
Sweeten brings homeowners an exceptional renovation experience by personally matching trusted general contractors to your project, while offering expert guidance and support—at no cost to you.

Start your renovation
Storage reimagined
Our Sweeten contractor had the genius idea to extend our bedroom two feet into the living room, which allowed him to build a closet (we used to store our clothes in the boys' room). It was worth the minimal loss of space to gain more storage. We also hired a closet company to build a shoe closet for us. Since our room has two windows, we decided on an opaque glass door to maintain some privacy, but also take advantage of the natural light.
Our contractor came through on the extra storage front and found a way to build a second closet in their room…
For the boys' bedroom, our only directive was storage, storage, storage. We wanted to find a way to keep all of their things in the bedroom, instead of spilling out into our common living areas. Once again, our contractor came through on the extra storage front and found a way to build a second closet in their room, ensuring we lost very little floor space. We're not falling all over stuff anymore!

In the bathroom, we needed to keep a bathtub because we have young boys, and I insisted on a large piece of custom glass as our partial shower door. He warned me it might be difficult to reach around for the water control, but I insisted. It looks lovely, but he was right—it's a bit of a struggle to help with bathtime.
Moving out during the renovation
Our biggest challenge was realizing that, because we were renovating the entire space, we would have to move out for an extended period of time. We didn't initially budget to live somewhere else, so the added cost was a bit of a shock. After three months, we were scheduled to move back in and had left the rental, when our contractor told us he was about a week behind. Much of this delay was due to some delayed deliveries of things I had ordered.
We had no place to go and had to live in the apartment while there were still tools and supplies everywhere, with no appliances or kitchen counters. It was a bit uncomfortable, but not unmanageable. In hindsight, we probably should have just booked the rental for an extra week as insurance.
Working with Sweeten made us wonder what we had waited for. We were matched so quickly with a contractor, we were able to use the website to see examples of his work, we could reach out with questions and concerns. Another upside was the Sweeten blog, a huge source of inspiration! Our new apartment is exactly what we had hoped for: simple, comfortable, bright, and uncluttered. It feels like home.
Thank you, Jim and Courtney, for sharing your Clinton Hill full home renovation with us!
Renovation Materials
KITCHEN RESOURCES: Floor tiles and backsplash: Tiles by Kia. Kitchen cabinets: Custom by Sweeten contractor. Upper cabinet paint in Simply White and lower cabinet paint in Gull Wing Gray: Benjamin Moore. Wayfair Basics cabinet hardware, pendant lighting: Wayfair. Countertops: Custom by Sweeten contractor. Sink and faucet: Build.com. 36″ 800 Series, #B21CL81SNS refrigerator, dishwasher, and stove: Bosch. 24″ wine fridge, #CWB1760FD: Edgestar. Mobile chandelier: West Elm. Chalkboard paint: Benjamin Moore. Vapor acrylic bar stools: CB2.
BATHROOM RESOURCES: Bathroom floor and wall tiles: Tiles by Kia. Shower fixtures: Grohe. Sink, vanity, lighting, mirror: Build.com. Toto toilet: Toto. Acrylic storage shelf: CB2.
LIVING ROOM RESOURCES: Sphere + Stem 3-light brass chandelier: West Elm.
MASTER BEDROOM RESOURCES: Closets: Smart Closet Solutions. Flooring: Build.com. Böja ceiling light fixture: Ikea. Wall paint in Smoke Embers: Benjamin Moore. Sinnerlig light fixture by Ilse Crawford: Ikea.
KIDS' BEDROOM RESOURCES: Wall paint in Amherst Gray: Benjamin Moore. Closets: Smart Closet Solutions.
Updated on May 23, 2023
—
Sweeten handpicks the best general contractors to match each project's location, budget, and scope, helping until project completion. Follow the blog for renovation ideas and inspiration and when you're ready to renovate, start your renovation on Sweeten.