Prepare for Serious Closet Envy
Side-by-side built-in wardrobes are a "wow"
Project: Creating a luxury closet for a master bedroom in upper Manhattan
Before: This one-bed, one-bath co-op apartment in Morningside Heights, Manhattan, had plenty of historic charm. It came with all the turn-of-the-century details that one looks for in a prewar apartment: beautifully preserved wainscoting and molding in the dining room, and hardwood floors throughout the entire apartment. It did, however, need a thorough refresh—and as part of the renovation, the homeowner installed a unique closet solution in the master bedroom. Read on for some serious closet envy!
When the homeowner first purchased the property, the bedroom had a small closet that left unused space in an awkward nook. It made sense to extend the closet along the entire wall to make full use of the available square footage for storage. Like Sweeten renovator Jacob, this homeowner also began to examine custom possibilities. He settled on an entirely custom solution, got a set of design drawings, and posted his project to Sweeten, a free service that matches homeowners with vetted contractors. This Sweeten contractor helped to execute his vision.
After: Rather than choosing a modular closet product, this custom solution was crafted especially for the space. The final product is reminiscent of prewar built-in armoires: it is flush with the wall and is finished in a transitional style, with both Shaker and flat panel fronts and simple nickel hardware. The Sweeten contractor helped to navigate the structural issues with the design, and took it from a concept to a completed product. This involved demoing the old drywall and hollow-core closet doors and framing out the space for the new built-in wardrobes. A millworker created and pieced together the built-in on site under the direction of the Sweeten contractor. The wardrobes themselves are constructed out of birch and plywood and finished with a matte white paint.
Much like custom built-ins in living rooms and other spaces, a fully custom closet is typically priced out by the linear foot. In NYC, this starts at approximately $800 to $1,000 for open shelving, while additional features such as doors, drawers, lighting, and other specialized solutions raise the cost.


Bonus: The wardrobes were also wired for electricity so that the homeowner could easily see his clothing when the doors opened.
Take a look below for inspiration from other Sweeten homeowners who have added customized closets to their renovations.
(Above) Whitney's walk-in closet has plenty of drawers and hanging space (Interior by easyclosets.com)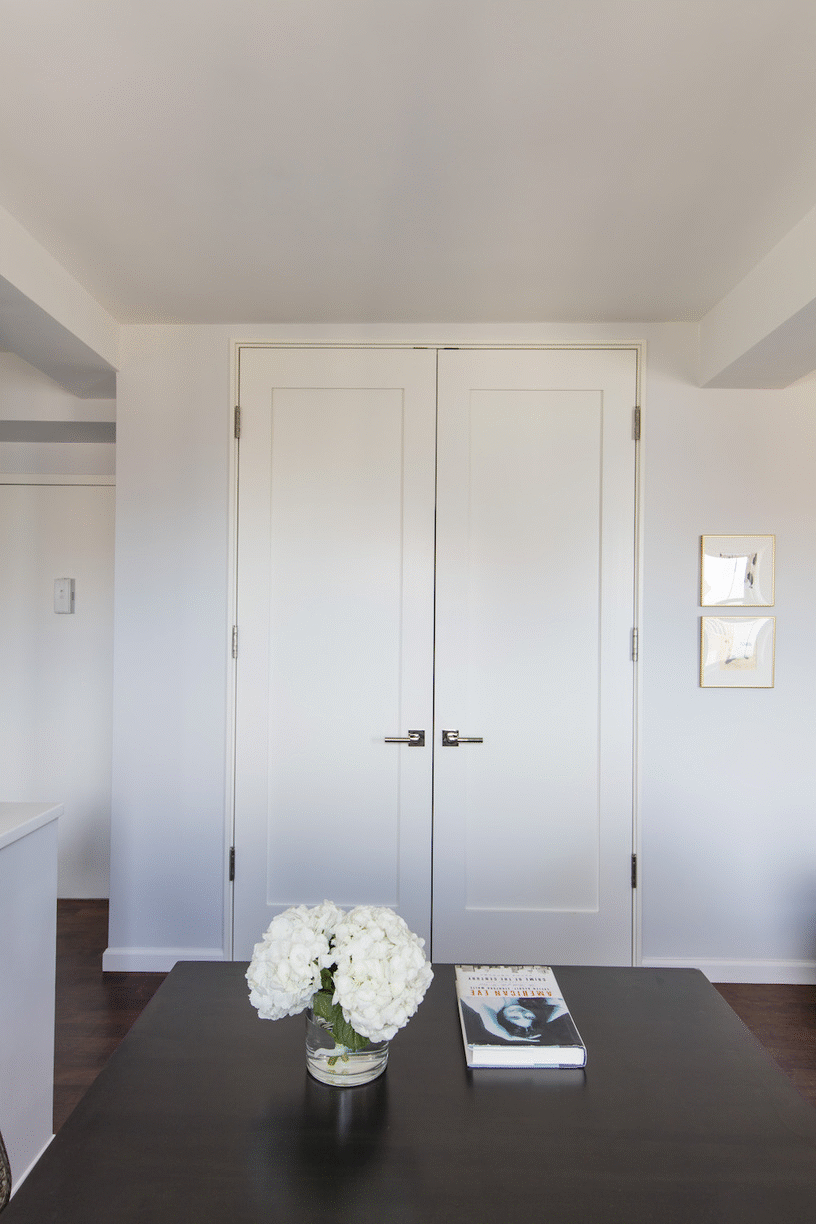 (Above) Lauren's closet has clothing and shoe storage covered, eliminating the need for a dresser (California Closets)
(Above) Nancy's walkthrough closet transformed the hall to the bath into the perfect studio storage space (California Closets)
—
We've seen all kinds of closet renovations with storage solutions for every space, from small studios to airy loft apartments.
Refer your renovating friends to Sweeten and you'll both receive a $250 Visa gift card when they sign a contract with a Sweeten general contractor. 
Sweeten handpicks the best general contractors to match each project's location, budget, and scope, helping until project completion. Follow the blog for renovation ideas and inspiration and when you're ready to renovate, start your renovation on Sweeten.