My Sweeten Story: A Hampton Bays Beach House Renovation Gets a Full Pop Art Redo
Artist Katy Garry's beach house renovation in Long Island includes a garage renovation for lounging
Homeowners: Artist Katy Garry and her husband posted their 1970s Cape house + garage renovation on Sweeten
Where: Hampton Bays, New York
Primary renovation: A top-to-bottom beach house overhaul reveals a new interior, including a garage renovation
Homeowner's quote: "

With Sweeten's help, we renovated and built a home that has exceeded our expectations."

Sweeten's role: Sweeten matches home renovation projects with vetted general contractors, offering guidance, tools, and support—for free..
Written in partnership with Sweeten homeowner Katy. After" photos by Lena Yaremenko for Sweeten.
A house flood sets off a new start
Sometimes you can spin a disaster into an opportunity. That's what happened with Hildreth Place, our house in the Hamptons. We used a devastating flood as a prompt to create a happy, modern home where family and friends can meet. 
SWEETEN Katy Garry-House-Before-04
SWEETEN Katy Garry-House-Before-09
SWEETEN Katy Garry-House-During-03
Hildreth Place has been in the Garry family for more than 40 years, and my husband and I have owned it for 10. The house is in Hampton Bays, New York, 50 yards from Meschutt Beach, where families gather to swim in the bay and live music plays every night at Tiki Joes. The house was originally built in 1970, in a traditional Cape style. We have long used it with family, shared it with friends, and also rented it.
Two years ago, all of a sudden, a pipe froze and burst. After discovering eight feet of water in our basement, we decided to go down to the bones and renovate. Our goals were to make the home more efficient from both energy and maintenance standpoints, all while turning it into something beautiful that our family and friends can enjoy.
A new chapter for a family home
Cara Boyce of Red Wagon Design partnered with me on the interior design and helped me reimagine the home. We planned to revise the façade, giving it the relaxed appearance of a modern farmhouse, and meanwhile use the interior redesign to solve problems and increase our living space. With Sweeten's help, we found the perfect contractor to help us with our Hampton Bays home renovation. Accordingly, he worked on time and within budget, keeping cost savings in mind and brainstorming solutions to construction challenges. This house had a few!
Hildreth Place has endured quite a bit, and we needed to prepare it for the future. The house has been standing 50 years, and is close to the beach and exposed to the elements. Consequently, our biggest investment was on exterior improvements. The materials needed to withstand the environment. For instance, we installed James Hardie clapboard on the exterior, invested in a fiberglass front door, and chose fiberglass casement windows rather than old-school wood. 
A garage renovation turns into a lounge space 
One of the biggest interior changes we made in modernizing was on the home's ground floor. The first floor was very traditional for a beach house, and the formal dining room, which was in the front of the house, wasn't practical for entertaining.
By raising the roofline, we were able to add about 200 square feet upstairs, creating space for a center hallway.
We decided to create an open floor plan that connected the kitchen to a walk-through dining room. It continued out to our attached garage. With the garage renovation, we stole just under 300 square feet to create a new inside-outside room. As a result, this "garage room," which opens to the back via an industrial-style roller door, lets the indoor space flow to the outdoors, and is an ideal casual gathering spot for coming off the beach.
On the second floor, there was another flow blockage to overcome: We had four bedrooms, including a big dormer for the kids, but the only way to access that bunk room was through one of the other bedrooms. It was an awkward layout for children trying to find the bathroom at night. By raising the roofline, we were able to add about 200 square feet upstairs, creating space for a center hallway. As a result of the resectioning, we also found us space for a master bathroom, a nice bonus.
Personalizing with color and art
Seeing my murals and paintings transform the house has been incredible. The master bedroom got a bold, black-and-white brush-stroke mural. I love it! I have a moody painting tucked between the shelves in the master bath and oceany pieces in all the first-floor rooms. A guest room with a bright bamboo theme features a hand-painted ceiling by me and is inspired by colors that I've been gravitating to—the combination of orange, hot pink, and red makes me happy.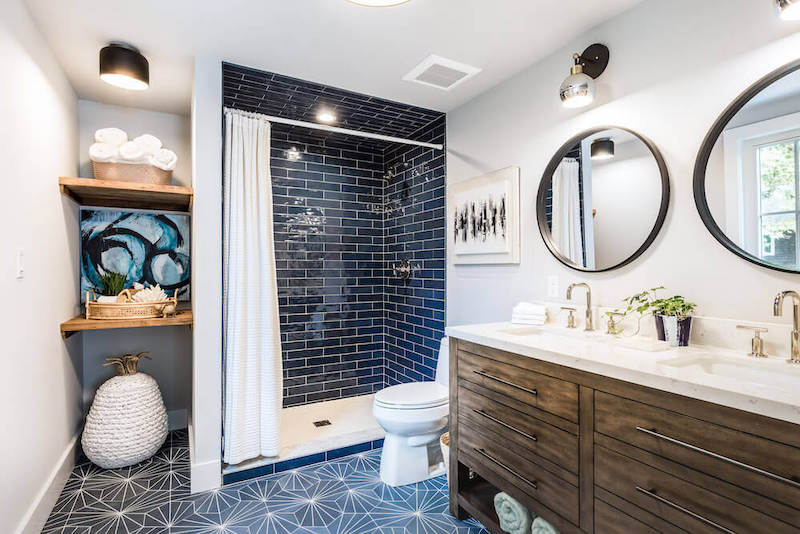 Renovate to live, Sweeten to thrive!
Sweeten brings homeowners an exceptional renovation experience by personally matching trusted general contractors to your project, while offering expert guidance and support—at no cost to you.
Down on the first floor in the powder room, just off the garage, we added wallpaper—this Dorothy Draper look was a dream of mine. The undeniably lush green print and chartreuse ceiling color is the kind of pairing that inspires me as an artist. Such a surprise when you open the door! My recommendation is to always spend money on things that give the most bang for the buck. I told my husband that the splurgy wallpaper was more important than running water.
Many of the room designs in the house are emphatically inspired by my paintings, as I really wanted to bring their joy into our home. One of the best examples of that is the "goldfish bathroom," which is bathed in a dappling of water-blue penny tile and features several playful fish paintings. 
Natural elements soften
Correspondingly throughout the house, we also chose simple items to offset the highly visible ones.  We went with pre-painted cabinetry in the kitchen, and the same hardwood floors as in other rooms. The lights are modern loft pendants, clean in matte white.
I'm intimidated by the process of picking out kitchen appliances, accordingly I let my mother-in-law—a holiday-entertaining superwoman—choose; she picked a single oven with the largest cubic heating space she could find. Finally, the living room fireplace mantel is made of a rustic, hewn-wood beam.
All in all, with Sweeten's help, we renovated and built a home that has exceeded our expectations. Hildreth Place makes me so proud. We took a tragedy and turned it into a house that makes you feel like you are on vacation the moment you walk in.
Thank you for sharing your Hampton Bays beach house renovation with us, Katy! 
First Floor Renovation Materials:
EXTERIOR RESOURCES: Plank lap siding and vertical siding: James Hardie. Casement windows: Andersen Windows & Doors. Fiberglass entry door: Therma-Tru. Avante garage doors: Clopay.
LIVING ROOM RESOURCES: Paint in Decorators White: Benjamin Moore. Bona Traffic Four-inch wide oak flooring in Bona Traffic satin finish: Bona. Light fixture shade: Hand Painted by Katy Garry. 
KITCHEN RESOURCES: Cabinets and countertops: Central Kitchens. Cabinet hardware: Lowe's. MDF shiplap backsplash: From general contractor. Pendant lighting: Mitzi Hudson Valley Lighting. Kohler sink/faucet: Green Art Plumbing. Refrigerator: Samsung. Dishwasher: Asko. Stove and oven: GE. Lighting fixture over island: Shades of Light. Lighting over sink: Rejuvenation. Paint in Decorators White: Benjamin Moore.
DINING ROOM RESOURCES: Paint on ceiling in Van Deusen: Benjamin Moore. Chandelier: Ballard Designs.
GARAGE RENOVATION ROOM RESOURCES: Garage doors: A Better Door Co Inc. Ceiling fan: Shades of Light. Custom resin bar: Painted by Katy Garry. Bar stools: Wayfair. 
POWDER ROOM RESOURCES: Wallpaper: Dorothy Draper. Paint on ceiling in Yellowcake: Farrow & Ball. Floor and shower tile: Marble America, New Rochelle NY. Kohler toilet, faucet, and shower hardware: Green Art Plumbing. Mirror: Ballard Designs. Sink vanity: Wayfair.
MASTER BEDROOM RESOURCES: Custom wall mural: Painted by Katy Garry. Paint on fireplace wall in Mopboard Black: Benjamin Moore. Sconces over mantle: Aerin Lauder. Light pendant over seating area: Vintage. 
Second Floor Renovation Materials:
BUNK ROOM RESOURCES: Stencil paint in Poppy Red: Benjamin Moore. Light fixture shade in custom fabric:  Red Wagon Designs.
BAMBOO BEDROOM RESOURCES: Paint in Decorators White: Benjamin Moore. Ceiling mural: Painted by Katy Garry. Light fixtures: Shades of Light.
MASTER BATHROOM: Bathroom floor tile: Cement Tile Shop. Shower wall and floor tile: Marble America, New Rochelle NY. Sink/vanity: Lowe's. Kohler toilet, polished-chrome hardware, and shower fixtures: Green Art Plumbing. Light fixture over sink and large ceiling lights: Shades of Light. Shelving lights: CB2.
GOLDFISH BATHROOM: Paint in Blue Nova: Benjamin Moore. Kohler bathroom floor tile, bathtub, toilet, hardware, and shower fixtures: Green Art Plumbing. Sink/vanity: The Home Depot. Mirror/medicine cabinet: Robern. Vanity lighting: Triple Seven Home. Center ceiling light: West Elm.
Originally Published April 29, 2021
Updated on September 1, 2023
—
ADUs or accessory dwelling units can transform into home offices, living space for family or as a rental, or a retreat.
Sweeten handpicks the best general contractors to match each project's location, budget, scope, and style. Follow the blog, Sweeten Stories, for renovation ideas and inspiration and when you're ready to renovate, start your renovation with Sweeten.