How to Add a Washer and Dryer to Your Home
What's involved in adding a washer and dryer to your home—from costs and permits, to how long it takes

(Above) Tracy + Gordon's basement renovation
For many homebuyers, a washer and dryer are at the top of their must-have list. So, what if you find your dream home, but there is no washer and dryer to be found? Depending on the type of structure, you may still have the option to remedy the situation. Read on for all the details on how to add the units to your house or apartment.
What do I need to add a washer/dryer to an apartment or house?
Space—This may be obvious, but there isn't always room in tiny NYC apartments for one! You can get creative—take a look at the unique solutions that other Sweeten homeowners have come up with for ideas. You may want to build a closet, tuck it under a kitchen counter, or hide it away inside cabinetry.
Building approval—This only applies to apartment buildings. Many buildings have no "wet-over-dry" rules, so it's best to choose a spot inside a "wet zone" in the apartment. Good locations include inside the kitchen or bathroom or directly next to one of those rooms. It will also be easier to route plumbing this way. Buildings usually stack the wet zones in a vertical line. Putting a washer and dryer in your bedroom closet wouldn't be permitted even if there's room for one. You'll have to submit an architect's plan for review by your board.

(Above) Cristiana's basement renovation
City permits—If you are adding new electrical and plumbing, you'll need proper city permits for either a house or an apartment.
Electrical capacity—Per typical building codes, the electrician will need to install an AFCI, which is a circuit breaker that will prevent electrical fires. However, you'll also need to confirm with a licensed pro that your home has the electrical capacity to handle the additional load. This goes for both a house and an apartment.
New plumbing and electrical—A licensed plumber and electrician will need to route new lines. If you go with a gas dryer, the plumber will install a new gas line as well as water lines for the washer.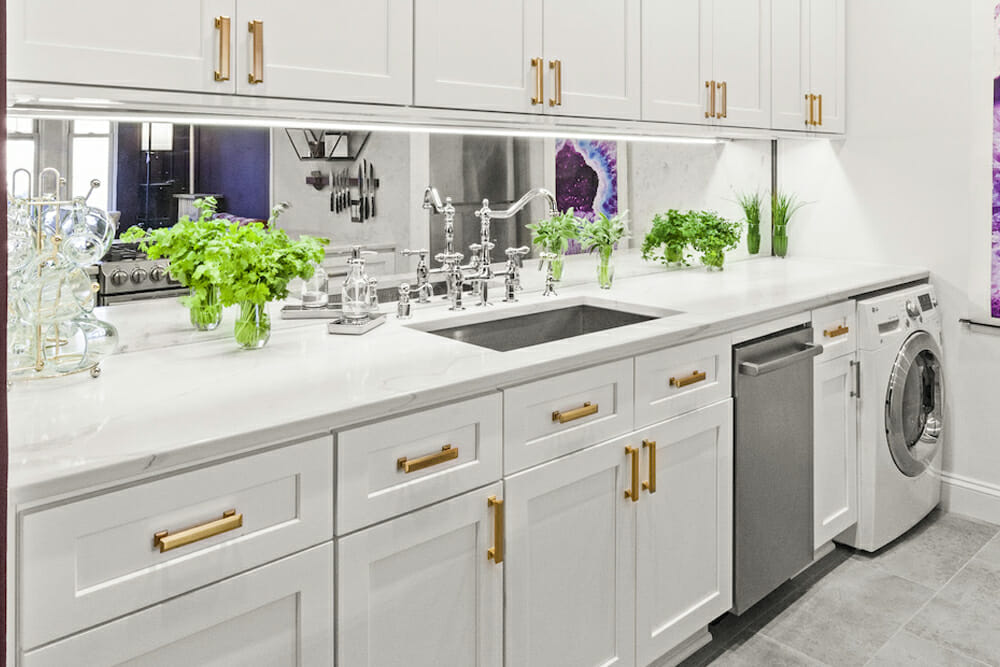 (Above) Marissa + Jeremy's kitchen co-op renovation
Getting approval to add a washer/dryer
If you live in an apartment building—whether it's a co-op or a condo—check the alteration agreement and house rules for adding a washer and dryer. Some buildings expressly prohibit it, others will allow existing units to be grandfathered in but will not permit new ones. A select number will allow it with the proper approvals and permits.
"If your building doesn't allow the installation of a washer and dryer, don't take it personally," said Sweeten contractor Majid. "There is a logical reason why. Older buildings have limited plumbing capacities that adding a washer may overwhelm. There is a higher risk of leakage and overflow as well as the potential for water or fire damage. Most boards won't accept the risk or liability" and won't allow it if the building is not already equipped for it. For this reason, it's also not advisable to add one without approval. Should your unapproved appliances malfunction and damage units adjacent to or beneath yours, you'll be responsible.
If you live in a house that you own, there should be no problem since there are no boards to notify. In a rental, you'll have to discuss it with your landlord, who may be willing to add one at his/her discretion.
(Above) Ashleigh + Jonathan's studio loft bathroom
How much does a laundry room remodel cost?
It will cost more to add a washer and dryer to a city apartment than it will in a house. "There are additional variables that get factored into the estimate," Majid says. Contractors will consider the parking situation, the limits on working hours permitted by the building, and the greater liability of working in a multi-unit building. Majid also suggests that compact, stackable washer and dryers (electric and ventless) are the most suitable choices for apartment living. In the city, homeowners should budget $7,000 to $15,000 on average for a new washer and dryer, which takes many variables into play. The higher end of the range includes creating a closet for the appliances.
In a house, because there are fewer complexities, the price range is lower: approximately $3,000 to $5,000 should get the job done. The higher end includes building a space or room to house the units.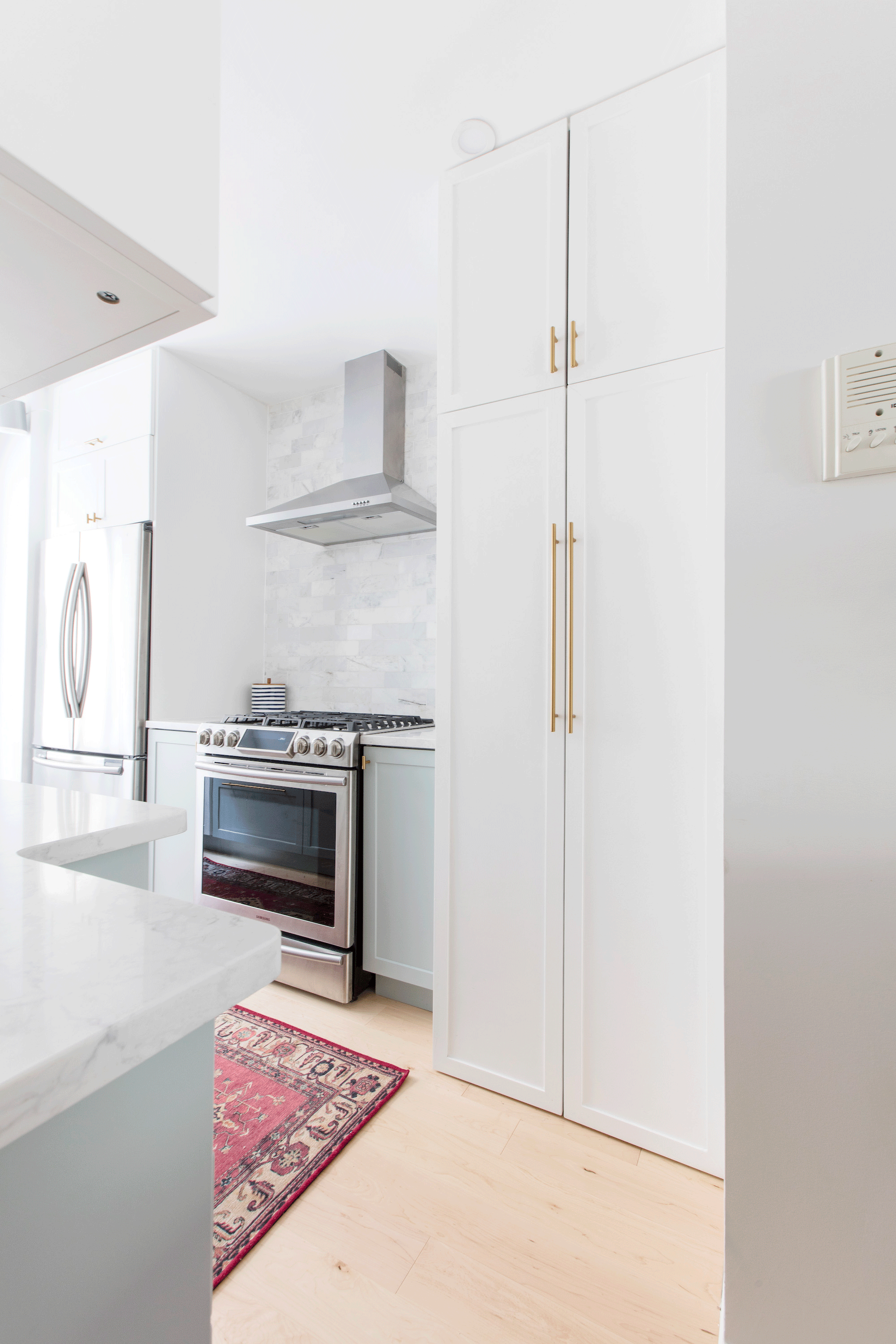 (Above) Gina + Andrew's apartment renovation
How long does it take to install a washer and dryer at home?
In terms of construction and labor, a good estimate is 3-5 days. The plumber will need a day, the electrician will need a day, and then you may need a day for relocations as well as to close up the wall. On day four, you'll be able to paint, once it's dry, install the new washer/dryer (day five).
What permits and approvals do I need before installing a washer/dryer?
If you are adding any new plumbing or electrical wiring, you'll need a permit from the city. If you live in an apartment building, you'll probably need approval from your condo or co-op board, even if it's a simple installation. Be sure to check house rules before hiring an architect to draw up plans.
If you are already considering a renovation elsewhere in your home, adding this to your scope is a good idea if you're able to meet the criteria above. Take advantage of having your general contractor, renovation plans, and schedule already in place, and get ready to unveil your new home—and laundry perks—all at once.
—
We're pinning these laundry rooms, STAT: 5 Small Laundry Room Ideas for Apartment, Condo and Co-op Dwellers
Lynn and Craig's number one renovation ask? A washer and dryer in their Prospect Heights co-op.
Sweeten handpicks the best general contractors to match each project's location, budget, and scope, helping until project completion. Follow the blog for renovation ideas and inspiration and when you're ready to renovate, start your renovation on Sweeten.