7 Space-Savvy Ideas to Maximize a Small Kitchen
These small kitchen remodeling ideas will impress
Tuck in, hang above, pull-out, swap around. We present small-space solutions for the kitchen. When you can't rely on floor space, try furniture that multitasks, storage that capitalizes on odd spaces, and custom installations. Ingenuity can make up for square feet. From built-in dish racks and breakfast bars to a pegboard like Julia Child's,  Sweeten homeowners have found ways to make their small kitchens feel grand. All these ideas work just as well in larger kitchens, by make a big space more efficient.
Use shelving to save counter space
Jo, a product designer, took a cue from Europe and used bamboo shelves as a drying rack above the sink. (Another Sweeten homeowner did this too.) She had the shelves sealed to prevent warping. What a great way to keep your dish-drying tidy and organized while saving space on the countertop.
Replace the free-standing bar cart with bar shelves
Renovate to live, Sweeten to thrive!
Sweeten brings homeowners an exceptional renovation experience by personally matching trusted general contractors to your project, while offering expert guidance and support—at no cost to you.

Start your renovation
The small size of their corner kitchen didn't deter Dianna and Todd from featuring a bar in their 440-square-foot studio. A set of wall-hung shelves display the ingredients for a fun gathering.
A multi-functional kitchen table
Elizabeth and Martin reviewed several sketches for new floor plans before selecting the winner for their 124-square-foot galley kitchen. A bar-height table now holds storage which also seats 4-5 people café-style. To minimize clutter on the kitchen countertop, they  had a built-in paper towel holder designed right into the cabinetry.
A compact dishwasher hidden in the cabinets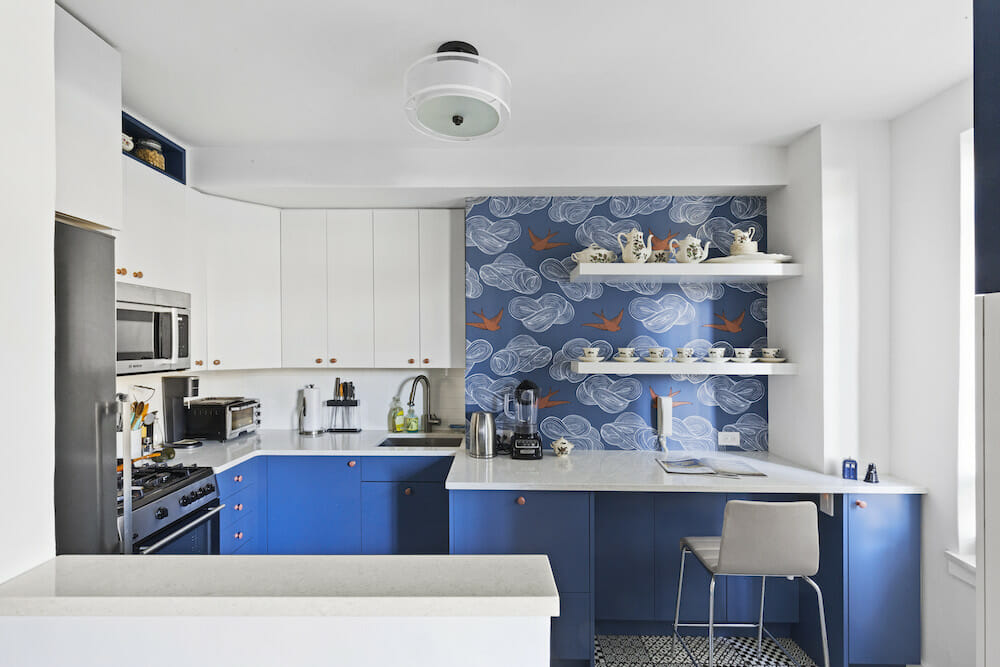 Desperate for more storage in her tiny kitchen, Mollie decided to get rid of her full-size dishwasher. In a stroke of genius, her Sweeten contractor designed a pull-out drawer that could conceal a much smaller unit. The swap also meant one less visible appliance.
Swapping appliances can save space
Paul's galley kitchen was extremely small and had little working counter space. Swapping the fridge and the range locations improved the entire flow. His great design triumph a 14″ ledge that wraps around the whole end wall. He now has added counter space, and a  useful spot to perch for enjoying coffee or reading.
Highly functional built-ins
 Casey and Kumar added a pull-out cutting board for more prep space. It's part of a custom, floor-to-ceiling built-in that spans the width of a wall filled with various-sized cabinet doors.
A pegboard for efficiency and character
Clever organization made it possible for Sunghee and Joseph to work in their 44 square-foot kitchen. They focused on smart storage solutions, like the pegboard panel on the outside of a narrow pantry cabinet. It also doubles as a drying rack.
—
Refer your renovating friends to Sweeten and you'll both receive a $250 Visa gift card when they sign a contract with a Sweeten general contractor.
Sweeten handpicks the best general contractors to match each project's location, budget, scope, and style. Follow the blog, Sweeten Stories, for renovation ideas and inspiration and when you're ready to renovate, start your renovation on Sweeten.