5 Bathrooms Give Their Vanities the Spotlight
Looking for some serious bath storage that feels fresh and functional? An IKEA vanity is the way to go
When designing your new bathroom, storage and organization is key to creating a clutter-free, soothing environment. The bath vanity you choose will have a big impact on the amount of storage you can fit. Choose a stock or pre-fab unit from stores like IKEA, Home Depot, and Lowe's—or you can have one custom built. Unless you have an unusual layout or are looking to do something dramatic with your design, a custom vanity isn't always necessary. Stock vanities can offer plenty of storage, work with any style, and are budget-friendly. Here are 5 examples of Sweeten homeowners who chose an IKEA vanity for their space.



Mario and Joe's bathroom in Clinton Hill, Brooklyn
Mario and Joe designed their bathroom around a striated gray porcelain tile that had the appearance of coarse denim. To balance out the cool gray tile, they chose a stained oak IKEA vanity for their bath and worked with their Sweeten contractor to build a custom countertop to fit a Kraus sink on top for a more unique look.


A Scandinavian inspired bathroom in Clinton Hill, Brooklyn
Envisioning a simple, clean space, these Scandinavian-obsessed Brooklyn homeowners chose white subway tile and dark slate for high contrast. The glass-walled shower helps make the space feel open and bright while a white two-drawer vanity, along with a recessed medicine cabinet, provide ample storage.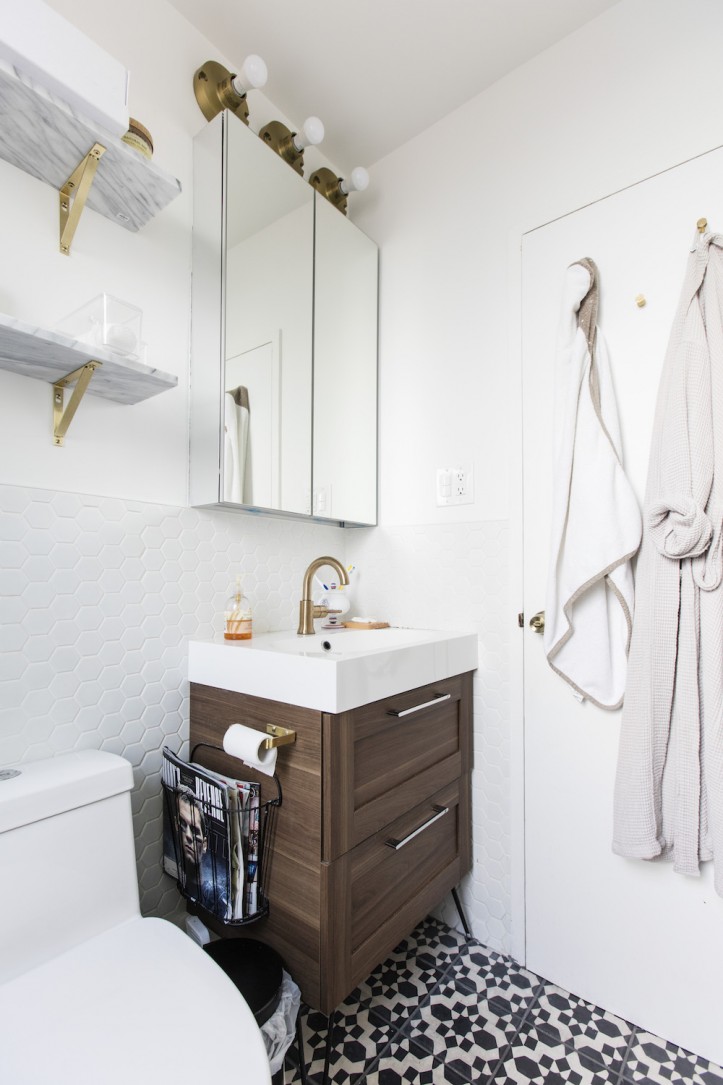 Fabio and Melina's bathroom in Carnegie Hill, Manhattan
Focusing on making their small bathroom feel less cluttered, Fabio and Melina supersized their storage with an IKEA vanity in a walnut wood finish, pairing it with marble and brass shelves from CB2. Bronze fixtures and hardware plus a handmade, cement and granite Moroccan floor tile add warmth and character.



Lindsay and Matt's bathroom in Ditmas Park, Brooklyn
Although the bathroom in their new home had been recently updated, the finishes felt cheap and bland. Lindsay and Matt set out to increase storage to accommodate their growing family. The pedestal sink was replaced with a sleek square sink and two-drawer unit, while new lighting made the space feel brighter.


Kristen's bathroom in Chelsea, Manhattan
Looking for a functional upgrade, Kristen set her sights on updating fixtures and boosting storage. She combined a sleek, dark gray IKEA vanity with a new sink and medicine cabinet. The refreshed space proves that even a few simple changes can transform a room.
 —
Want more IKEA inspo? Chcek out our roundup of unique IKEA kitchen cabinets from Sweeten renovators!
When redesigning your bathroom, consider every nook and cranny while planning your storage.
Sweeten handpicks the best general contractors to match each project's location, budget, and scope, helping until project completion. Follow the blog for renovation ideas and inspiration and when you're ready to renovate, start your renovation on Sweeten.