7 Ways Renovators Style Ikea Kitchen Cabinets to Work for Them
Chic and cost-effective? Yes, please! 7 renovations show how to style Ikea kitchen cabinets to make that happen.
Aside from closets, kitchen cabinets represent one of the larger concentrations of millwork and storage designed to keep spaces organized and clutter out of sight. Whether modern or traditional or navy blue or natural wood, the cabinets you choose will have an impact on the look and feel you want your kitchen to portray. 
Some homeowners choose to go fully custom, some opt for stock cabinets, and sometimes it's a mix. To assist in your research, Sweeten, a free renovation platform that matches homeowners with licensed general contractors and tracks their projects, has rounded up a few of our renovators' kitchens. Here, the thinking behind their decision to incorporate Ikea cabinets into their cook spaces with the help of their Sweeten contractors.
For High Gloss Glamour
Lavanya and Regis's gallery-style kitchen got a major style overhaul during their railroad-style apartment renovation. To make the main rooms bright and airy, they chose glossy white Ikea kitchen cabinets to complement their high-gloss, white-painted wood floors.
Go Low on Cost, High on Style
Full disclosure: Sally's kitchen is a mix of Ikea Sektion bases and custom door fronts from Scherr's. It's a great example of how to get a bespoke look for less—and saved the renovator (she has four under her belt!) $25,000.
Renovate to live, Sweeten to thrive!
Sweeten brings homeowners an exceptional renovation experience by personally matching trusted general contractors to your project, while offering expert guidance and support—at no cost to you.

Start your renovation
For Euro-Industrial
Uldis and Serge, Europeans-turned-New Yorkers, mixed contrasting colors and finishes with their styled Ikea kitchen cabinets to create a Euro-Industrial feel. Their upper kitchen upper cabinets, which were a high gloss white, integrated smoothly with the stainless steel cabinets on the bottom. The end result? A sleek kitchen that doesn't sacrifice fashion for function.
To Go Scandinavian Sleek
Jen loves the Scandi-look, so when it came to renovating her kitchen, Ikea kitchen cabinets were a must. She chose the Veddinge cabinet front doors and minimalistic tab pulls to create an unfussy and practical cook space with major hygge vibes. 
For Expanded Pantry Space
We never thought pantry storage would become the crown jewel of a kitchen…but then we saw this Brooklyn kitchen. With wraparound, floor-to-ceiling shelving, including full-height 15″ upper Ikea kitchen cabinets, their multi-generational home has enough kitchen storage for all the family members.
To Complement Hero Pieces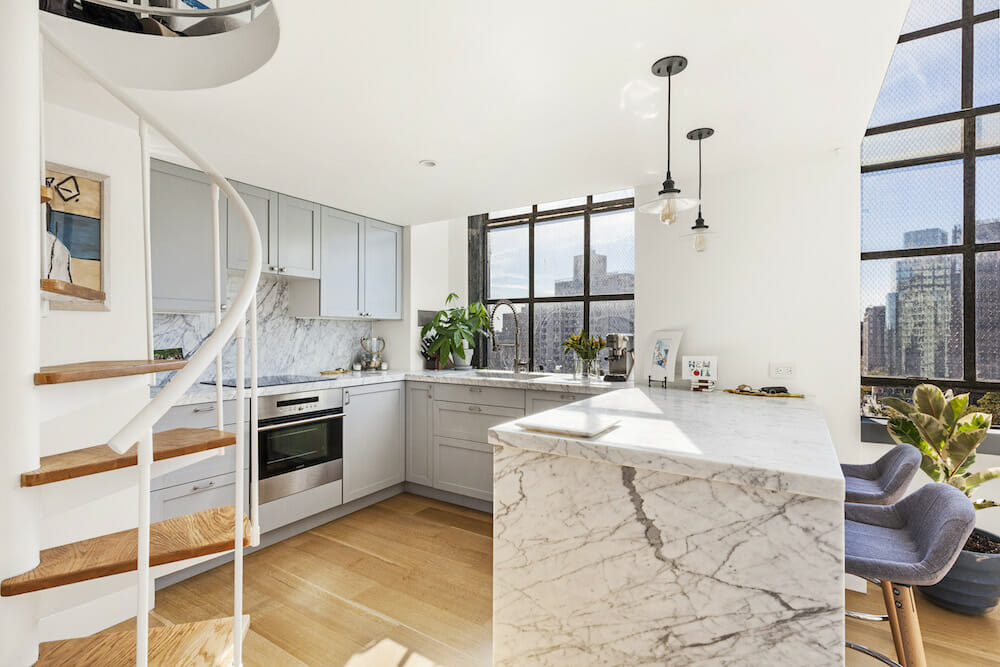 In a Manhattan loft this awe-inspiring with high ceilings and windows, it's best to pick one or two show-stopping features. For this renovator, that meant the home's original bones and a standout Carrara marble countertop and backsplash. So, when it came to styling his kitchen cabinets, he chose gray-blue Ikea to complement the rest of the apartment.
To Be Sustainable
Sandra and Michael chose their Bodbyn style Ikea kitchen cabinets for a few reasons. They had originally planned to use reclaimed cabinetry, but given the kitchen's tight layout, they needed a narrower option. "We decided to go with Ikea because we felt they offered the best sustainable options and price," Sandra shared. 
Ready to start your own Ikea kitchen renovation? Share your project with Sweeten today!

P.S. Do you have an Ikea kitchen? We'd love to get your thoughts for an upcoming article. Leave a comment below addressing the following questions, and you could be featured! 1. How long have you had the cabinets? How have they held up? 2. Why did you choose Ikea kitchen cabinets? 3. Share any other comments/feedback you have.
—
Want more inspiration? Check out these kitchens before and afters.
Sweeten handpicks the best general contractors to match each project's location, budget, scope, and style. Follow the blog, Sweeten Stories, for renovation ideas and inspiration and when you're ready to renovate, start your renovation on Sweeten.