The Double Sink Vanity: 5 Bathrooms Get 2X Space, Style
A double sink vanity can introduce extra working space in the bathroom, without skimping on style
If you have space, you should consider adding a double-sink vanity when redoing your bathroom. This welcome luxury allows homeowners to more easily share their space and simplify their morning routines. No more banging on the bathroom door to get in to brush your teeth! You can do so side-by-side with your child or partner.
Double-sink vanities also offer extra storage space, with options like additional drawers and cabinets. (And who couldn't use some extra storage?) Here, we show 5 Sweeten renovators who chose double-sink vanities when renovating their baths.
Sweeten matches home renovation projects with vetted general contractors, offering advice, support, and up to $50,000 in renovation financial protection—for free.
Adding a double-sink vanity for resale
This Chicago homeowner came to Sweeten to find a contractor. She wanted to sell her condo and knew that a renovation was in order. She turned her attention to the master bedroom and her two bathrooms. A well-designed, new bathroom is a big draw for potential buyers. Luckily, the master bath had plenty of square footage, and just needed to be modernized. She had an existing double-sink vanity so she was able to easily replace it with a more contemporary-looking one. "It looks great," says the homeowner. "Bigger, brighter, and more modern."
Pro advice: This homeowner was fortunate that she had a pre-existing double-sink vanity, and thus, the plumbing that goes along with it. If you are thinking of upgrading from a single to a double sink, remember to factor in the cost of additional plumbing.
---
Bringing the bath into the 2020s
Similar to the homeowner above, Leah and Brian wanted to make their Chicago condo more modern. However, they planned on staying—not selling. They focused on renovating their kitchen and bath, moving away from the browns and beiges. For the bath, they kept the footprint the same. They already had a double-sink vanity, so they just upgraded it with a more contemporary one. They replaced the busy brown and white marble with a muted gray-white countertop.
Pro advice: Know your size. Standard single-sink vanities range anywhere from 36-48 inches. Standard double-sink vanities are much longer, ranging from 60-72 inches. Talk with your contractor and check that your space can fit this design.
---
A close-fitting—but golden-glamorous—double sink
For Jenifer Herrmann, a media exec, and her partner, Mitzie Wong, a designer, painter, and co-founder of creative design firm Roar + Rabbit, it was important to have their home reflect their styles and personalities. They came to Sweeten and found a contractor to bring their master bath in Brooklyn to life. "Our big goal for the master bath was to add a double vanity—a tight squeeze and ultimately a feat," said Jenifer, "since we didn't find a 60-inch-wide unit with storage that we both liked."
The vanity they chose doesn't have cabinets but luckily their Sweeten contractor came to the rescue. During demolition, he found an extra 6-8 inches in depth between the wall studs, which they used as additional storage space.
Pro advice: Make sure you meet both your form and function needs, like Jenifer and Mitzie. Even though their selected vanity didn't have storage, they were able to add it elsewhere. There are many different styles of double sink vanities—free-standing, wall-mounted, floating—so be sure to match your style preferences with your everyday needs.
---
A bright, airy, and shareable double sink setup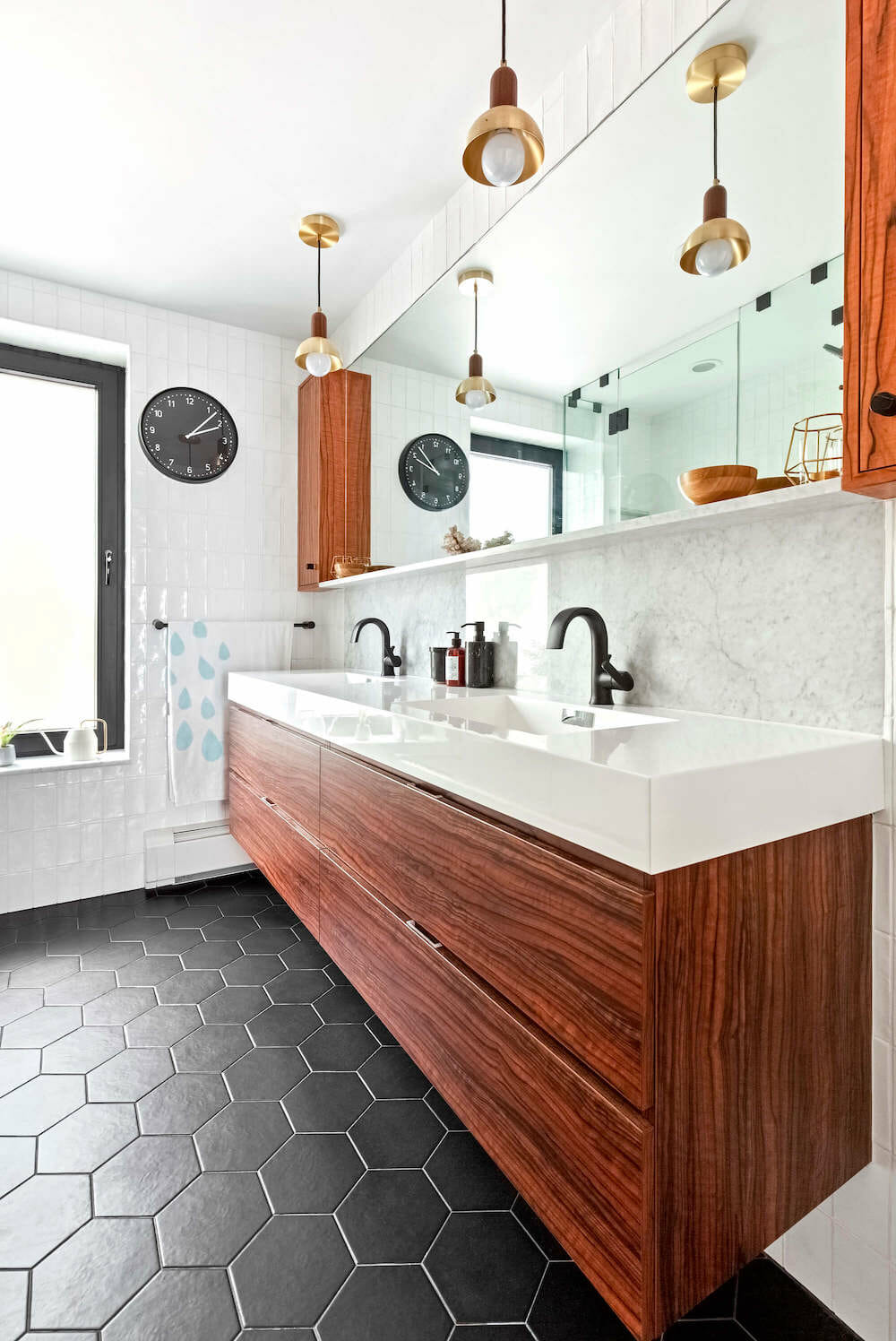 Jill, a community college professor, and Cy, a nonprofit executive, didn't want to move to the suburbs. They liked their Brooklyn neighborhood but needed more space for their family. So, they found a 1,920-square-foot townhome in the same area and called Sweeten to find a contractor.
Jill wanted a master bath that would accommodate their busy lifestyle. It needed to be bright, airy, and functional. She selected a double-sink vanity that she and Cy could share easily with long drawers for storage. In addition, she had her Sweeten contractor custom build the mirror and medicine cabinets above to match the floating vanity.
Pro advice: There are many benefits of a double-sink vanity. A key benefit? Saved time. Two sinks make it easy for couples or families to get through their morning routines without disrupting or delaying each other.
---
Drawers and cabinets produce a zero-clutter look
After they became empty-nesters, Mary Ann and her partner dreamed of an upgrade to their bathroom. They had been living in their Upper West Side co-op since 1992. Their bathroom still had the same tub and tiles from 1929 when the building was built.
Their Sweeten contractor helped them transform the space from a rundown, dingy bathroom to a beautiful, expansive area complete with double sinks. They did lose storage space in their master and hall bathroom when they renovated, but they put in a large vanity to make up for it. The vanity has six large drawers and two cabinets for storing supplies. "We were just going for a calmer, less cluttered look," said Mary Ann. "Now, everything is put away."
Pro advice: If you lose storage space during the renovation process, vanities can make up for it. There are so many free-standing, double-sink vanities to choose from that have multiple drawers and cabinets to accommodate all your necessities.
—
7 Sweeten renovators decided to ditch their dated bathtubs to add in sleek showers.
Empty nesters Beth and David moved back to New York City to start the next chapter in their newly-renovated co-op.
Sweeten handpicks the best general contractors to match each project's location, budget, scope, and style. Follow the blog, Sweeten Stories, for renovation ideas and inspiration and when you're ready to renovate, start your renovation with Sweeten.