Get Shelved: Open Storage in Bathrooms
Be open to the idea of unconcealed storage  
No matter how big your bathroom is, the first thought to reduce clutter would be to keep it all tucked away in drawers and cabinets. But when things are out of sight, they are also harder to find. Strategically-placed open shelving adds visual interest and can make life a little easier. Sweeten, a free service matching homeowners with vetted general contractors, has seen many renovators creatively add open storage to their baths. From recessed open shelving to floating shelves, see what ideas you might want to incorporate in your own bathroom renovation.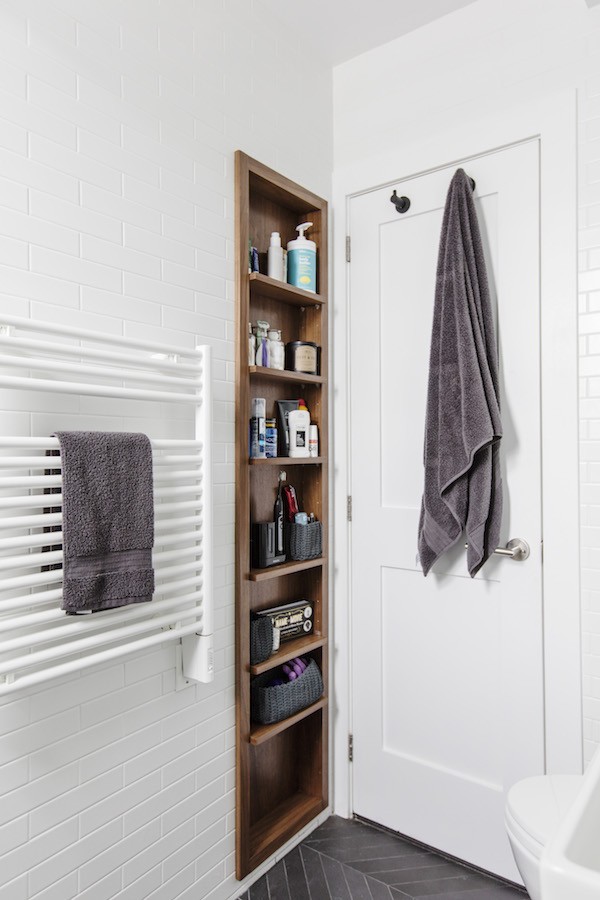 Maria and Eric's small bath needed storage that would blend seamlessly with their minimalist Scandinavian apartment. A recessed wall unit with open shelves was the perfect solution. Plus, hiding it behind the door means it's only visible when the door is closed.
Classic open shelves are always a good idea. In Saira's bathroom, they provided extra storage for the family of four and brought contrast to the otherwise black and white space.
Renovate to live, Sweeten to thrive!
Sweeten brings homeowners an exceptional renovation experience by personally matching trusted general contractors to your project, while offering expert guidance and support—at no cost to you.

Start your renovation
Erica's general contractor took open storage to the next level with shower niches featuring glass shelves. The integrated organization idea is as practical as it is pretty.
A storage niche was already part of the original bathroom layout in Katie and Lance's apartment. They removed the tired and off-kilter shutter doors and installed clear shelves.
Fun fact: The shelves in Karun's industrial-inspired bathroom are made from a tree that fell in his sister's backyard. To add to the edgy look of the space, he chose exposed pipe brackets to hang them, too.
Ed and Alicia opted for trough sink instead of a more traditional sink/vanity and needed to find storage elsewhere in the bath. The mirror above doubles as a shelf, and on the adjacent wall they installed a 1940s American Red Cross medicine cabinet as another storage option.
A ledge in Joe and Mario's new bathroom, which extends from the sink countertop over the toilet, provides extra space for decorative items or toiletries and makes use of what otherwise would be lost space.
Dramatic black walls are a luxurious backdrop to these classic glass shelves with silver hardware in Marissa's bath.
The minimal medicine cabinet in Giulia's renovation fits right in with her laidback and chic European-style. Our tip? Keep the items you use most frequently on the bottom shelf for easy access.
—
Need more spots to stash towels and toiletries? We've got storage options for every nook and cranny in your bathroom.
Sweeten handpicks the best general contractors to match each project's location, budget, and scope, helping until project completion. Follow the blog, Sweeten Stories, for renovation ideas and inspiration and when you're ready to renovate, start your renovation on Sweeten.