6 Popular Bathroom Tile Styles
Breaking down the cost of bathroom tile and the top go-to designs for the floor
Floor tile from modern country and classic to monochrome
While it's most important for bathroom floor tile to be functional, finding the right design style is what gives the room its personality. Fortunately, the cost of bathroom tile presents a wide spectrum of shapes, colors, and finishes. From the penny round to cement tile, increase or lower the design volume to match your vision.
Here are some top looks from our Sweeten bathroom renovations—along with pricing info—to guide your search. The price points below fit a wide range of budgets—from $2 per square foot for a classic ceramic and $18+ for a more handmade look to $30+ for a marble mosaic.
Sweeten matches home renovation projects with vetted general contractors, offering advice, support, and secure deposits—for free.
Herringbone tile
gray-bathroom-vanity-black-herringbone-floor-tile
herringbone-floor-tile-cement-wall
Bathroom-soaking-tub-herringbone-marble-floor-tile
(1st photo) Kyli and Luke's black herringbone tile; (2nd photo) Karun's industrial bathroom; (3rd photo) Greenwich Village loft bath
The herringbone floor tile pattern can easily be the featured focal point in the bathroom. Choose a neutral and the design still delivers dimension and texture. Or opt for a bolder hue for more impact. In a variety of sizes and colors, the tile is popular in marble, porcelain, and ceramic between $4.25–$50 per square foot. 
Kyli and Luke renovated their bathroom in their 1920s house and used materials that would last. They designed the room to be stark and graphic. Black porcelain tile with black grout produced the artisanal effect they wanted. Sweeten homeowner Karun brought a modern industrial look to his bathroom. A marble herringbone floor tile softens the edgy raw feel overall. In a Greenwhich Village loft, marble is a main feature in the kitchen. The homeowner followed suit with marble in the bathroom with a larger-format herringbone.
Cement tile
bathroom-with-blue-cement-tile-herringbone-pattern
cost-of-bathroom-tile-blue-cement-tile
(Top slides) Mitzi and Jenifer's blue cement bathroom tile; (bottom photo) Katy's patterned cement tile
Renovate to live, Sweeten to thrive!
Sweeten brings homeowners an exceptional renovation experience by personally matching trusted general contractors to your project, while offering expert guidance and support—at no cost to you.
Cement tile, or encaustic, is durable and its texture has more grip underfoot. Therefore, it is a safe and good-looking choice for the bathroom. Made from natural materials, cement tiles are also porous so they need to be sealed properly. Sweeten homeowners Mitzi and Jenifer installed the same federal blue floor tile in their master and guest bathrooms: one in a stacked bond pattern and the other in a herringbone.
Plenty of linear shapes coordinate nicely in artist Katy Garry's master bath. Her Sweeten renovation mixed glossy subway tile with graphic cement floor tile in primarily black neutrals. These tiles can cost between $10–$18 per square foot for an 8" x 8" tile. 
Ceramic tile

(Top photo) Brooke and Sam's powder room; (bottom photo) Nicole's patterned ceramic bath tile
Ceramic tile is a versatile choice if you're looking for solids, patterns, or the look of natural materials like marble or slate. Its water-resistant qualities make it function well in the bathroom. Brooke and Sam fashioned a perfectly balanced style in their powder room. Wood-looking ceramic tile was the right neutral to complement a black-and-white floral wallpaper in a large-scale pattern.
Initially, Nicole thought she wanted an all-white bathroom for her basement. She decided, however, to let this room give the bottom floor the personality it was missing. Thanks to her Sweeten contractor, she had guidance with material selections. So, Nicole settled on a 16" x 16" patterned gray ceramic floor tile. Depending on shape and color, expect to spend between $3.50–$40 per square foot.

Hexagon tile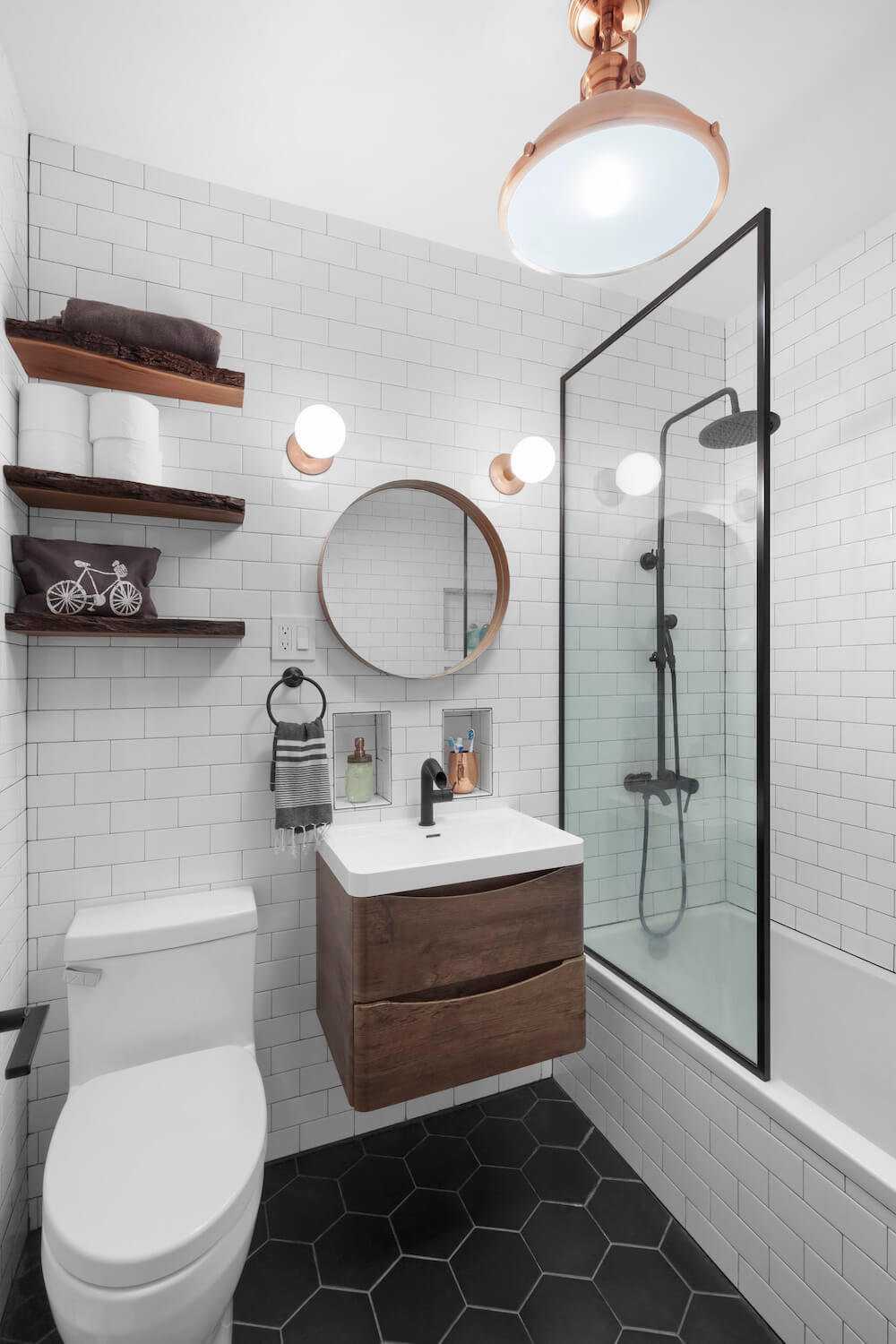 (Top photo) Tara and Brian's bath; (bottom photo) Hexagon floor tile in an all-white bathroom
In Tara and Brian's bath, dark hexagon tile paired with light grout grounds the design and gives it a modern vibe.
A Sweeten homeowner in Prospect Heights chose classic white on white for her bathroom renovation. Except for a few modern black finishes, her marble hex floor tile has the graphic pattern of a honeycomb. Expect prices to be between $5–$45+ per square foot. Marble and ceramic start at around $15 per square foot, and porcelain at $10.
Penny tile

(Top photo) Katy's blue penny bath tile; (bottom photo) Rachel and Michael's shower
Penny tile is a classic option that gives off major vintage vibes. The goldfish artwork, created by artist and Sweeten homeowner Katy Garry, inspired the dappling of gradient white and blue penny tile. It covers her bathroom from floor to ceiling invoking the sense of being in the water. In Brooklyn, Rachel and Michael's shower renovation transformed it into a waterfall mosaic. Penny tile is a type of inexpensive floor tile, costing as little as $5 per square foot for white porcelain. The price increases to $18 or more for colorful mosaics.
Basketweave
bathroom-basketweave-floor-tile
bathroom-basketweave-tile-floor
Basketweave is truly old-school, but it's been making a steady comeback. For example, in Tina and Fletcher's master bathroom, it feels surprisingly modern as part of the minimalist design. In Tara and Mike's bath, the tile lends itself to a more traditional look without making the space feel dated. Porcelain, a material used in inexpensive bathroom tile, can cost around $8 per square foot; high-quality marble begins around $30 per square foot.
When you're ready to get started on your bathroom or home remodel, work with Sweeten to renovate with the best contractors.
—
Sweeten handpicks the best general contractors to match each project's location, budget, and scope, helping until project completion. Follow the blog for renovation ideas and inspiration and when you're ready to renovate, start your renovation on Sweeten.