5 Popular Bathroom Tile Styles
When it comes to tiling your bathroom floor or walls, there are many options to choose from. For example, you can go the timeless and classic route and opt for the minimalistic look of subway tile. Or, add a little flavor with different geometric patterns like the hexagon or penny shape. These homeowners came to Sweeten, a free renovation platform that matches homeowners with licensed general contractors and tracks their projects, to revive their bathrooms. 
To help you decide, we've rounded up some of our favorite bathroom floor tiles—along with pricing info—to guide your search.
Subway tile

(TOP) Allyson's bath (BOTTOM) Katie and Lance's bath
For her bathroom, Allyson decided to express her sense of style through her finishes like the striking brass sinks she imported from Australia. Therefore, to make these design features standout, she chose pale-colored subway tiles that would subtly blend into the overall look of the space. Alternately, homeowners Katie and Lance used a subway tile for their walls with a beveled edge to add interest. Standard subway tile costs around $2—$5 per square foot; the beveled edge variety costs around $6—$8 per square foot.
Glazed ceramic tile

(TOP) Ryan and Sophie (BOTTOM) Meredith's bath
Glazed ceramic tile makes a bold statement. For Ryan and Sophie's bathroom, they chose a 36" x 36" glazed tile that looks like marble. At about $4/square foot it was "pretty reasonable," which helped since they ended up tiling the ceiling with it, too. For another Sweeten renovator, a wash of blue glaze gave her wall tile a unique watercolor effect. If you're looking to add some glazed tile to your space, expect to spend around $9 per square foot.
Hexagon tile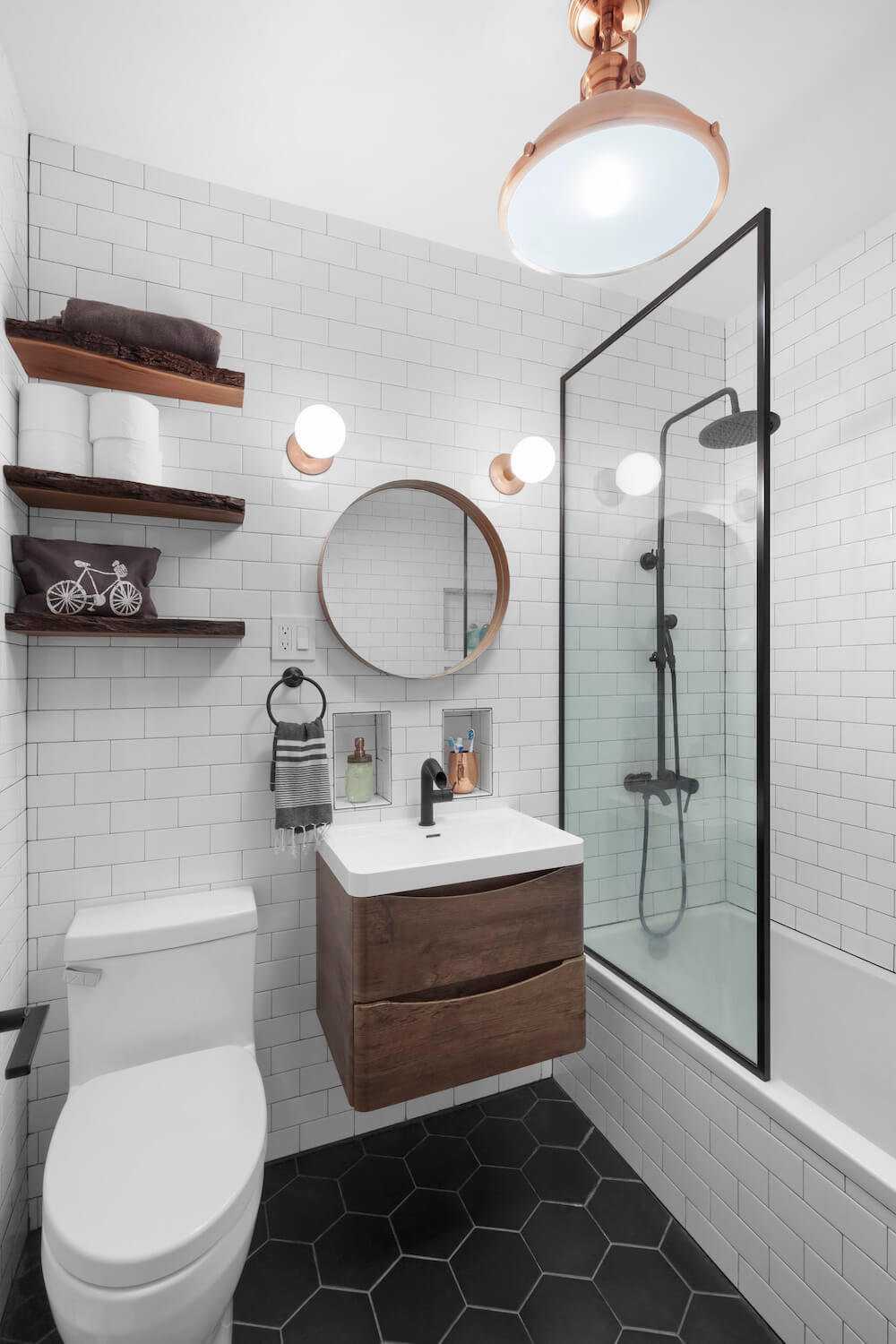 (TOP) Tara and Brian's bath (BOTTOM) Erica's bathroom
In Tara and Brian's bath, dark hexagon tile paired with light grout grounds the design and gives it a modern vibe. However, this tile also has a softer side, as seen in the Mixare hexagon floor tile in taupe and Duet wall tile in white found in Erica's bathroom. Porcelain hexagon tile averages around $10 per square foot; marble begins around $15 per square foot.
Penny tile

(TOP) Kusum and Dave's bath (BOTTOM) Rachel and Michael's shower
Penny tile is a classic option that gives off major vintage vibes. It works as the bathroom floor tiles in Kusum and Dave's master bath and transforms into a waterfall mosaic in Rachel and Michael's shower. Penny tile is a type of inexpensive floor tile, costing as little as $5 per square foot for white porcelain and up to $18 or more for colorful mosaics.
Basketweave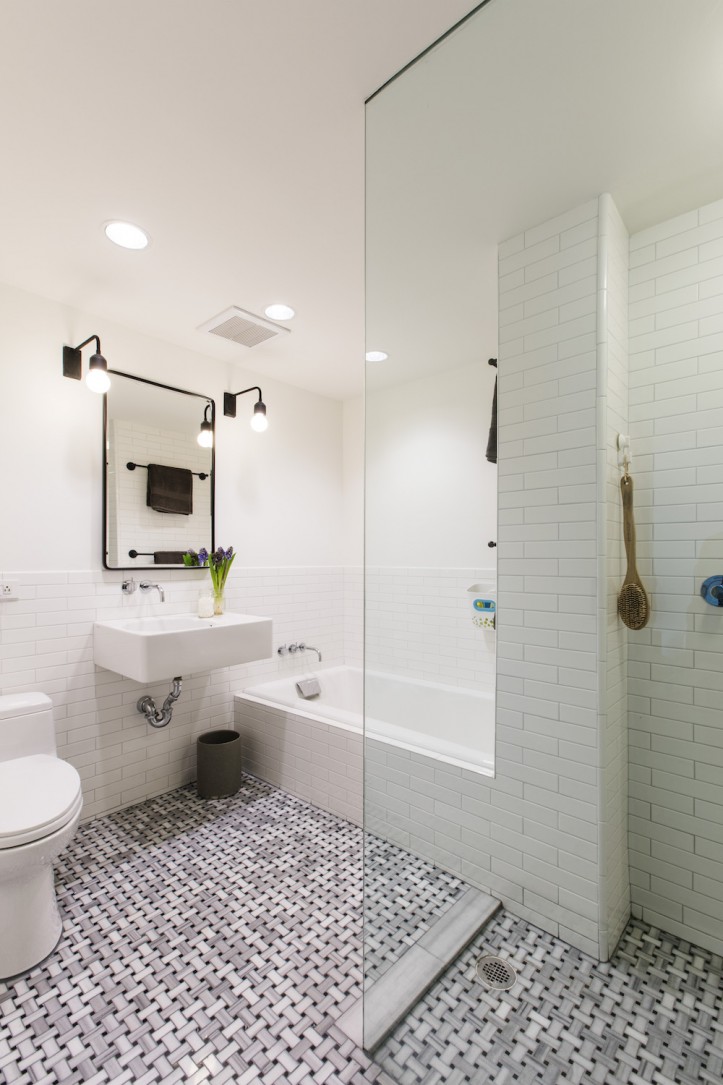 (TOP) Tina and Fletcher's master bath (BOTTOM) Tara and Mike's bath

Basketweave is truly old-school, but it's been making a steady comeback. For example, in Tina and Fletcher's master bathroom, it feels surprisingly modern as part of the minimalist design. In Tara and Mike's bath, the tile lends itself to a more traditional look without making the space feel dated. Porcelain, a material used in inexpensive bathroom tile, can cost around $8 per square foot; high-quality marble begins around $30 per square foot.
Feeling inspired to start your bathroom renovation with Sweeten?
—
When it comes to renovating, DIY enthusiasts can get sweat equity but leave these important tasks to the pros.
Sweeten handpicks the best general contractors to match each project's location, budget, and scope, helping until project completion. Follow the blog for renovation ideas and inspiration and when you're ready to renovate, start your renovation on Sweeten.