A Chic Debut for a Brooklyn Kitchen
Mid-century Scandi meets '70s Italian modern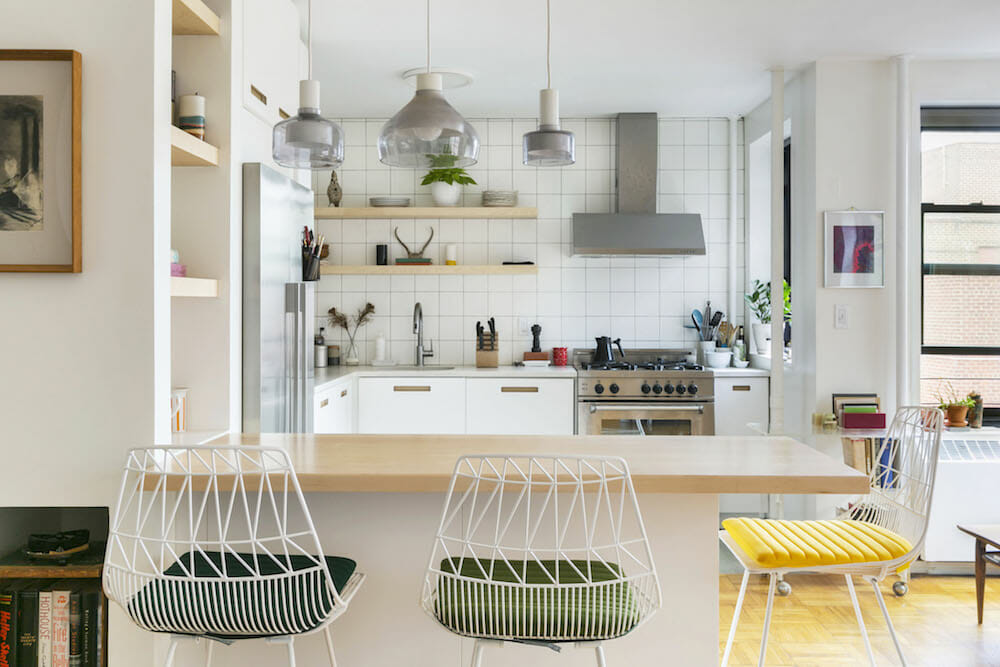 Project: Brighten a dark and closed-off kitchen in Clinton Hill, Brooklyn
Before: A beautiful neighborhood, an optimal layout, and an abundance of natural light drove Melissa's decision to purchase her corner unit apartment in Brooklyn's Clinton Hill Co-ops in 2004. From the moment she bought it, the literary agent planned to renovate the kitchen and knock down walls to take advantage of the light coming in from the living area. Melissa also wanted to embrace the building's mid-century style in her own space. "I wanted mid-century Scandi meets '70s Italian modern with warmer accents in the textiles and color," she shared. Nearly 14 years after she bought her apartment, Melissa posted her renovation project on Sweeten and was matched with a general contractor. The wait was worth it. Even Apartment Therapy thought so as they covered the transformation as well.
After: Melissa worked with her interior designer, Danielle Herman of Persephone's Spring, and a Sweeten general contractor to open up the space. The walls blocking the kitchen off from the living area were the first to go, which immediately brightened it up. To take even more advantage of the newfound light, she chose a mix of materials, including matte concrete floor and counters, to balance out the shiny silver appliances. "The goal was to reflect and refract the natural light," Melissa shared. White Ikea cabinets and floating shelves that leave the tiled wall exposed contribute to the airy and spacious look, too.
A new peninsula offers additional seating and an adjacent built-in shelf nook holds mugs, knick-knacks, and books. The location of the appliances remained as-is, but without the walls, the cook space has a better flow.
Melissa's designer worked hand-in-hand with her Sweeten contractor by helping to translate her vision and selecting finishes, paint colors, and other details. Her contractor also had worked on many apartments in the Clinton Hill Co-ops, so he knew what to expect in terms of plumbing and support walls. "He knew ahead of time where the bodies were buried, so to speak," Melissa shared.
Her only regret of the project? Not doing it sooner. Melissa wakes up every day excited "and delighted to return to cook dinner."
Bonus: Cabinets contain drawers for easy and accessible storage.
Style finds: Cabinets: Ikea. Ash 24×24 floor tile: TileBar. Backsplash wall tile: The Tile Spark. Custom open shelves: Ethan Abramson. Matte concrete countertops: Caesarstone. Range hood: Bertazzoni. Lighting: Blu Dot. Faucet: Delta Faucet.
—
A kitchen in Crown Heights, Brooklyn, gets a Scandinavian look.
Sweeten handpicks the best general contractors to match each project's location, budget, and scope, helping until project completion. Follow the blog for renovation ideas and inspiration and when you're ready to renovate, start your renovation on Sweeten