A Triplex Gets a Top-to-Bottom Makeover
Simple streamlining makes good design even better
Rebecca's vision for the unique triplex apartment in Manhattan's Greenwich Village started to form the first day she set foot in it. She was smitten with the multi-level layout and loved that the space had two full bathrooms. Rebecca, an Emmy-winning TV producer, bought the approximately 800-square-foot, one-bedroom co-op and moved in. Eight years went by before she was ready to renovate. It was time well spent. She'd used it to learn what she loved—and didn't—about the upstairs, downstairs abode. Armed with a list of must-dos and ideas, Rebecca posted her project on Sweeten, a free service that connects renovators with vetted general contractors. Soon, she had her Sweeten design-build firm signed on, ready to transform her home from super to superlative.
Guest blog post by homeowner Rebecca
I loved the stacked layout of my apartment from the moment I saw it. The high ceilings made it feel like a loft—just the downtown Manhattan vibe I was looking for. Triplexes are rare; the three floors are a surprise when you walk in. I purchased the co-op eight years ago, knowing I would eventually renovate, but I wanted to live in it for a while, to think about the space and what I wanted to do with it.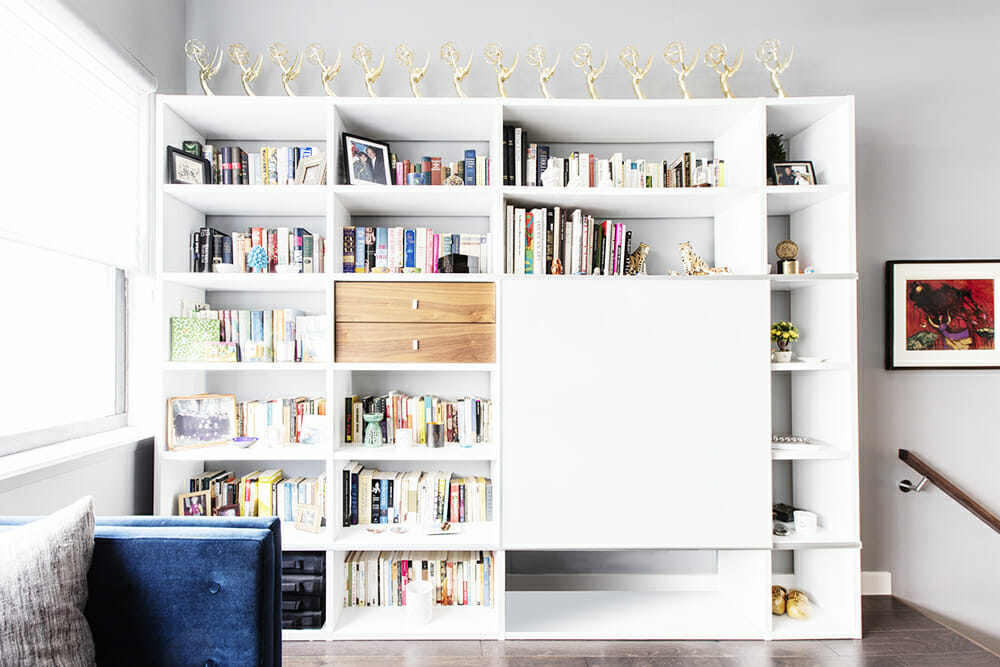 I also wanted to take my time to find a contractor I really liked. This was my first experience with a renovation, and I had no idea how to approach it. Unfortunately, my first encounters with construction people left me feeling even more lost. I had spoken with a friend about my desire to change the apartment and told her about my frustration at trying to find the right contractor. She had a friend who'd had great success with Sweeten, and she suggested I check it out. After I posted my project, I met with several bidding firms, but when I met the general contractor I ultimately hired, I knew it was a match. We hit it off right away and she was genuinely excited to help me turn the apartment into a place I loved.
My primary goal in the renovation was to open up the space. The three-level layout wouldn't make it easy, but the home did have good light, and the open staircases were a start. I wanted to free up the square footage on each floor while making every area more functional. My main focus was on the kitchen and bathrooms. The kitchen was small and closed-off and was in desperate need of a refresh. Both bathrooms were due to be gutted and redone. Like everyone else in New York City, I also wanted more (and smarter) storage. The contractor got it immediately. She really listened to what I wanted and helped to turn my thoughts into things we could make happen, while at the same time coming up with her own innovative ideas.
The kitchen was a total win, and that gave me the courage to take on the next phase: the renovation of both bathrooms.
The contractor also had training as an architect and a designer, and she brought an amazing eye to the project. She started by helping me come up with a color palette. I really like whites, grays, and cool blues, and I decided I wanted to carry those colors through the apartment so it felt like one cohesive space. Bright white has the amazing ability to modernize and brighten simultaneously, and we went with a lot of it, including on the walls, cabinetry, and shelving units to achieve a light, open look. I liked the contrast to the existing wood floors, which had been a honey-brown color, but looked so much better restained in a rich, dark walnut.
Renovate to live, Sweeten to thrive!
Sweeten brings homeowners an exceptional renovation experience by personally matching trusted general contractors to your project, while offering expert guidance and support—at no cost to you.

Start your renovation
We started on the entry floor of the apartment and worked on the kitchen first. The room was tiny and walled off from the rest of the apartment. It had a beat-up butcher-block counter and golden-brown, '80s-style cabinets. We decided to knock down the inside wall and open up the kitchen to the long, little-used entry hall adjacent to it. Later, when the contractor tore out the wall and the old kitchen behind it, the space immediately felt lighter and more spacious. It made a huge impact on the flow of the apartment.
I've always loved the complementary pairing of white and gray, so we chose a striking, slate-veined marble for the countertops and the facings on the newly created kitchen island. It coordinates beautifully with the stainless-steel appliances and cabinet hardware. The island offers plenty of room for a two-stool breakfast bar, and a sleek new storage unit lining the wall, with upper and lower cabinets, offers kitchen-goods storage and auxiliary counter space, too.
The kitchen was a total win, and that gave me the courage to take on the next phase: the renovation of both bathrooms. We did them one after the other, starting with the first-floor guest bath before moving upstairs to the master.
In each of the bathrooms, I hoped to find ways to create more space, while making the room feel brighter and more welcoming. Tile turned out to be the key. While shopping for it, I fell so in love with the stunning patterns I found at Ann Sacks that for both bathrooms, I selected the tile designs first—and fixtures and other elements to accommodate them. Once again, I went with whites and grays, doing the downstairs guest bath in marble, with a graphic black-and-white pattern on the floor.
The master bathroom, on the third floor, was the last big gut job. The construction team ripped out the old dove-gray tile and went to work on a sleek, simple design in black and white. Since this is my personal bathroom, I went with a glass shower panel in a stand-up shower. The small, wall-mounted vanity has a sleek matte black finish. To top off my storage desires and help the bathroom stay minimal, my Sweeten contractor set a giant, mirrored storage cabinet into the wall—this spot for bottles, jars, and brushes has a door that doubles as a full-length mirror.
I have to admit, the demolition and gut renovations of those two bathrooms were tough to live through. Even with one working bathroom at all times, it was really not fun! I kept telling myself that once the construction was finished, it would be amazing! And it really is. That dose of demo-inspired misery made my brand-new bathrooms look even shinier!
All told, the renovation lasted nine months. The kitchen and baths were the most work, but the job included paint and other aesthetic finishes in the living room and bedroom, and on both staircases as well. At every turn, I was in awe of, and so grateful for, my contractor's knack for understanding how to make the most of small spaces. From the ingenious pull-out pantry next to the refrigerator she found for the kitchen to her suggestion of swapping out an iron inset on the second floor for a light-channeling glass panel, she helped me make the most of the space. My new-and-improved apartment is incredible. I'm so happy to come home every day!
Thank you, Rebecca, for sharing your new and layered home!
KITCHEN RESOURCES: Calacatta marble countertop and backsplash. Cabinets and island: Custom by general contractor. Cabinet hardware: Armac Martin. Stove: Appliances Connection. Refrigerator and dishwasher: Fisher & Paykel. Wine refrigerator: Appliances Connection.  Peninsula light fixture; hallway lighting: Restoration Hardware. Bar stools: Custom by Restoration Hardware.
GUEST BATHROOM RESOURCES: Shower fixtures, faucet, vanity, vanity hardware: Samuel Heath. Toilet: Appliances Connection. Medicine cabinet: Robern.  Floor, shower and wall tile: Ann Sacks.
MASTER BATHROOM RESOURCES: Shower fixtures and vanity hardware: California Faucets. Sink, faucet, vanity, medicine cabinet: Robern. Toilet: Appliances Connection. Floor, shower and wall tile: Ann Sacks.
BEDROOM RESOURCES: Mirrored closet doors: Existing.
LIVING ROOM RESOURCES: Light fixture: Restoration Hardware. Wall paint in Cobblestone Path, #1606: Benjamin Moore.
—
Check out the renovation of a loft apartment in Greenwich Village.
Sweeten handpicks the best general contractors to match each project's location, budget, scope, and style. Follow the blog, Sweeten Stories, for renovation ideas and inspiration and when you're ready to renovate, start your renovation on Sweeten.