A Central Park West Co-op Starts Anew
Water damage prompts a major remodel and a fresh beginning in a Central Park West renovation
This Central Park West renovation story started out as an emergency: A Manhattan couple, who owned their home since the 1970s, received a call from their resident building manager while they were on vacation during the summer of 2016. Their white-glove apartment was submerged under several inches of water—the result of a leak in an apartment several floors above.
At first, it didn't look alarming: the homeowners thought that it would only entail a simple clean-up and repair. However, the problem worsened during the initial remediation period. Dehumidifiers were brought in to dry out the water damage, but the walls, ceilings, and floors harbored such high levels of moisture that black mold developed in the summer heat. After three long rounds of mold remediation, the apartment was finally cleared for renovation at the end of 2016.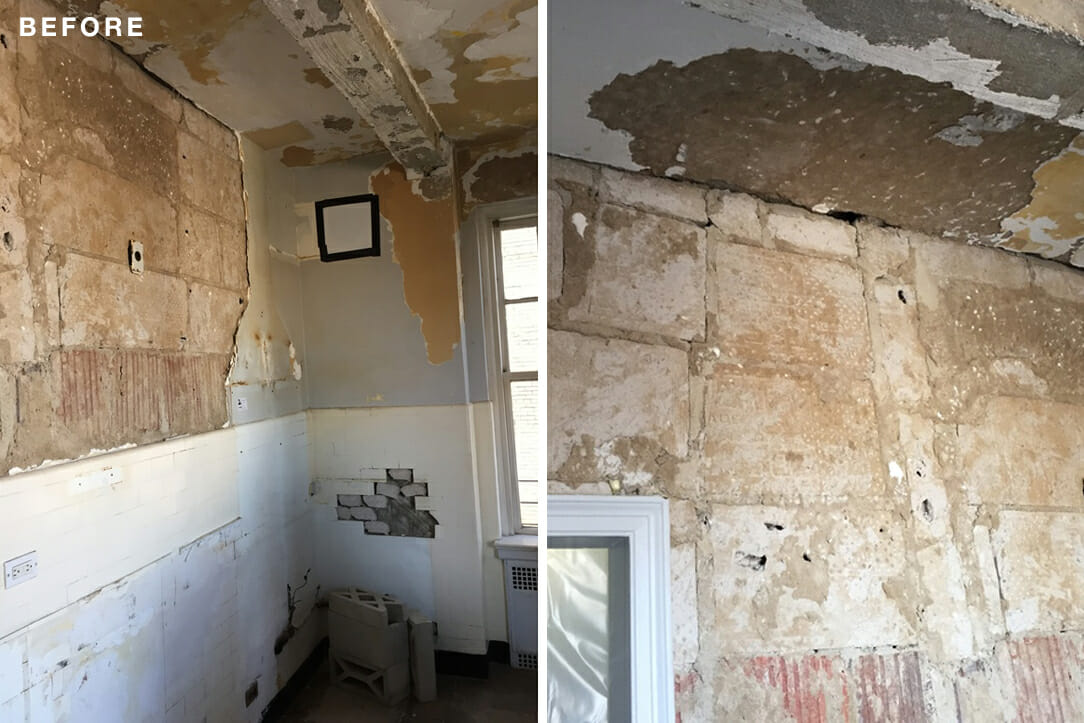 To add to the complications, the homeowners had to endure negotiations with insurance companies, as well as lengthy permit applications and a challenging approval process with their board, the Landmarks Preservation Commission, and the Department of Buildings.  In September 2017, they began the actual renovation in their Classic 7 home (a 7-room floor plan popular before the '40s).
When the time finally came for the renovation work to begin, the couple posted their project and worked closely with their Sweeten contractor, who was recommended by Jean Brownhill, the founder and CEO of Sweeten, who happened to be a friend of a friend. Jean visited and saw the damage, plus what remained of an impressive art collection—amassed over a lifetime of travels, including Picassos and ancient sculptures. The scope of work was to include not only the kitchen, where the leak began, but also other parts of the apartment, including the adjacent hallway pantry, laundry room, guest room and bath, and the formal dining room. Eventually, the homeowners decided to convert their now-grown son's bedroom into a study, and their daughter's former room into a lounge/exercise space.
They sent us three contractors to interview, which was a huge relief. I'm doing this for the first time, and I was totally out of my comfort zone.
Their Sweeten contractor gutted all of the floors, walls, and ceilings and then began the work of restoration. The couple was interested in restoring what was previously there while bringing a freshness and openness to space by choosing new materials and finishes. The kitchen, which had sported a stainless steel backsplash, outdated cabinets, and inadequate lighting, was given a makeover that included custom gray cabinets paired with white quartz countertops and a unique amazonite backsplash. The homeowner explained, "We visited the stone yard with the contractor and marked the piece out. We wanted it bookended and to come together in an inverted V over the sink." This was done over both the sink in the walk-through pantry as well as the main kitchen space.
New pendants were added to light up the breakfast table, where the duo generally eats all their meals unless they are entertaining a larger group. "If we want to have more people over, we use the dining room, but otherwise we eat in the kitchen," the homeowner said. Both the oval-shaped table and radiator cover were designed by the homeowners which their contractors commissioned to have made. Useful storage solutions were added including a dedicated spice drawer and a movable cart outfitted with a cutting board that can be moved wherever needed.
Additionally, the refrigerator was relocated from the hallway pantry area to the main kitchen space, which made it much easier to access, and a smaller, secondary refrigerator was added instead. "I'm a big condiments person, so we made sure to add room for them," the homeowner said.
In the formal dining room, the space was restored to its original condition to serve as a backdrop for the homeowners' artwork, records, organ, and harpsichord. The couple's art collection is diverse and eclectic, gathered from all over the world and dating from early BC through the 21st century. It includes works on paper and canvas; bronze and wood sculpture, ceramics and ceremonial objects. The hope was that the renovation would open up sufficient space and light to showcase these many objects of beauty and turned out to be one of the most gratifying aspects of the renovation.
The guest room—originally designed as servant's quarters—was completely transformed with new hardwood floors, a wall-mounted sink, built-in closets, and an adjacent bathroom.
Renovate to live, Sweeten to thrive!
Sweeten brings homeowners an exceptional renovation experience by personally matching trusted general contractors to your project, while offering expert guidance and support—at no cost to you.

Start your renovation
The guest bath, which had housed an oddly-positioned and unusable bathtub, is now a small but luxurious space, with slate-colored Porcelanosa tile on the floor and a marble-like Porcelanosa on the shower walls.
On the other side of the guest bath is a multi-purpose room that houses the washer/dryer closet as well as the homeowners' books.
In the portion of the renovation not spurred by necessity, a bedroom was converted into a study for relaxing and watching TV with a leather sofa that opens to accommodate visiting family. The homeowner designed a custom built-in wall unit that mixed open shelving and cabinets and worked with their Sweeten contractor to bring it to life.
In what had been their now-grown daughter's bedroom, the homeowners envisioned a serene and comforting space for lounging as well as exercise. The walls were painted lavender, inspired by an acrylic and paper painting that had been done by a friend. This was a theme throughout their home: "We wanted to give the artwork room to breathe, and to be the inspiration for the color palette in each room." 
Concurrently, they also decided to replace all of their landmarked windows. This alone took 3-4 weeks, and the Sweeten contractor had to make sure to protect the built-ins and previous renovation work. He also topped all of the windowsills with Caesarstone.
The homeowners are so happy to be back in their apartment, after pushing through over two years of negotiations, paperwork, and red tape—not to mention mold, dust, and debris in every corner of their home. "You come to realize, what one person thinks is a good job is not what another person might consider a good job," the homeowner said. "Sweeten was so supportive. They called periodically when we were getting very disheartened. They sent us three contractors to interview, which was a huge relief. I'm doing this for the first time, and I was totally out of my comfort zone. We had no idea how to pick people—so Sweeten was incredibly helpful."
They report that even though they felt like giving up on many occasions, they persevered. What seems like courage is really having "no choice". This was their home. We were happy to hear that the best part of the whole situation was their Sweeten contractor, who delivered what he promised and more.
Thank you for sharing the reveal of your Central Park West renovation! 
KITCHEN/PANTRY RESOURCES: Calacata Silver floor and wall tile: Porcelanosa. Kitchen cabinets: custom. Cabinet paint in Colonial Revival Gray, #SW 2832: Sherwin Williams. Countertops in Misty Carrera, #4141: Caesarstone. Quartzite Corteccia Azerobact Leather quartz backsplash: EGM Corp. Sink: Appliances Connection. Bridge faucet: Appliances Connection. Radiator covers: custom. Stove: Appliances Connection. Dishwasher: Appliances Connection. Refrigerator: Appliances Connection. Wine fridge, #SWC530LBIST: Appliances Connection. Hardware: Simon's Hardware.
GUEST ROOM RESOURCES. Sink: MTI. Paint in Glacier Lake, #867: Benjamin Moore.
GUEST BATH RESOURCES. Deep Grey Nature floor tile, Calacata Silver wall tile: Porcelanosa. Fixtures from Spa Shower and Country Bath collections: Appliances Connection. Toilet: Appliances Connection.
LAUNDRY ROOM RESOURCES: Paint in Hawthorne Yellow, #HC-4: Benjamin Moore. Washer, #WAT28402UC, dryer, #WTG86402UC: Appliances Connection.
DINING ROOM RESOURCES. Paint in Hancock Green, #HC-117: Benjamin Moore. Chandelier: Olde Good Things.
—
A leak led to a luxe remodel of a West Village bathroom.
Sweeten handpicks the best general contractors to match each project's location, budget, and scope, helping until project completion. Follow the blog, Sweeten Stories, for renovation ideas and inspiration and when you're ready to renovate, start your renovation on Sweeten.