A Home Addition in Los Angeles is Now Fully Scandi-Modern
A family increases their home's square footage with the help of their woman-owned general contractor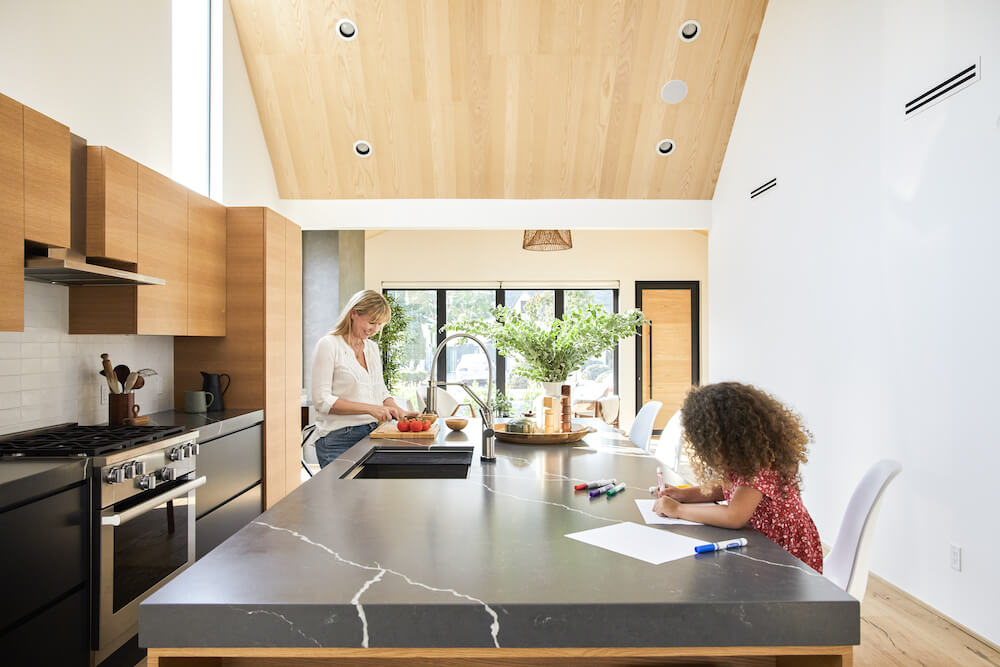 Homeowners: California couple Kirsty and David posted their Los Angeles home addition on Sweeten
Where: Mid-City / Miracle Mile area of Los Angeles, California
Primary renovation: A full home remodeling revamp of 1,400 square feet, plus an expansion and new exterior
Homeowner's quote: "Our team was a very diverse, all-female group of professionals which I loved: our woman-owned general contractor in Los Angeles was Filipino, the project manager was Japanese, and our architect was African-American."
Written in partnership with Sweeten homeowner Kirsty. "After" photos by Madeline Tolle for Sweeten. Stylist: Emily Bowser. 
Deciding to renovate for a forever home
David and I bought our home, a traditional English single-family home built in 1924, over 12 years ago. Over the years with our family growing, (our children, Nehemiah and Gertrude, and our dog, Boston), we knew we needed more space. We've been making updates room by room but realized we needed a home that would work for us long-term. 
Our location in Mid-City, close to Los Angeles' Miracle Mile, is great. I am in advertising and David is in logistics—our jobs are both in L.A. We didn't want to sell our house. We wanted to maximize it and create space so that we weren't living on top of one another. Additionally, we wanted to modernize and open up the interior with smart home features. The minimalist aesthetic would complement the exterior architecture and allow us to be rid of the dated stucco.
KirstyKing_Kitchen_Before_split
Kirsty-BackExterior-Before
A unique home renovation team
We'd posted our full home remodel on Sweeten, and found three Los Angeles contractors to bid. Sweeten offered us assistance in evaluating all of the GCs' bids, and we chose our contractor.
Thanks to our construction team, we managed an entire remodel of our home in seven months. Interestingly, our team was a very diverse, all-female group of professionals which I loved: our woman-owned general contractor in Los Angeles was Filipino, the project manager was Japanese, and our architect, Susan Nwanpka Gillespie of Nwanpka Design was African-American. My husband is South African, and I'm Scottish, which completed the international connection.
The kitchen has a feeling of openness and relaxation, and we love the flowing wood element on the pitched ceiling.
A new interior and home addition in Los Angeles
In the beginning, it was easy to be overwhelmed by how big the project was. Our questions were mostly on the structural side—what could we do with an older home? Could we accomplish our vision? We wanted a Scandinavian-modern look that was contemporary with Mid-Century and industrial touches. When the architect, structural engineer, and general contractor all told us that it could be done, we found the confidence to greenlight the project.
The plan was to add square footage to the front and the back of the house. The family room, primary bedroom, and primary bath would all be enlarged. We opened up the ceiling in the open-concept kitchen which made the space seem much larger.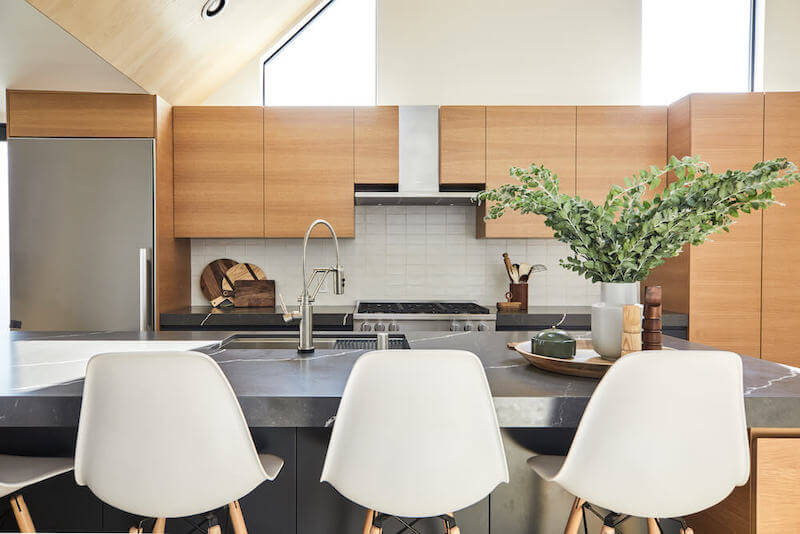 Renovate to live, Sweeten to thrive!
Sweeten brings homeowners an exceptional renovation experience by personally matching trusted general contractors to your project, while offering expert guidance and support—at no cost to you.
We would go all the way down to the house's framing and exterior details. David and I chose 10-foot glass bi-fold doors to line the back and front of the house for indoor/outdoor living. We wanted unique windows and an incredible skylight in the kitchen. The specially-fitted wood interior doors are extra tall. Finally, the project was taking shape.
A wood aesthetic throughout
An open-plan kitchen featured prominently in our design. The custom 10-foot island, which has a three-inch honed-quartz countertop, is the centerpiece. We used matte gunmetal gray custom cabinets for the lower storage and natural wood for the upper cabinets and parts of the island. Inside the cupboards, we designed hidden cutlery and storage drawers, as well as vertical drawers, for clever European functionality. The kitchen has a feeling of openness and relaxation, and we love the flowing wood element on the pitched ceiling. For the floors, we went with hardwood in an oil finish and extended that choice throughout the home.
Another focus was on the bathrooms. We expanded the primary bath and added a powder room. I love the statement wall and the tile and the brushed-nickel faucets. We used matte white quartz on the vanity and chose a simple floating toilet. The powder room received a compact sink and vanity for the small space. I wanted all eyes to be on the geometric wallpaper in the powder room. How could they not be?
We were so happy with the custom cabinetry in the kitchen and baths that we utilized it all around our home, creating hidden storage in the family room and a vanity in the bedroom. We also installed custom rolling blinds on every window.
Our woman-owned general contractor in Los Angeles came through
Our renovation team understood our vision. They were organized, took detailed meeting notes so nothing slipped through the cracks, and kept the project on schedule. They also knew their stuff! The contractor confirmed that the fabrication and installation techniques of every worker were in line with the aesthetics of the übermodern home we wanted. This proved a critical element in our home's finished look.
We may have gone slightly over budget, but we gained enormous satisfaction. We built our dream home.
Thank you for sharing your home's amazing transformation, Kirsty and David!
—
When you're ready to get started on your home remodel, work with Sweeten to renovate with the best general contractors.
Sweeten handpicks the best general contractors to match each project's location, budget, scope, and style. Follow the blog, Sweeten Stories, for renovation ideas and inspiration and when you're ready to renovate, start your renovation with Sweeten.
Renovation Materials
EXTERIOR RESOURCES: Statement white oak front entrance door: CBW Doors. 10-foot glass bi-fold doors with bronze frame: Fleetwood Windows and Doors. Aluminum frame windows in bronze: Milgard.
LIVING AREA RESOURCES: Oil finish wood flooring: Villagio Wood Floors. Blinds: The Shade Store.
KITCHEN RESOURCES: Virgo engineer wood flooring in Rustic Oak: Villagio Wood Floors. Italian white ceramic backsplash tile. Cabinets in white oak veneer panels and lacquered spraypainted panels in smoke gray: Custom. Honed quartz countertop. Sink/faucet: Kräus. Miele appliances: Miele. Ceiling paint in Whisper White on white ash wood paneling: Behr. 
PRIMARY BATHROOM RESOURCES: Smoke Gray with gray grout, 12″x24″ porcelain bathroom floor tile. White 24″x48″ porcelain bathroom wall tile. White ceramic bar pattern backsplash tile. Hardware and shower fixtures: Brizo. Kohler sink/vanity: Kohler. Wall-hung toilet: Villeroy & Boch. Freestanding tub in matte white: ADM Bathroom. Statuary porcelain shower tile in matte: Roca Tile.
POWDER ROOM RESOURCES: Virgo engineer wood flooring in Rustic Oak: Villagio Wood Floors. Freestanding Alma Gill 40″ Cement Grey vanity with porcelain sink: Alma. Jason Wu faucet and hardware: Brizo. Wall-hung toilet: Villeroy & Boch. Drop It MODERN Labyrinth removable wallpaper: West Elm. 
Updated on April 24, 2023