A Bright Blue Bathroom Remodel (Plus Walkout Deck) in Los Angeles
Returning expats create an eye-grabbing bathroom and french doors to the deck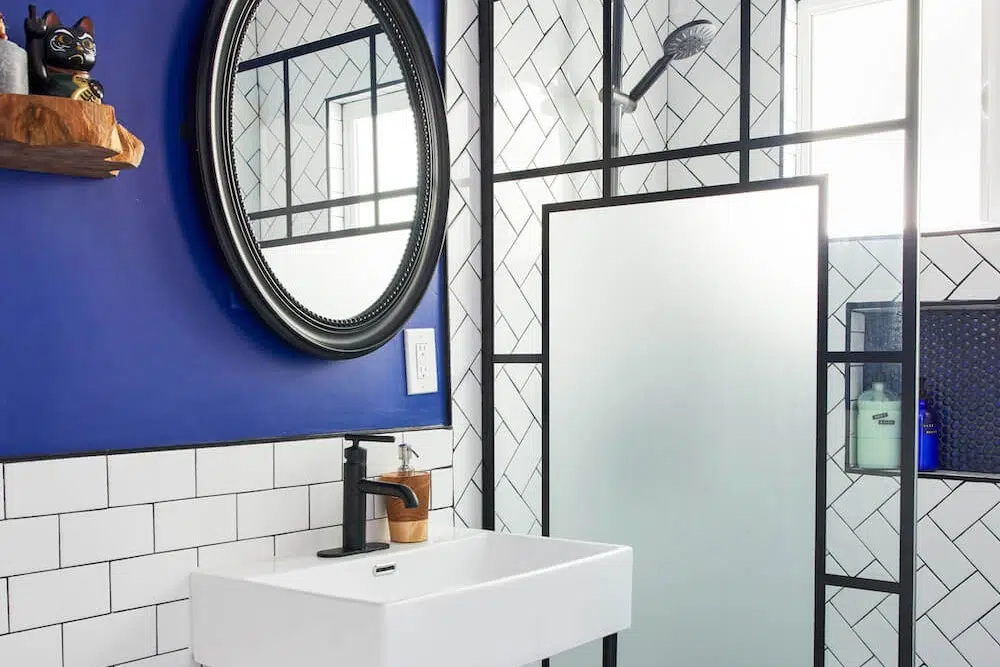 Homeowners: Cory + Andrew

posted their

bathroom remodel

on Sweeten
Where: Glassell Park neighborhood in Los Angeles, California
Primary renovation: A bright blue gut bathroom remodel is inspired by New York and Yves Klein blue while a pair of new entry doors open to the deck
Guest blog post written by homeowner Cory Quailes. "After" photos by Madeline Tolle.
A homecoming for Americans abroad
Before the word "Covid" entered our collective consciousness, Andrew and I lived as American expats in Hong Kong. As educators, we worked long and active terms, which were often fulfilling, but sometimes thankless. We cherished our long breaks.
In our first few years together, we traveled all over Asia and Europe. However, we knew at some point we would settle back home in California, close to family, both given and chosen.
(Above) Family portrait courtesy of Sweeten homeowners
Purchasing the right-size bungalow home
2018 was our year. After I returned from a visiting professor role in the South of France, Andrew and I married in the south of California. Right after we said "I do," we started looking for a home, for living in when we visited Los Angeles, and for renting out the rest of the year. Our goal was to find a modest, move-in-ready house in a central location, with a spectacular view.
Cory-Bathroom-LivingRoom-3

We soon discovered, though, that the supply in the market meeting both our needs and our budget was greatly limited. Eventually, we chose the hillside of Glassell Park. Our 650-square-foot, two-bedroom, one-bathroom bungalow was still nearly double the size of our apartment in Hong Kong. It was more space than we'd had in a long time, and we knew that it would be the perfect place to welcome us back to this side of the Pacific. Best of all, our southwest-facing view meant we could watch the sun rise and set without moving from our perch.
Working from home during Covid
Then Covid happened. In the summer of 2020, we left Hong Kong, our cat Velcro in tow. Moving during a pandemic was not easy, but a larger space and the LA weather made working from home more manageable. We decided to enjoy actually living in our home before renovating. When the time was right, we started with the bathroom, and then added something special for our outdoor space.
The total renovation time, from when our Sweeten contractor began demolition to painting, took about six weeks. The small bathroom was the biggest challenge. We wanted a space that was updated, but timeless. Which meant everything had to go!
Renovate to live, Sweeten to thrive!
Sweeten brings homeowners an exceptional renovation experience by personally matching trusted general contractors to your project, while offering expert guidance and support—at no cost to you.
Inspired by a classic bright blue
We're not afraid of color but prefer to inject it as an accent. I chose black-and-white as the base with 3" x 6" white subway tile. (It reminded us of our years in New York). To add some whimsy, we decided to mix geometric shapes—herringbone in the shower and a brick layout for the rest of the bathroom. The tile installer ended up laying the herringbone horizontally instead of the classic vertical configuration, but this added to the quirkiness we had envisioned.
The bathtub was removed and replaced with a freestanding shower. Andrew is 6'3", and was thrilled when he discovered the ceiling could be moved up by a foot, allowing the showerhead to be mounted several inches above his red curls. For the shower floor, I chose a simple porcelain penny tile, trying to match one of my favorite hues: Yves Klein blue. To tie this rich color back to the rest of the bathroom, we painted the walls with custom-matched semi-gloss paint.
Making a small space feel open
I sourced all of the bathroom components myself. The pre-fabricated glass shower door plays with the geometric theme using varying sizes of rectangles. Its frosted glass helps to diffuse the light while providing a modest cover. I carried this into the blocky console sink with exposed legs. Above it, the round vanity mirror with a medicine cabinet ties back to the round penny tiles. Due to the small size of the bathroom, it was important to open it up as much as possible. So we avoided closed cabinets. This also forced us to be more mindful of our clutter.
For the most part, I was conscious of not over-spending on the decorative components. We did splurge with the pieces for the sink and shower. And with the pièce de résistance: a Japanese-style toilet and bidet with seat warmer, air dryer, and warm water setting. Andrew doubted the necessity of this but now can't imagine life without it.
"The tile installer ended up laying the herringbone horizontally instead of the classic vertical configuration, but it only added to the quirkiness we had envisioned."
The finishing touch was the porcelain basketweave floor tiles in black and white. I thought this would be a nice way to ground the complexity of the rigid and organic shapes with one last element.
Bringing the deck inside
When we're home, we find the most joy watching the sunset from our deck that looks over the neighborhood. Our goal was to bring that view into the home itself, so we decided to replace the two living room windows with a set of pre-hung French doors. The best feature of the doors is that the blinds are set between two panes of glass, making it ideal for thwarting a mischievous, climbing cat. Velcro loves to play! Now all three of us can lie on our rugs and pillows on the floor, watching the sunbeams stream into our home. We even got a retractable screen door so that Velcro, too, can enjoy the fresh air from inside.
We're very happy with the progress we've made on the home so far. It feels more like ours every day! That being said, we're still not done. Next project: kitchen redo! As a home chef, this is my most sacred space. Stay tuned for more!
Thank you, Cory and Andrew, for sharing your hillside home with us!
Renovation Materials
BATHROOM RESOURCES: Shower tile, penny porcelain floor tile, basketweave porcelain floor tile, and bathroom wall tile: LA Tile and Stone. Sink faucet and shower fixture: Moen. Bright Showers rain shower head in oil rubbed bronze: Amazon. DreamLine French Linea Avignon shower glass door in satin black; Swiss Madison Claire 24″ console sink; Woodbridge Revel Smart Washlet toilet bidet; Golden Lighting Hines black and seeded glass lights; Pegasus medicine cabinet; Steves & Sons fiberglass mini blind patio doors: The Home Depot. Custom paint: Sherwin Williams.
Updated on April 26, 2023
—
ADUs or accessory dwelling units can transform into home offices, living space for family or as a rental, or a retreat.
Sweeten handpicks the best general contractors to match each project's location, budget, scope, and style. Follow the blog, Sweeten Stories, for renovation ideas and inspiration and when you're ready to renovate, start your renovation with Sweeten.