A House Addition Plan Allows a Family of 5 to Grow
When a home addition plan for a new a sunroom, deck, and dormer enhances everyday living
When this family decided they needed more room, they opted to remain in their beloved first house built in 1932 and make it work. Once a 2,500-square-foot Dutch Colonial in the Morris Park section of the Bronx, they carved out an additional 1,000 square feet. While they had done several smaller renovations along the way, this was the largest—and scariest. Adding a dormer to the attic meant that at one point they were without a roof while waiting for support beams to arrive and constantly checking the weather.
To bring their plan for a home addition to life, they posted their project on Sweeten, a free renovation platform that matches homeowners with licensed general contractors offering support through project completion, and chose their contractor.
"After" photos by Pixy Interiors for Sweeten
Guest blog post by Sweeten homeowner
My husband and I used to live in Manhattan in a one-bedroom apartment. Once we decided to have children, we knew we wanted to live closer to our families. So we opted to buy a house in the Bronx and have our parents partake in child-raising. Originally we thought we would have one child, live in the area for a few years, and then move back to Manhattan once school started. 
We were most excited about having a bathroom on the first floor and not having to go upstairs.
Our home addition plan: Envisioning more space
However, we soon fell in love with having a house and knew we wanted to have more kids. Our neighborhood is quite ethnically and socioeconomically diverse. It's a nice mix of feeling like we're away from the city, but not quite in the suburbs. 
Alicia-patio-2
Alicia-Before-1
Alicia-During-1
Alicia-During-2
Alicia-basement-9
Alicia-Before-3
Alicia-attic-10
We wanted more living space on the first floor because it's where we spend most of our time as a family. We also wanted our children, who are 9, 6, and 3, to have larger bedrooms and decided to add a 250-square-foot attic dormer for that purpose. The idea was for the new space to be airy and maximize the view of beautiful trees in our backyard. Our 280-square-foot basement converted to a ping pong room for extra recreational space.
Transformation outside the kitchen
In the kitchen, the window that previously looked out on the old deck was converted to a passthrough window that now connects to the new sunroom. The kitchen countertop was extended about two feet to the end of the wall that divides the dining area and kitchen. 
Off of the kitchen, we added a 280-square-foot sunroom that includes a bathroom, pantry room, and living area. We were most excited about having a bathroom on the first floor and not having to go upstairs. The pantry provides tons of food, toy, and sports equipment storage. The new outdoor deck is off of the sunroom and is 250 square feet.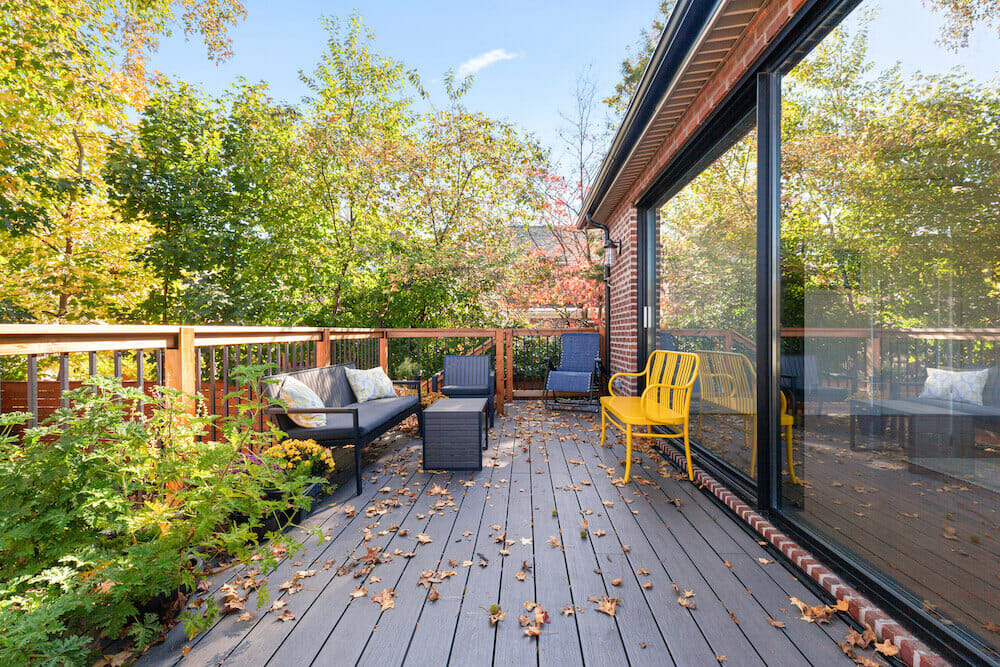 The renovation process
Our favorite part of the renovation was working with the architect and our Sweeten general contractor on the layout of the new rooms. The biggest challenge and most anxiety-provoking situation was waiting for support beams to be delivered and installed. For two days we had no roof and obsessed about checking the weather to make sure it didn't rain! 
Our Sweeten contractor had experience with all aspects of our project, including beautiful glass doors installed in his own home. He was great at giving us ideas and then executing the plan. We also shared the same taste in simple, modern, open design. He was able to deliver exactly what we envisioned. And if you need to file for city permits, our advice is to use an architect who can do that. 
Alicia-exterior-12 - copy
Alicia-kitchen-7
Alicia-kitchen-8
Alicia-bathroom-5
Alicia-patio-1
It was great to have Sweeten follow up every step of the way. We knew we could turn to Sweeten if we experienced problems with our contractor. Luckily, we didn't need that assistance. Our contractor's team was excellent!
Our new home addition space makes us feel less crowded. Now, our children can grow and play without feeling like we're being swallowed up by all of their toys!
 Thank you for sharing your renovation with us!
Renovation Materials
OUTDOOR DECK RESOURCES: Yosemite TruOrganics™ 3G deck composite in gray: Calibamboo. Deck railing kit in Premium Somerset: Vista.
BATHROOM RESOURCES: Vintage mirror: Pottery Barn.
PAINT: Walls throughout in #OC117, Simply White; Dining room walls in #C52, Gray Owl: Benjamin Moore.
—
Maintain the charm of an old house while upgrading the interiors for comfortable living.
Sweeten handpicks the best general contractors to match each project's location, budget, scope, and style. Follow the blog, Sweeten Stories, for renovation ideas and inspiration and when you're ready to renovate, start your renovation with Sweeten.