How to Choose Kitchen Cabinets for Your Renovation
Consider the cabinet door the window to your kitchen's soul
(Above) Semi-custom, Shaker-style cabinets with full overlay doors in Anne and Michael's kitchen
When shopping for cabinets, your lifestyle, plus the materials available, will guide and influence the appearance of your cabinet doors. Do you like the traditional Shaker-style door with its raised frame and crisp edges? Or a sleek flat-front contemporary panel? Are your kids opening and closing doors all day with sticky fingers? Or is your kitchen the entertaining hub of your home, one that you like to keep looking neat for visiting friends and family?
Just about any style of door panel you choose will offer a range of finishes, many of them protective. Here, Sweeten, a free service matching renovators with vetted general contractors, lays out how to choose the right kitchen cabinets.
How to choose your cabinet door style
Most commonly, the door is a flat panel, a raised panel, or a slab front. What's the difference?
A raised panel has a raised rectangular-shaped center and the surface surrounding it is recessed, creating a frame-like appearance. The raised center may be surrounded by other detailing, such as a beveled edge, and/or an arched top, providing a traditional appearance, like antique cabinetry. This style looks beautiful with painted or stained finishes that play up the three-dimensional qualities.
(Above) Raised-panel cabinets in the homeowners' kitchen
(Above) Raised-panel cabinets in Nydia and Jonathan's kitchen
(Above) Raised-panel cabinets Fatima and Scott's kitchen
A flat panel is three-dimensional as well, but the center panel is recessed (though still flat) and framed by two stiles (rectilinear panels at either side) and two rails (panels at top and bottom). This construction is not simply decorative. It was developed (hundreds of years ago!) to keep the door shape stable with fluctuating temperatures and moisture. Popular examples are Shaker and Craftsman style. You can also find some additional variation, with a glass insert that replaces some or all of the center panel (much like a true divided light window), or a beadboard center panel for a country or cottage effect.
(Above) Flat-panel cabinets in Erin and Chris' kitchen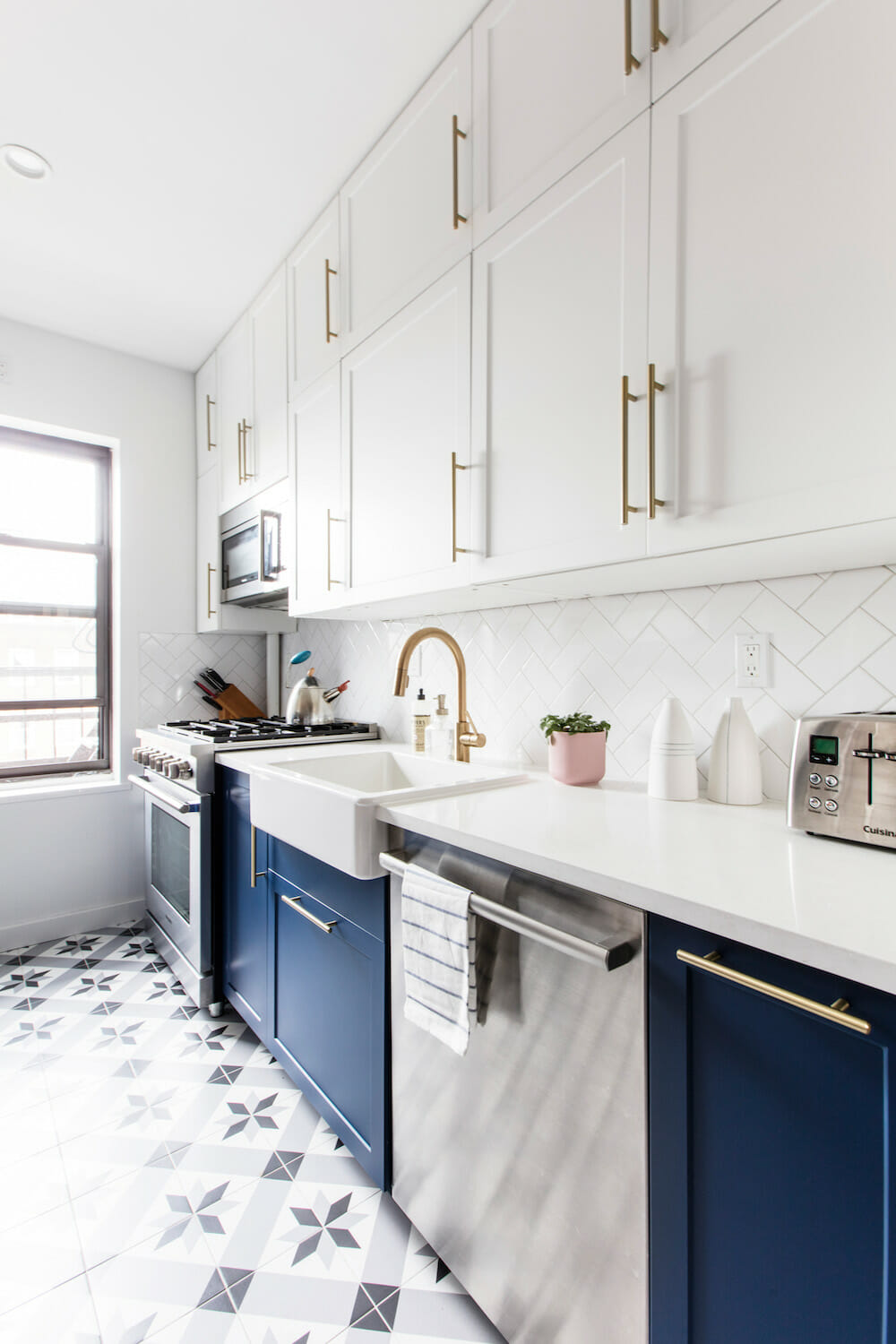 (Above) Flat-panel cabinets with Semihandmade doors in Barbra and Sean's kitchen
Renovate to live, Sweeten to thrive!
Sweeten brings homeowners an exceptional renovation experience by personally matching trusted general contractors to your project, while offering expert guidance and support—at no cost to you.

Start your renovation

(Above) Flat-panel cabinets in Tara and Brian's kitchen
A slab front is made from a single piece of material—solid hardwood, MDF, or a wood veneer. Because it is one surface with no corners or recesses to capture grime, it is easy to keep clean with the swipe of a cloth.

(Above) Slab-front cabinets in Roxana and Gabriel's kitchen

(Above) Slab-front cabinets in Lisa and Chris' kitchen
(Above) Slab-front cabinets in Rita and Mark's kitchen
Cabinet door materials
Are you warm to wood or is a sparkling white kitchen more your craving? You can find a vast variety of looks in budget, high-end, and luxury cabinets. The rarer the material—think, solid wood—the greater the price tag. Here's a quick guide to materials from lowest to highest price:
(Above) Custom cabinets with a walnut and mahogany veneer and inset doors in Kim and Ian's kitchen
MDF or medium density fiberboard is manufactured under high pressure and temperatures by combining wood fibers with a resin binder to create door panels as well as the cabinet box. Because this type of material can be manufactured efficiently from wood byproducts, it's typically the material for stock cabinets. It takes well to paint. Manufacturers will offer different glaze options to apply on top of the paint, so you can still achieve a custom look for a stock price.

(Above) Ikea cabinet bases with Semihandmade doors in Monique's kitchen
Thermafoil is a scratch-resistant surface that is thermally glued and vacuum-sealed to MDF. It's an option in the stock category and great for a lifestyle where the kitchen sees a tremendous amount of activity since it's easy to maintain. Color choice is limited to white or linen.
Laminate is common in countertops. With laminate cabinets, it's still a resin-saturated printed paper (commonly a high-res photographic representation of wood) fused to a particleboard or MDF core to create the panel. This offering is available in the stock category.
Veneer cabinets have real wood door panels for less than the price of solid wood. The wood surface here is less than a quarter of an inch and wrapped around an MDF panel for stability—good for areas with high humidity. The risk here is that if the wood is chipped or dinged, you will see the synthetic core, and it can't be satisfactorily repaired; however, if your cabinets don't see a lot of hard use, this is a well-priced option in the stock category.
Solid wood is the high-end or luxury category for cabinet doors. Each panel is unique, like the tree it was milled from. The big decision here is what species of wood. The most common are oak, maple, hickory, and cherry. All are hardwoods with a natural beauty and all take stain or paint well. Woods that are prized for their natural color and grain, particularly hickory and cherry, shouldn't be painted.
Maple is a very hard wood, with a finer grain than oak, so it's a good choice if you want a perfectly smooth finish for paint and/or glaze. With a clear finish, it takes a contemporary look, and with a deeper stain, it becomes more traditional.
Birch and ash are also durable hardwoods good for kitchen cabinets with more pronounced grains. You may remember pine from your grandma's days. You can still find this classic, and its knotty grain has a rustic appeal, but as one of the softest woods, it will dent more readily than other species.

(Above) Custom inset cabinets in Ron's kitchen
Installation of door styles
The style of your kitchen cabinetry doesn't stop with the door design. How the door lays on the box also affects the overall appearance; it's another decision you will have to consider.
Full overlay: Doors (and drawers) cover the front of the cabinet box; hinges are hidden.
Partial overlay: Doors cover just a portion of the face frame; hinges remain concealed.
Inset: Doors are flush with the face frame of the cabinet box; hinges may be concealed or exposed.
What are the types of kitchen cabinets?
Your selection process will begin with the door material, as it takes the brunt of the action, swinging open and shut all day, every day. Cabinet doors attach as a cover to the storage compartment they serve to conceal—typically, a box made of wood, plywood, or a wood composite. Construction offered by manufacturers, along with price, is defined by three categories:
Stock cabinets
$60/ linear foot
Door material: MDF (covered in thermafoil, veneer, or laminate)
Box material: MDF
Doors and their boxes come in a limited range of standard sizes. Boxes and doors tend to be made of MDF (medium density fiberboard, which is a composite of sawdust or wood fibers with resin to bind it) and covered in thermafoil, veneer, or laminate. Available from large retailers like Home Depot or Ikea, these cabinets can be good quality but are also the thriftiest choice. Prices vary across the country, starting at about $60 per linear foot and rising to a few hundred dollars, depending on any features you add. Most major manufacturers have a stock line. You may think that there are no options for customization in this category but some brands do offer upgrades such as glass doors or a selection of molding.
Semi-custom cabinets
$90/ linear foot and up
Door material: solid wood
Box material: MDF or plywood
A greater range of sizes and styles according to the manufacturer's offering. Boxes may be constructed of MDF or plywood. Solid wood doors should be part of the selection, along with MDF and veneers. Expect to pay $90 per linear foot and upward, depending on what organization features or finishes you add on. Find this category at some home centers as well as independent kitchen showrooms that carry national brands offering both semi-custom and custom, such as Wellborn or KraftMaid.
Custom cabinets
$200 – $500/ linear foot
Door material: solid wood
Box material: higher quality plywood
Built to order to exact size specifications. Boxes tend to be higher-quality plywood and doors are solid wood in a range of species. You may be able to find custom cabinets for under $200 per linear foot, but since everything is made to order to your exact dimensions (and will take longer to arrive at your doorstep, as much as three months, compared to five to six weeks for stock or semi-custom), the price rises considerably. You may pay as much $500 per linear foot and into the thousands for special woods and exterior details. Custom cabinetry is also available from national retailers, such as Poggenpohl, Bilotta, and Henrybuilt.
As you survey the landscape of kitchen door panels for your cabinets, be sure to ask for samples. You may even be able to borrow a door panel from a local showroom. As with any investment for your home, you will want to try it out before you commit. Hopefully, this Sweeten guide helps you choose the perfect cabinets best suited for your needs and style.
—
Need more cabinet inspiration? Check out these kitchen renovations completed by Sweeten general contractors.
Sweeten handpicks the best general contractors to match each project's location, budget, scope, and style. Follow the blog, Sweeten Stories, for renovation ideas and inspiration and when you're ready to renovate, start your renovation on Sweeten.