All About Wet Room Bathrooms
Definitions, pros and cons, special features,
cleaning
 tips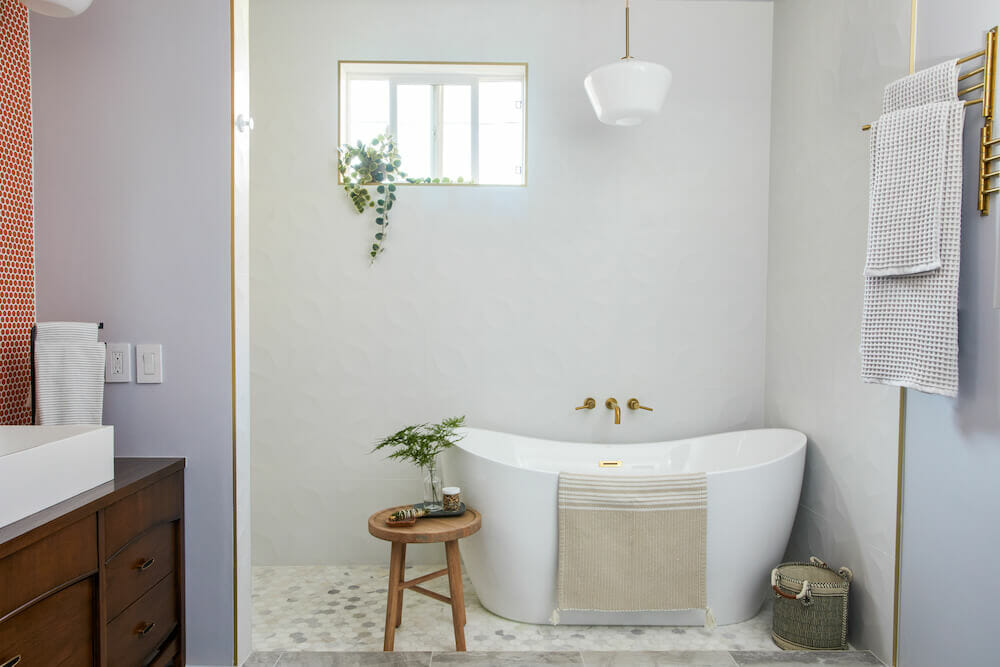 (Above) Sweeten homeowners Liz and Kevin's wet-room-style bathroom renovation
Designing a more efficient bathroom often means taking down barriers and smoothing traffic flow. Can opening the shower to the rest of the room create a more efficient, luxurious-feeling space? Sweeten explores the possibilities of this intriguing approach.
Sweeten matches home renovation projects with vetted general contractors, offering advice, support, and secure payments—at no cost to the homeowner.
What is a wet room bathroom? 
A wet room is a bathroom that typically has no enclosure separating the shower or tub from the rest of the bathroom. All of the walls and the flooring are sealed against water, just like the surfaces in a typical shower stall. 
The main flooring of the wet room is on the same level as the shower floor. The section of the wet room where the shower is located has a floor with a sharp slope to aid with water drainage. The rest of the bathroom floor is sloped toward the same drain. But the floor slope is more gradual.
Because there is so much water, bathroom facilities such as the toilet and sink are either raised or are water-sealed.
Renovate to live, Sweeten to thrive!
Sweeten brings homeowners an exceptional renovation experience by personally matching trusted general contractors to your project, while offering expert guidance and support—at no cost to you.

Start your renovation
Due to how wet rooms work, the function of the room is prioritized over the style. Subsequently, most wet room design is clean and spare.
Why are wet rooms so popular?
Frameless showers let in more light. These use sheets of thick, unframed glass to surround the shower in a wet room. They make

 the whole room lighter and airier. 

Since wet rooms are designed with excellent ventilation, they typically see less mold and mildew growth.

Wet rooms are much easier to clean. There are no cramped enclosures to deal with, and the whole floor can be hosed down.

Wet room bathrooms are ready for all phases of a person's life. There are no steps or curbs keeping walkers and wheelchairs out of the shower area. The toilet area merges seamlessly with the shower, too. 
Pros and cons of wet rooms
Pros
The bathroom feels brighter and more spacious because it has fewer walls and barriers.

The floor is easy to clean—all water can be directed to a single drain.


Accessibility: there is no shower curb or bathtub wall to step over.

Wet room designs comply with many aging-in-place design rules.

There's less chance of mold, mildew, and water decay.

The bathing area does not steam up because it is not enclosed.

Cons
Splashes from the shower can go everywhere.

It's best to have plenty of space, to keep the shower separate from dry areas.


In smaller bathrooms, dry areas need to be made water-resistant.



It can feel colder in the shower, since there's no enclosure to hold in heat.

The need for more tile work may increase costs.

They can be acoustically loud and bright because of the open design and hard materials.

Most things stored in the bathroom need to be enclosed in water-resistant cabinets.

Features and special considerations
Shower enclosures: Many wet room bathrooms are built without any shower enclosures. However, you can opt for an open enclosure with no door. Or you can add a half-wall to minimize splashing.

Bathroom storage: Locating storage and linen cabinets outside of the bathroom is one way to deal with moisture. Another is to install water-resistant cabinets in the room.

Large wet rooms: If you have a big enough space, you may be able to store moisture-sensitive items in the bathroom without special cabinets. 
Radiant heating: You can install radiant floor heating even though the floor will see plenty of water. Special underfloor radiant heating kits are available.

Raised sink cabinet: Pedestal sinks or cantilevered countertops are ideal choices for keeping cabinetry off the floor.

Relocated heating register: Heating vents cannot be built into the floor. Either build the vents into walls or use another type of heating.

When you're ready to begin your bathroom or home remodel, discuss with your Sweeten contractor if a wet room is possible in your space.
Wet room bathroom maintenance and cleaning
Homeowners may worry about installing wet room bathrooms on upper floors. Yet a professionally installed wet room is no different than locating a freestanding shower on an upper floor. The waterproofing methods are the same—just on a larger scale. Be aware that just like with any bathroom, a wet room could eventually spring a leak and require maintenance.
Wet room floors are easy to clean. You can clean the flooring with a mild floor cleaner and a rubber-bladed mop. Start on the far end of the room and push water toward the shower drain. You can also use a hand-held shower head as a hose.  
Walls in regular bathrooms can be difficult to clean, especially when they're made of drywall or plaster. Wet room walls are hardscaped and water-sealed. So, you can clean them with soap and water without fear of damage.
A note on fixture and appliance deliveries: If you're on a tight timeline, Appliances Connection has over 50,000 items in stock and ready to ship nationally. If you're in the NY/NJ metro area, in-stock items typically deliver within 2-3 days.
paymen
In a typical wet room, the shower or bathtub has no separation from the rest of the bathroom. All surfaces—walls and floors—are sealed against the water. With no enclosures, the whole floor can be cleaned and hosed down with the entire floor sloping towards the drain. Some wet rooms do install frameless, thick glass to surround the shower allowing the room to be brighter and airer.
Wet rooms are easy to clean with few barriers and enclosures. Floors that can be hosed down around all areas, including the toilet, toward a single drain. Design the room with good ventilation, and a wet room will produce less mold, mildew, and water decay. There are no shower curbs to inhibit walkers or wheelchairs and can comply with aging-in-place design rules. 
A wet room is an open space with no separation between shower, tub, sink, and toilet. Walls and floors are sealed against the water. The shower floor is level with the main flooring. A sharp slope in the shower area helps with draining the water. The rest of the bathroom floor also has a slope—but gradual—towards the same drain. The toilet is raised and sealed while a pedestal sink or cantilevered countertops are good options for a wet floor. Expect more tile work to be required. 
—
Sweeten handpicks the best general contractors to match each project's location, budget, scope, and style. Follow the blog, Sweeten Stories, for renovation ideas and inspiration and when you're ready to renovate, start your renovation with Sweeten.