Aging in Place Remodeling Ideas for Now and the Future
Increasing accessibility is a must for those growing older at home
(Above) Debbie completed an aging in place remodeling project in her father's bathroom to fit a wheelchair and walker.
Comfortable living for young and older family members
There are many reasons to undertake a major renovation project. Not the least of which is to make the space safer and more accessible to those living there.
What is aging in place remodeling?
The aging in place design concept puts into practice products and techniques that will allow people to live in their homes as they grow older.
"The idea of aging in place is fabulous because you stay healthier when you are able to live in your own home, " said Kammi Reiss of Kammi Reiss Design.
What is the Living in Place concept?
The concept shifts when taking other household members into account such as young couples with families. When it comes to designing a more functional home for young people, "no one wants to talk about aging," said Natalia Pierce of Details by Design and a Certified Living in Place Professional (CLIPP). "If you try to have that discussion with someone who is 35, it is not even on their radar."
Renovate to live, Sweeten to thrive!
Sweeten brings homeowners an exceptional renovation experience by personally matching trusted general contractors to your project, while offering expert guidance and support—at no cost to you.
The Living in Place Institute promotes safe and adaptable building techniques for everyone—of all ages—who may live in the house and certifies professionals in those techniques.
Sweeten speaks with professionals involved with accessible design. It is clear that the difference between the two approaches is fairly narrow, which means there is a lot of overlap in design and construction approaches. Techniques and products that help an older person take care of themselves work fine for younger people, too. In fact, those techniques are just smart and universal design.
Sweeten matches home renovation projects with vetted general contractors, offering advice, support, and secure payments—for free.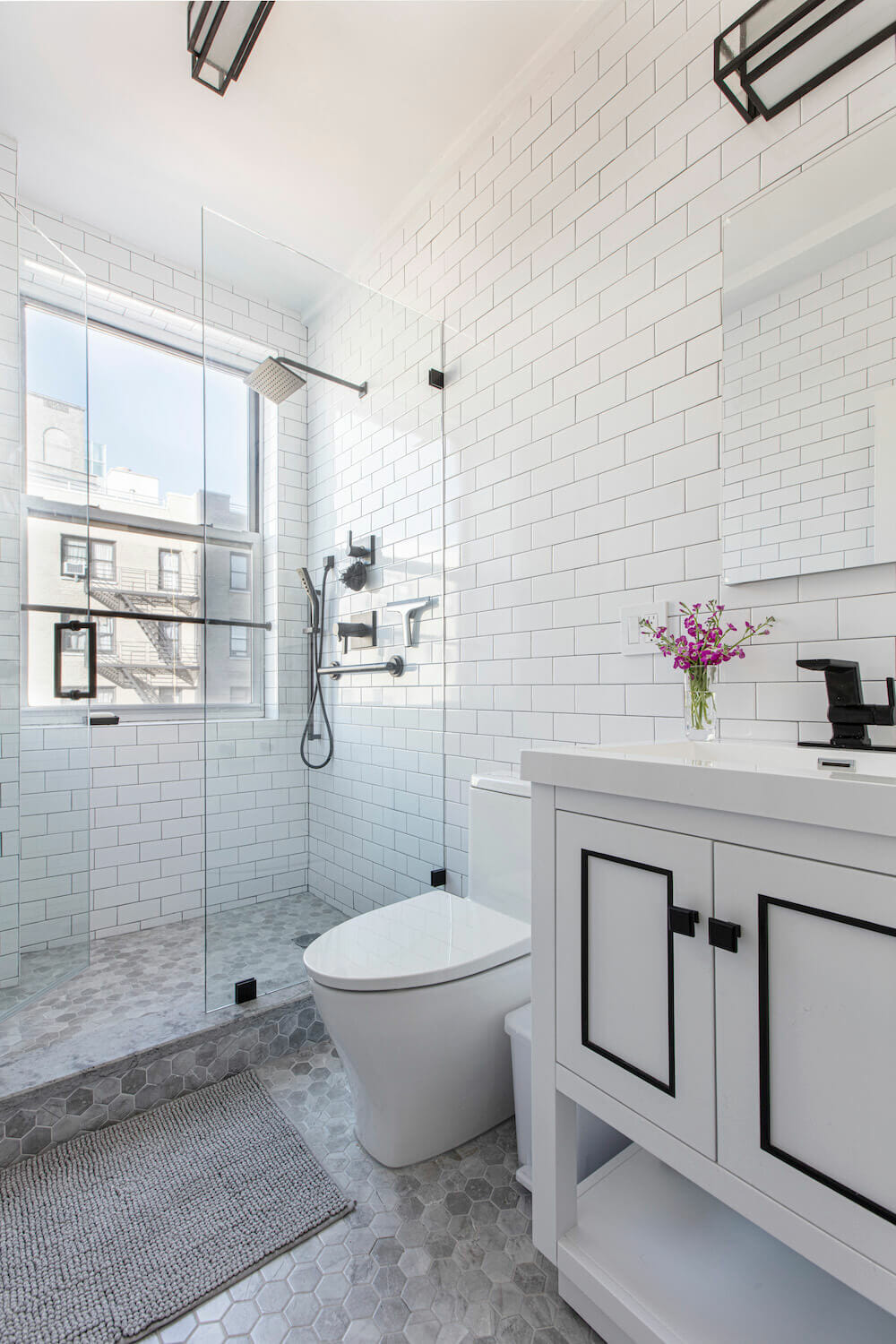 (Above) Planning ahead for retirement, Sweeten homeowner Mickey renovated his bathroom shower to assist with future limited mobility.
Universal design general guidelines
Accessible design can take many forms. And some techniques will not work in all situations. Most people recognize the entrance ramp as the symbol for this type of design. If you rely on a wheelchair or scooter or use a walker to get around and live in a detached house, ramps make your life a lot easier. But if you are renovating a third-floor condo, a ramp may not be an option.
Fortunately, most accessible approaches are fairly intuitive and easy to accomplish. "We tell general contractors to keep doing what they have been doing, but just do it a little differently," said Erik Listou, co-founder of the Living in Place Institute. "If you are going to install a handrail on a stair, put one on both sides. It's much safer."
Here are some general tips for universal design:
Install adequate lighting—As people age, they tend to require brighter lights throughout the home. Light levels should be constant because it takes some people longer to adjust when moving from bright to dark areas. "We install electrical outlet covers with nightlights in them," said Sweeten contractor Aaron. "They work for everyone, and they help guide the way safely when someone needs to use the bathroom at night."
Create contrasts when levels change, especially on stairs. "If you are going down the stairs and the surfaces of the steps all look the same, you may not tell where one step ends," said Kammi. "A light above the stairs can cast shadows to show the edge of the step." Stairs with contrasting color edges or traction strips are other safe options.
Upgrade doorways—All doors, including interior doors, should be at least 36 inches wide to accommodate a wheelchair. The door hardware should be levers rather than knobs, which are difficult for some older people, as well as young children, to use.
Embrace the smart home—There are a number of devices that can be controlled from a smartphone, tablet, or home computer. Some systems allow the user to adjust the thermostat, lock doors, and turn lights on and off. There are even systems that will send out an alert if the water heater is leaking. Video doorbells let those inside see who is at the door without opening it.
(Above) Sweeten homeowners Marie and John renovated their aging-in-place home
Aging in place remodeling in the kitchen
Kitchens offer a number of opportunities to incorporate safe universal designs.
Cabinets—Typical kitchen design can pose a problem for people who have trouble reaching above their heads or bending to get into a base cabinet. Pull-down shelves for wall cabinets and pull-out drawers for base cabinets make them more accessible.
Sinks—Someone in a wheelchair or scooter needs to be able to pull up under the sink to use it. "On one of our projects, we installed removable panels at the sink, " said

Robert who works with Sweeten contractor Aaron.

"If they need to in the future, they can remove the panel and roll up under the sink." All plumbing should be equipped with levers rather than knobs. Faucets with no-touch operation are another option.
Appliances—Some codes require a five-foot diameter turning radius in front of refrigerators for wheelchair users. If that is not an option, Kammi likes French-door refrigerators. "You don't have to back away very far when you open part of it," she said. "You can also put the things you use the most often on one side of the door." Kammi also believes that microwaves should be placed at counter or below counter height. "That way everyone can use it—the child who wants to pop in his chicken nuggets or the grandmother who wants to heat up their coffee."
Counters—A matte finish will create less glare than a counter with a glossy finish, especially when there are under-cabinet lights in place. A contrasting edge treatment can help someone with poor eyesight distinguish the edge of the counter.
Aging in place bathroom design
Because of the combination of wet, slippery surfaces found in bathrooms, the rooms can be dangerous for someone with limited mobility or some other impairment. Fortunately, many of the items described below have evolved in design as well as function. They do not have an "institutional" look. There are towel bars, soap dishes, toilet paper holders, and other accessories that are grab-bar rated, meaning they can support the weight of an average adult. They are available in finishes that match other bathroom fixtures. Some key elements of aging in place remodeling include:
Choose the right location—If possible, install a bathroom on the first floor large enough so that a wheelchair can maneuver around easily.
Install showers—The best option is a roll-in, or barrier-free shower—one with no curb—that is equipped with grab bars and a built-in bench. "Barrier-free showers not only look awesome, but they are also just better and safer," said Natalia.
(Above) Daughters added a bathroom to the ground floor of their house for their mother
Showers & bathtubs for aging-in-place bathrooms
Both Kammi and Sweeten contractor Aaron said that even if the clients don't want grab bars or built-in benches, they always install wood blocking behind the shower walls so that the grab bars can be added easily later.
A hand-held shower head with anti-scald valves prevents burns when the water pressure changes. "Even if you are fully mobile, suppose you have an accident and break your leg? The hand-held shower head and shower bench will come in handy," said Kammi.
Flooring—Slip-resistant floor tiles make everyone's time in the bathroom safer.
Aging in place toilets—A seat extender on a standard toilet makes it easier for people with mobility problems to use. New toilets should be listed as compliant with the requirements of the American with Disabilities Act.
Sinks—Wall-hung sinks allow someone in a wheelchair to roll right up to basin. Kammi designed a bathroom with double sinks. One has a vanity beneath it; the other is open with a removable panel so that someone in a wheelchair can use it easily. When it is not in use an attractive bench sits in front of the sink, "making it look like a choice to have the bench under the sink cabinet," she said.
When to start thinking about aging in place remodeling
Although most of her younger clients do not think in terms of accessibility, it is important to Kammi and other designers to incorporate it into their projects. "No one asks for it," Kammi said, "but when designing I must consider it." If attractive design and the easing of physical limitations can complement each other, it may be worth taking into account for when you might need it.
When you're ready to get started on your home remodel, work with Sweeten to renovate with the best general contractors.
A note on fixture and appliance deliveries: If you're on a tight timeline, Appliances Connection has over 50,000 items in stock and ready to ship nationally. If you're in the NY/NJ metro area, in-stock items typically deliver within 2-3 days.
—
Sweeten handpicks the best general contractors to match each project's location, budget, scope, and style. Follow the blog, Sweeten Stories, for renovation ideas and inspiration and when you're ready to renovate, start your renovation on Sweeten.