An Accessible Kitchen and Bath Remodel in Prospect Heights
A pre-retirement Brooklyn remodel—focusing on accessibility—adds comfort and security to a co-op
"After" photos by Miao Jiaxin for Sweeten. Styled by Jennifer Condon.
Homeowner: Finding nerve to renovate after nearly 26 years in his apartment, Mickey Heller

posted his accessible kitchen and bath remodel

on Sweeten 
Where: Prospect Heights, Brooklyn, New York
Primary renovation: Gut remodels of the 1,000-square-foot co-op's kitchen and bathroom with the future in mind
Sweeten's role:

Sweeten

matches home renovation projects with vetted general contractors, offering guidance, tools, and support—for free.
Written in partnership with Sweeten homeowner Mickey
Renovation hesitations
The prewar co-op, sits across the street from the Brooklyn Public Library and a short walk from the Brooklyn Museum. When it was built in 1926, it boasted the highest elevation in Brooklyn. I purchased my apartment a few years after graduating law school—a two-bedroom, one-bathroom, 1,000-square-foot unit with six windows facing Underhill Avenue. In the more than 26 years since I moved in, I've maintained the apartment in its mostly original state due to the fear the daunting task of renovating sparked in me. 
36698-Mickey-Bathroom-BeforeDuring-2
36698-Mickey-Kitchen-Before
This year when, looking to the future and my retirement, I decided it was time for the redo. I live by myself and my vision had evolved for a long time. I wanted a contemporary but classical look for the kitchen and bathroom, sleek, bright, and cohesive. In the galley kitchen, I wanted to increase cupboard and counter space, and install a washer/dryer and dishwasher. In the small bathroom, I wanted to remove the large bathtub and install a walk-in shower.
Comparing multiple bids for the remodel
Ready to roll on the job, I posted my project. This was a massive undertaking and I had concerns about reconfiguring my bathroom plumbing and adding infrastructure to support a washer, dryer, and dishwasher to the kitchen. Sweeten patiently listened to my fears and concerns, sent multiple contractors, and offered to help me with bid leveling. I finally made my choice.
In our first meeting, my Sweeten contractor and I discussed my vision. We then met at the tile store, where he helped me select floor and wall coverings, and different grout. When I asked for space and time to seek out materials and fixtures on my own, the contractor was patient and kind. I found the kitchen sink and the lighting fixtures online, and my toilet while attending a Sweeten event at Manhattan's Kohler Experience Center.
This year when, looking to the future and my retirement, I decided it was time for the redo.

Renovate to live, Sweeten to thrive!

Sweeten brings homeowners an exceptional renovation experience by personally matching trusted general contractors to your project, while offering expert guidance and support—at no cost to you.
Bathroom remodel for accessibility
The walk-in shower was the basis for the entire renovation. I focused on it and its functionality, first. I had back surgery in 2005, followed by hip replacements in 2011 and 2013. A doctor friend recommended replacing the high-walled bathtub with a step-in shower as I look towards retirement and future possible physical limitations. The co-op required board approval and I consulted with master plumbers, but my Sweeten contractor took care of the paperwork.
Washer and dryer in the kitchen
My kitchen priorities were not typical. Having a washer and dryer in my apartment had been my dream for years. I wanted apartment-size units on pedestals, so I wouldn't have to bend too far down when loading and unloading, and a counter above for a folding area.
I desperately wanted working counterspace, since the only existing work surface was a 12"x10" pull-out shelf. My research revealed quartz countertops to be a durable, low-maintenance choice—spills do not soak into the non-porous material. White subway tile with a dark grout brightened the narrow room and made the walls stand out.
Most kitchen base cabinets come 24" deep, but I found a 15" option that worked for the slim kitchen's non-appliance side. I was going to do all white fronts, but decided on dark gray for the bottoms and white for the uppers, keeping it light, yet providing contrast. The upper cabinets go up to the 10' ceiling so that dust doesn't get trapped—serving platters are stored in the extra space. The under-cabinet dimmable lights I found were a wonderful surprise.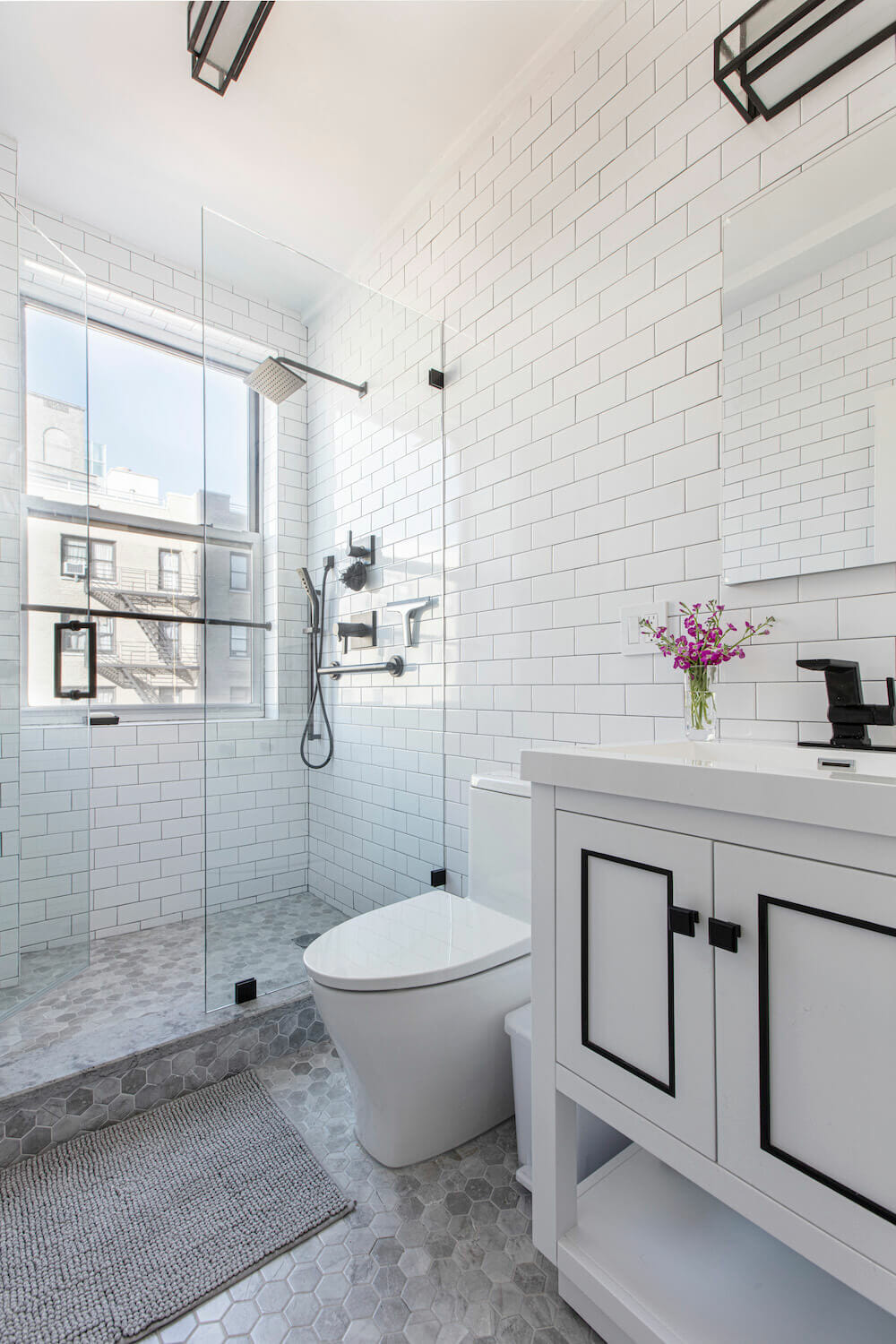 Staying home during the renovation
The construction crew couldn't finish fast enough. Renting another space had felt like an excessive expense, so I'd decided to stay in the apartment. I spent the time, against my contractor's advice, living in the apartment's second bedroom with no kitchen or bathroom for nine weeks. I purchased a $100 mini-fridge, used the staff bathroom in the building's basement, and showered at my sister's Brooklyn home, since Covid-19 shut down my gym. After that experience, the new shower became my escape, my solitude.
Over budget, but increasing home value
As renovators go, I was a fearful first-timer. I am an HGTV addict, but this is New York City—rooms are smaller and costs are higher. Originally, I budgeted $85,000 for the two rooms, not including appliances. After hearing bids, I upped it to $100,000, but permit costs and other extras brought me to $107,000, and when I added high-end appliances, I was up to $120,000. I traded in American Express and Citibank points for a total of almost $5,000! Was I upset? No, I deserve this renovation, and I have increased my home's value.
Every time I walk into either room, I'm filled with joy. The laundry space, and not having to lug my clothes to the basement, makes me smile. My bathroom appreciation grows one step (into the shower ) at a time! For years, when I went to other people's homes, I wished I could have spaces like these. Now I do. I am so very grateful.
We're glad to see this accessible kitchen and bath remodel come to life. Thanks for sharing your home's transformation, Mickey! 
Renovation materials
KITCHEN RESOURCES: Basic White paint: Custom by contractor. Axstad kitchen cabinets; Frosty Carina quartz countertops: Ikea. 5" center-to-center pull handle cabinet hardware, #MCPPZ005FB10: Miseno. 3"x6" ceramic white tile backsplash; French Grey grout; floor tile: Classic Tile & Marble. Kore Workstation Stainless Steel under-mount sink, #KWU111-23: Krauss. Trinsic pull-down faucet: Delta. Stainless steel refrigerator #B36CL80ENS; dishwasher #SHEM78Z55N; stove #HGI8056UC; microwave #HMV8053U: Appliances Connection W1 washer and T1 dryer with "Plinths" (14" platforms): Appliances Connection. Two Sparks 4-Light bath bars on dimmers: AllModern.
BATHROOM RESOURCES: Basic White paint: Custom by contractor. Hex mosaic floor tile and Silver Bullet grout: Classic Tile & Marble. Matte black 18" grab bar in shower; 24" towel bar; toilet paper holder #CSIYBO; robe hooks: Appliances Connection. Pivotal Thermostatic Shower System; Pivotal faucet #599-BLMPU-DST: Delta. Model 15S 1/2" clear polished tempered shower glass doors: E. K. Silversmith. Bathroom vanity, #036 24 0110″: Dowell. Reach Up 1-PC compact elongated dual-flush toilet, #K-23188-0; Veranda Collection 20" x 30" vanity mirror/medicine cabinet #K-99002-NA: Appliances Connection. Sparks 2-Light and 3-Light bath bars: AllModern. 
—
Depending on your scope, here are the pros and cons of staying or moving out during a renovation.
Sweeten handpicks the best general contractors to match each project's location, budget, scope, and style. Follow the blog, Sweeten Stories, for renovation ideas and inspiration and when you're ready to renovate, start your renovation with Sweeten.