IKEA Kitchen Cabinets: Costs + Value
Why IKEA kitchen wall cabinets are a go-to resource
(Above) Jena's Sweeten renovation with IKEA wall cabinets
Kitchen cabinets make up a large portion of a kitchen remodel budget. Happily, IKEA offers popular cabinet options that are less expensive than many traditional alternatives. Their wall cabinets are based on a flexible system that allows you to add components as needed.
Below, Sweeten outlines key features of IKEA cabinets, to help you decide if they're right for your kitchen renovation.
Sweeten matches home renovation projects with vetted general contractors, offering advice, support, and secure deposits— at no cost to you.
How the SEKTION cabinet system works
Base cabinets
Base cabinets are mounted on the floor. They hold the countertop and the sink. IKEA base cabinets are 30 inches high and 24.75 inches deep. After adding legs and a countertop, they reach 36 inches, which is the standard countertop height for U.S. Kitchens.
A complete IKEA base cabinet consists of the cabinet box, drawers and drawer fronts, and inner drawers and fronts. Drawer organizers are optional.
Wall cabinets
Wall cabinets are mounted on the wall and are attached to the studs. They hold plates and food items. Wall cabinets are usually mounted 20 inches above the base cabinets. Most IKEA wall cabinets are 15 inches deep with a few measuring 24 inches deep. These wall cabinets are typically mounted over refrigerators.
A complete IKEA wall cabinet consists of the cabinet box, doors, hinges, and shelves. Shelf inserts are optional.
High cabinets
High cabinets are mounted on the floor. They are intended for pantry items or small appliances. They are narrow—15 to 30 inches wide, with 24 inches being most common. High cabinets are either 80 inches or 90 inches tall. 
A complete IKEA high cabinet consists of the cabinet, fronts, and shelves. Doors and drawers are often included.
Drawers, shelves, and dividers
MAXIMERA and FORVARA soft-closing drawers and dividers come with the cabinets.
UTRUSTA shelves made either of fiberboard or glass. Shelves are included. The UTRUSTA line comes with pegs that fit into the sides of SEKTION cabinets to hold up the shelves.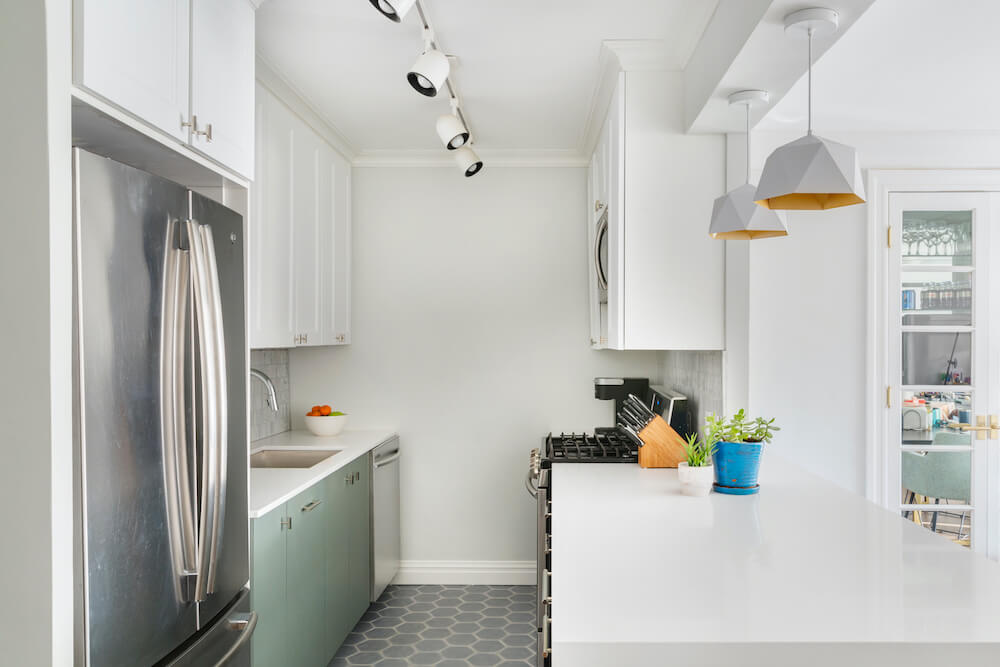 (Above) Allison and Tim's two-toned kitchen
What are IKEA wall cabinets made of?
IKEA cabinet boxes are made of fiberboard and melamine foil. Cabinet doors and drawer fronts are made of fiberboard. They are covered in melamine foil, paint, wood, or glass.
IKEA cabinet boxes
Fiberboard (or MDF, for medium-density fiberboard) is an engineered wood made from wood chips and resins. Wood chips are pressed together with heat and high pressure to form boards.
Renovate to live, Sweeten to thrive!
Sweeten brings homeowners an exceptional renovation experience by personally matching trusted general contractors to your project, while offering expert guidance and support—at no cost to you.

Start your renovation
IKEA cabinet and drawer fronts
Currently, more than 15 cabinet and drawer front styles are offered. The cabinet front profile options include slab, beveled, beadboard, and Shaker. 
IKEA has one natural wood veneer cabinet front: the TORHAMN fronts are covered in real ash wood veneer.
Most fronts are either a solid color, simulated wood, or real wood grain. Except for white, the solid colors veer toward darker or earthen tones: gray, brown, black, or green. The style and texture of the fronts affect the price. 
Quality: Are IKEA cabinets good?
The Swedish products are well-designed and built to be precise and long-lasting. All fasteners that hold the cabinets together are internal and invisible. Euro-style hinges on the doors are soft-closing and hidden. The drawers are also silently self-closing. Through efficient mass production and by using engineered wood materials that cost much less than solid natural wood, prices are affordable. 
SEKTION kitchen cabinets have a 25-year limited warranty. This warranty covers all components of a SEKTION cabinet system. The policy warrants against defects in materials and workmanship. However, any defective part of the SEKTION system will be repaired or replaced.
Take note: IKEA states that its natural wood and light lacquered (painted) surfaces may yellow with age. As a result, exposure to light will contribute to this aging.
Maintenance tips
One key to maintaining the IKEA SEKTION system is regular maintenance. Specifically, you'll need to protect your SEKTION cabinets from excessive humidity. Fiberboard can swell when it absorbs moisture. You should avoid letting coffee makers or dishwashers steam under or against SEKTION cabinets. Also, quickly wiping up any spills is a great way to ensure cabinet quality. 
(Above) Sally and Ross' Sweeten kitchen renovation
Kitchen cabinet installation
DIY
Fortunately, IKEA cabinets are easy to install. The cabinets come flat-packed in cardboard boxes. Then, homeowners can either pick up the boxes at the store or arrange for at-home delivery. 
The installation comes with a clear, picture-oriented instructions guide. To complete installation, you'll need simple tools, like a hammer and power drill/driver. The process to install IKEA wall cabinets is streamlined, but it is still a large-scale project. You'll also need to set time aside—often, many hours—for assembly. For example, even just unboxing the cabinets and disposing of the cardboard will add to your time commitment.
Professional installation
Some IKEA stores offer professional installation services to assemble and install the cabinets, doors, drawers, fittings, and handles. When you're ready to get started on your kitchen or home remodel, work with a Sweeten contractor who can also assemble and install them for you.
How much do IKEA kitchen cabinets cost?
Individual cabinet costs
IKEA base cabinets generally cost between $200 and $1,100. Wall cabinets cost between $200 and $750. High cabinets cost between $200 and $1,300.
Full IKEA kitchen cabinet costs
The design industry uses a 10' x 10' kitchen as a standard for measuring cabinet costs. This hypothetical kitchen includes cabinets, door and drawer fronts, drawers, shelves, hinges, cover panels, toe-kicks, and legs. The cost does not include countertops, handles, sinks, lighting, or appliances.
IKEA kitchen cabinets for a full 10' x 10' kitchen range from about $1,600 to about $3,500. The average cost is about $2,500. This cost does not include taxes, delivery, or installation. So whether your kitchen is showing its age or the style just isn't your taste, IKEA cabinets can help stretch your budget.
A note on fixture and appliance deliveries: If you're on a tight timeline, Appliances Connection has over 50,000 items in stock and ready to ship nationally. If you're in the NY/NJ metro area, in-stock items typically deliver within 2-3 days.
Fiberboard and melamine foil are the main components of IKEA cabinet boxes. IKEA cabinet doors and drawer fronts are made of fiberboard, covered in melamine foil, paint, wood, or glass.
With some basic maintenance, IKEA cabinets can be quite durable. The key to maintaining IKEA's fiberboard-based cabinets is to reduce excessive humidity. This can cause swelling in the fiberboard. Avoid letting moisture-making appliances steam under or against SEKTION cabinets, and quickly wipe up any spills.
IKEA kitchen cabinets are easy to install and can be a DIY project. The product comes packaged in flat-packed boxes and can be picked up at the retail store or delivered. Instructions are outlined step-by-step with clear illustrations. Tools required include a hammer and power drill. Even though it can be a DIY project, assembling and installing the cabinets is considered a large-scale project. Set aside many hours for assembly as well as unboxing and disposing of the packaging. Speak with your general contractor managing your kitchen remodel on whether they can provide installation services.