Modern Classic Bathroom Round-Up
These 7 modern bathroom designs by Sweeten homeowners show off a wide range of inspiration
Modern bathroom designs can be sleek or warm. (Above) Sweeten homeowner Lexi's minimalist bathroom renovation.
A fresh version of modern
When you think of a modern classic bathroom, images of white tile accented with contemporary fixtures come to mind. This vision is true but the design palette can also stretch beyond that. Texture, tone, shape, and color all contribute to the look for an updated definition.
Modern can fit in a variety of styles, including traditional, minimalist, or farmhouse. Here, a look at seven different Sweeten renovations proving a modern classic bathroom is in the eye of the beholder. 
Sweeten matches home renovation projects with vetted general contractors, offering advice, support, and secure payments—for free.
Tactile finishes deliver a modern bathroom design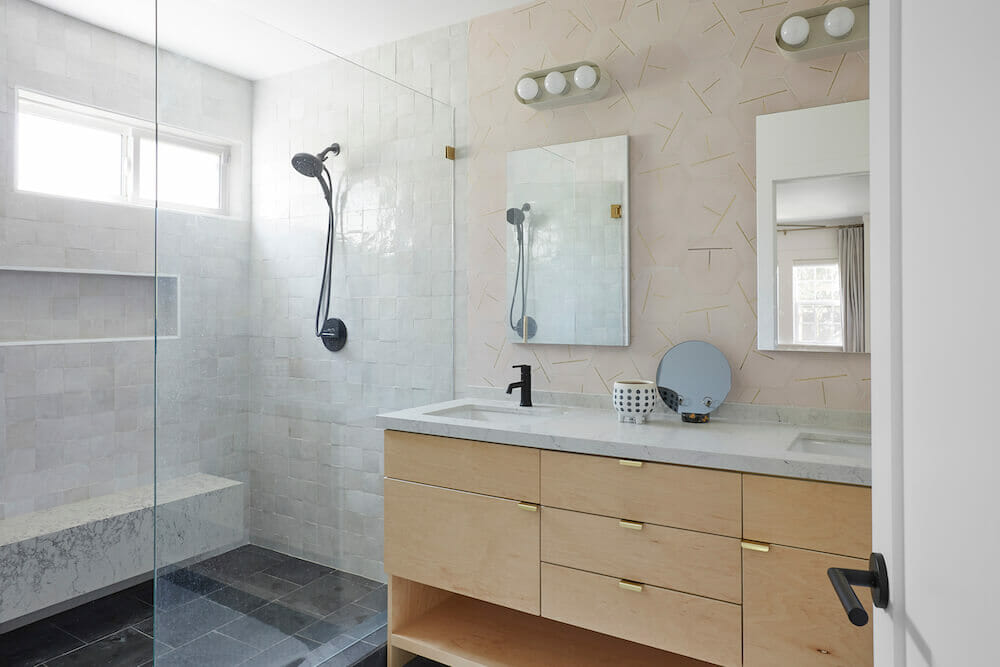 Actress Jaime Ray Newman and partner Guy Nattiv worked with two designers and their Sweeten contractor to form a one-of-a-kind look for their remodel. In their master bathroom, they chose multiple unique handmade tiles for the walls and floors. Also, a light wood vanity was a natural material that anchored the whole space. As a result, the couple's choices proved that light-color tile with texture and shape could bring just the right amount of subtle drama to a modern bathroom. 
Renovate to live, Sweeten to thrive!
Sweeten brings homeowners an exceptional renovation experience by personally matching trusted general contractors to your project, while offering expert guidance and support—at no cost to you.

Start your renovation
Modern bathroom with mixed finishes
Designing their bathroom remodel with floor-to-ceiling white subway tile gave Tina and Andrew a classic base to build on. What they added to it brought personality and dimension. A vintage-style exposed shower fixture shows what's old is new again. The mixing of finishes—brass and chrome—is a popular trend. For extra storage, a double-wide medicine cabinet extends past the custom blue vanity for some asymmetry. Lastly, a shower curtain textile with a pattern and tassel trim is the final soft touch.
A soft side to modern
Melissa's 500-square-foot apartment went through clever design changes for her and her partner to live comfortably. Their bathroom, which barely had room to turn around in, borrowed square footage from the bedroom next door. The couple's design plan demonstrates that a modern vibe can have a softer side. The cool stone-look tile pulls you in with help from natural light streaming in. Also, soft curves in the drop-in sink and fixtures add to the ambiance. Wood tones always bring in warmth when a space needs it. Here's one more modern idea: a built-in cabinet inside the shower is tucked between a beam and shower wall for covered storage!
A clean

—

but not overly simple

—

aesthetic
Sisters Nicole and Missy turned to Sweeten to begin their Arlington bathroom renovation. Nicole originally thought she wanted a simple and clean white bathroom. However, as the project unfolded, she realized she wanted more personality in the design thanks to her Sweeten contractor's suggestions. The sliding barn shower door and white-washed oak vanity came in to complete this modern bathroom design. 
Black matte finish on a clean canvas
This Manhattan couple went with a minimalist white color scheme for their Greenwich Village modern bathroom design. Their Sweeten contractor installed a sleek vanity characterized by linear silhouettes and a geometric shower niche. A black matte faucet was installed on the wall, which boosts the contemporary factor. 
Gray grout offsets modern gold touches
For Amy and Kevin's LA bathroom renovation, they, like many other renovators, chose classic subway tile. However, they tweaked the look by using gray grout. (Gray is a great choice as it is both classic and contemporary at the same time.) They also selected a large-format gray tile for the floor, which grounded the room. To pull in a traditional aesthetic, the couple put in a 30-inch vanity in a natural wood tone. 
A modern bathroom design mixes in classic fixtures
Leah and Brian worked with a Sweeten contractor to update their Chicago loft's bathroom. They went with antique brass for the finishes—as seen in the pendant light, shower head, and faucet—to give it a classic look. To add in a modern vibe, they chose porcelain tile in a gloss finish for the walls. Matte finish tiles laid in a herringbone pattern on the shower floor complete the look.
When you're ready to get started on your bathroom or home remodel, work with Sweeten to renovate with the best contractors.
—
Sweeten handpicks the best general contractors to match each project's location, budget, scope, and style. Follow the blog, Sweeten Stories, for renovation ideas and inspiration, and when you're ready to renovate, start your renovation with Sweeten.