Desk Nook Ideas for Home Offices in Small Spaces
Need WFH space? Add a nook desk to any kitchen or studio apartment, like these homeowners did
Almost two years after the global shutdown, it seems likely the workplace will never look like it did before COVID-19. More companies and employees are exploring the hybrid model of work (part work-from-home, part in-the-office) or full remote on a permanent basis.
Makeshift "lap offices" are upgrading to become permanent home features. And limited square footage is no longer a hindrance. The creativity of carving out a nook desk is growing. Whether a built-in nook desk or a desk area for a studio apartment, see how these Sweeten homeowners have reinvented their workspace.
Sweeten matches residential renovation projects with vetted general contractors, offering know-how, support, and up to $50,000 in renovation financial protection—for free.
Renovate to live, Sweeten to thrive!
Sweeten brings homeowners an exceptional renovation experience by personally matching trusted general contractors to your project, while offering expert guidance and support—at no cost to you.
Built-in kitchen office nook for ultimate convenience
When Laura and Randy first saw their Upper East Side co-op, they weren't impressed. It felt cramped and not their style. Working with their contractor, they decided to open the space between the kitchen and dining room, adding a large island. A built-in desk niche would be accessible for when they worked from home. It would also serve as a homework station for their daughter, Morgan, as well. The result is a stylish and convenient small nook that holds court in the kitchen.
A kitchen office nook with maximum organization
Erin and Chris' 1950s co-op left a lot to be desired. It was on the smaller side, so they got creative with the layout to ensure they could get all the "extras" they wanted. They worked a built-in desk and cabinet system into their plans. This allowed the couple to organize their work as well as have a neat and tidy place for the kids' schoolwork and art supplies. Even with a full kitchen and bathroom renovation, the new kitchen office nook is still Chris' favorite part of the home.
A former closet turns into a desk in a studio apartment
After relocating her clothing storage to a larger space, Lauren's Sweeten contractor added a custom desk nook to the spot where her old closet stood. Three simple slabs—two deep shelves above and a desk surface—do the job.
A modular desk in a living room adds functionality to a wall
A Vitsoe modular unit was the perfect way for Tom and Alex to create an organized desk nook in a sunlit corner of their living area. Its clean lines and silhouette blend seamlessly with the home's mid-century style.
Creative nook desk in a studio apartment
Emily's new office nook desk replaced two small, unusable closets. The desk in the studio apartment, which provides storage for papers and books, is an ideal workspace in her small home since it's down the hallway from her sleeping area.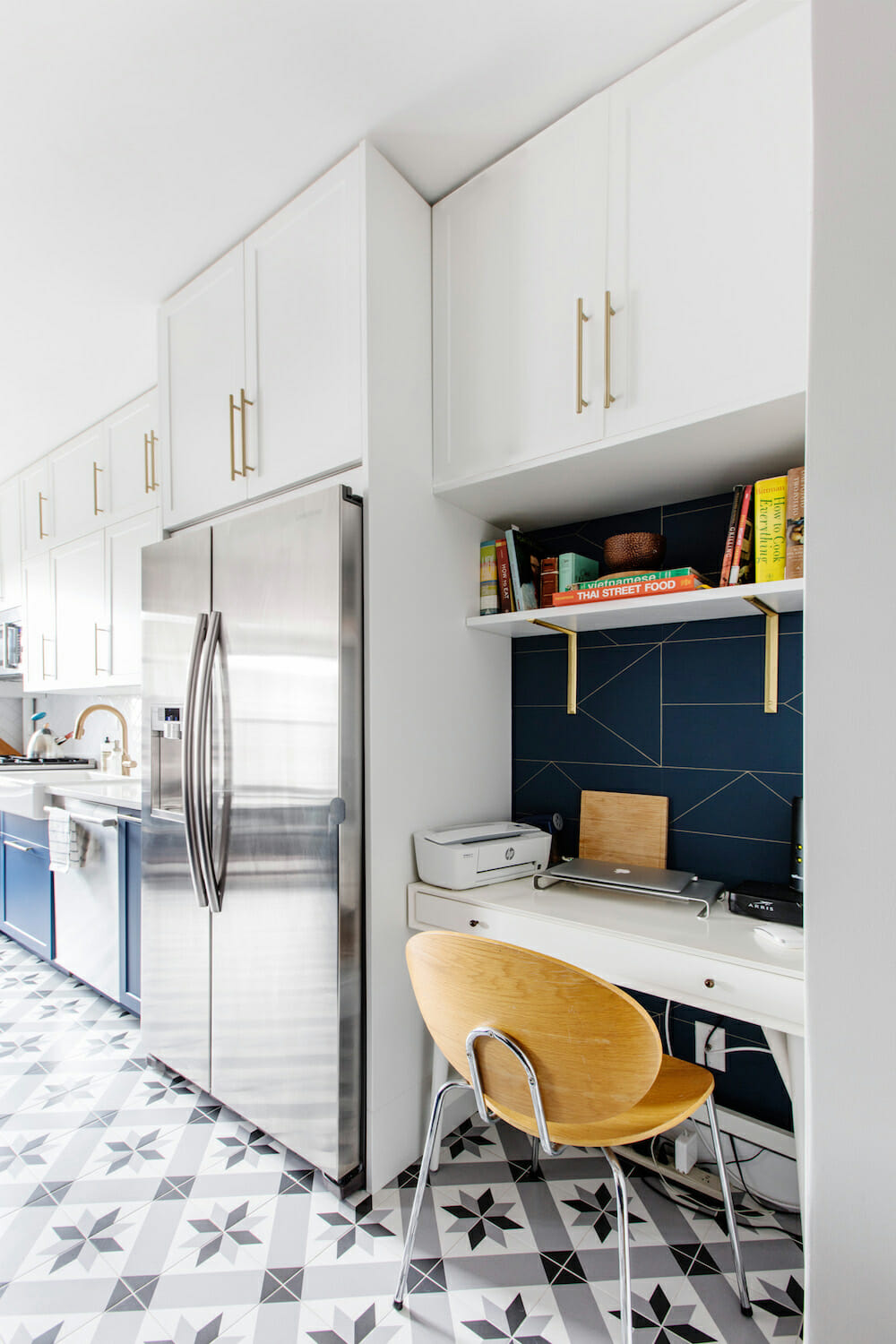 Barbra and Sean lived in their apartment for a while before deciding what to renovate. Their kitchen would be completely updated. In the existing kitchen, there was a desk area already so it just felt natural to carve out a similar area specifically for this use. Luckily, they were able to find a new desk that fit the opening perfectly. They spruced it up even more with leftover wallpaper from their foyer refresh. Now, they have an inviting place to work.
—
For more small-space solutions, check out our round-up of ideas on how to live large in a small apartment.
Sweeten handpicks the best general contractors to match each project's location, budget, and scope, helping until project completion. Follow the blog for renovation ideas and inspiration and when you're ready to renovate, start your renovation on Sweeten.