How 9 Custom Closet Organization Ideas Calm a Home
These closet renovations set up a tidy system, from shoes and clothes to kids' toys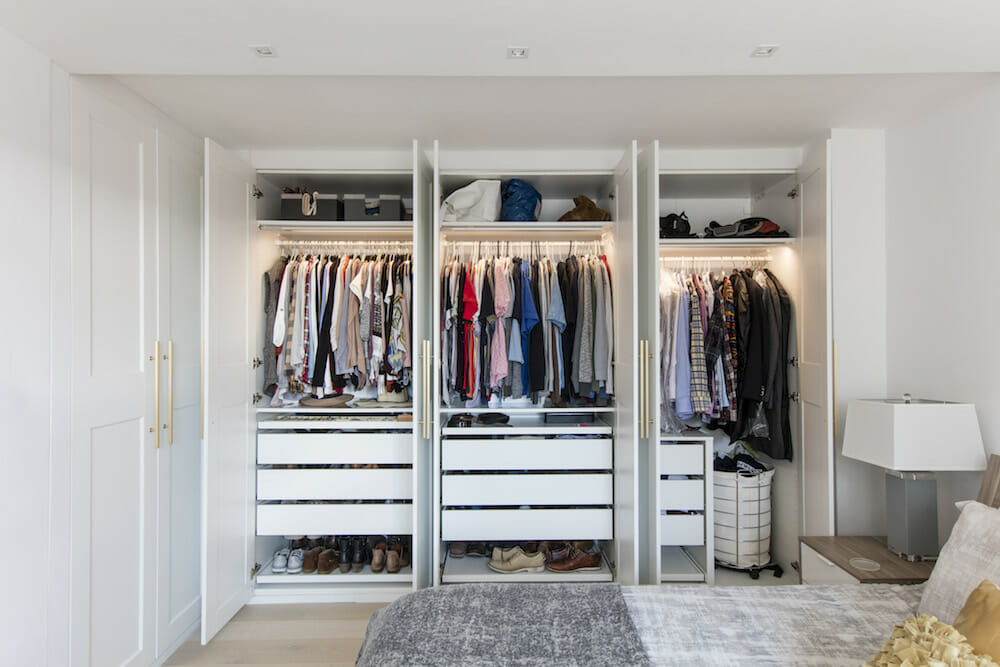 A closet renovation can be designed and built into life-changing organizational tools. With the help of a general contractor or designer, smaller closets can be combined to make one large one. In addition, rearranging a room's layout may reveal underutilized floor space that transforms into storage. These Sweeten homeowners show how they tamed the clutter and simplified their everyday.
Sweeten matches home renovation projects with vetted general contractors, offering advice, support, and secure deposits—for free.
A wall-to-wall closet renovation regains space (and hides a TV!)
With a handful of design courses under his belt, Toby put his passion for design to good use during his home renovation. He had given away the square footage of his bedroom closet to his bathroom located in the next room. To make up for this, he designed and built a new full-length closet for clothes and shoes with sliding doors. The built-in also hid a dresser and tv.
Adding 3 custom closets for even more functional space
Storage was a big factor in Barbra and Sean's apartment renovation. Closets went into one of the kids' rooms, the entryway, and the master bedroom (pictured above). In the master, their Sweeten contractor suggested combining two smaller units into a single large one with a custom organization system. "There's a lot more functional space now," Barbra said. "I even have some halfway empty dresser drawers. I wish I had done all the closets. Someday!"
A toy closet renovation keeps playthings neat—and out of sight
This Brooklyn homeowner chose a neutral palette for her son's room; the better choice as a backdrop for all of his colorful toys. Even toy closets can offer a visual respite and functional organization. "Building out the closets was essential to allowing us to settle in properly, and I'm glad we didn't wait to do this (which was the original plan)," said the homeowner.
Renovate to live, Sweeten to thrive!
Sweeten brings homeowners an exceptional renovation experience by personally matching trusted general contractors to your project, while offering expert guidance and support—at no cost to you.
Closets for extra shoe organization (87 pairs worth!)
The standard closet build doesn't give a lot of thought to shoe storage, so if you're really into footwear, you'll be faced with the problem of where to store them all. With 87 pairs of shoes in need of storage, Matthew had a custom closet designed with pull-out drawers showing off a pop of orange. The drawers were each sized to his size 9 shoes and hidden behind a sleek panel door.
Walk-in bliss for a Brooklyn closet renovation 

Combining two cramped, unlit closets into one cohesive unit topped the renovation to-do list for Kate and Max. They wanted to increase their overall storage space and add much-needed lighting so they could access their items more easily. Their Sweeten contractor removed a wall separating the two smaller closets, keeping the closet's main access point in their bedroom.
Kids' bedroom closets keep family living room clutter-free 
With two active little boys in an 800-square-foot junior one-bedroom co-op, Courtney and Jim's main goal was to create more storage in their sons' room. They only requested one closet but their Sweeten contractor found space for a second closet in their room without sacrificing floor space. To keep their toys, sports items, and musical instruments from spilling into the common living areas, a thoughtful organizational system was designed in the existing closet.
Combining three small closets into two large custom units
A layout change that resulted in opening the kitchen to the living room gave Marissa and Cody the opportunity to demolish the three narrow closets in the main living area and build two larger ones. By taking down the walls between the closets, the couple was able to increase their storage by making use of what was previously dead space between the walls.
A hideaway custom closet renovation mimics the luxury of a walk-in 
Michael and Chenta decided to overhaul the existing closet in their bedroom. They had a large closet built with simple, oak doors and added a floating wall in front of it. The wall separated their closet from the rest of the bedroom, giving it the feeling of a walk-in closet while still allowing the space between the wall and the closet to be used as a walkway.
An IKEA closet renovation with motion-sensor lights 
It's hard to believe Maggie and Adam's bedroom closets aren't custom. For a made-to-order look, their Sweeten contractor framed the IKEA closets and installed LED lighting with motion sensors so the lights would turn on when the doors opened. The brass hardware gave a final refined touch, plus tied in with the hardware elsewhere in the home.
When you're ready to get started on your home remodel, work with Sweeten to renovate with the best contractors.
—
Sweeten handpicks the best general contractors to match each project's location, budget, and scope, helping until project completion. Follow the blog for renovation ideas and inspiration and when you're ready to renovate, start your renovation on Sweeten.
Popular questions asked
How much does it cost to renovate a closet? 
It depends if you want to do a "DIY" closet renovation, or work with a seasoned pro. A simple ready-made, modular system for a small reach-in closet can cost under $200, plus installation. A tricked-out, customized walk-in can cost $4,000 or more.