7 Smart Bathroom Ideas from Sweeten Renovations
You'll want to snag these tricks for your own remodel
You may think there's only so much you can do to make a bathroom look different or be more efficient. After all, it's a space that always has the same, standard features: a sink, a bathtub/shower, and a toilet. We're here to tell you: that's absolutely not the case. In the many projects our renovators share with us every day, there's always an innovative idea or a new mix of materials we wish we'd thought of ourselves! Ahead, seven such ideas to inspire your own bathroom remodel.
1. Extend floor tile to the base of the wall
This classic bathroom is full of unique design details, including the extension of the floor tile onto the base of the walls. The contractor suggested the idea to renovators Jeremy and Chris to stretch the visual plane of the room—and it definitely did the trick. See their renovation here.
2. Use pool tiles for a shower
Who says you can only use bathroom tiles in a bathroom? Exactly. Allyson sourced aqua pool tiles with a wind-blown texture for her walk-in shower that make showering feel like a dip in the pool. Read more about her bathroom remodel here.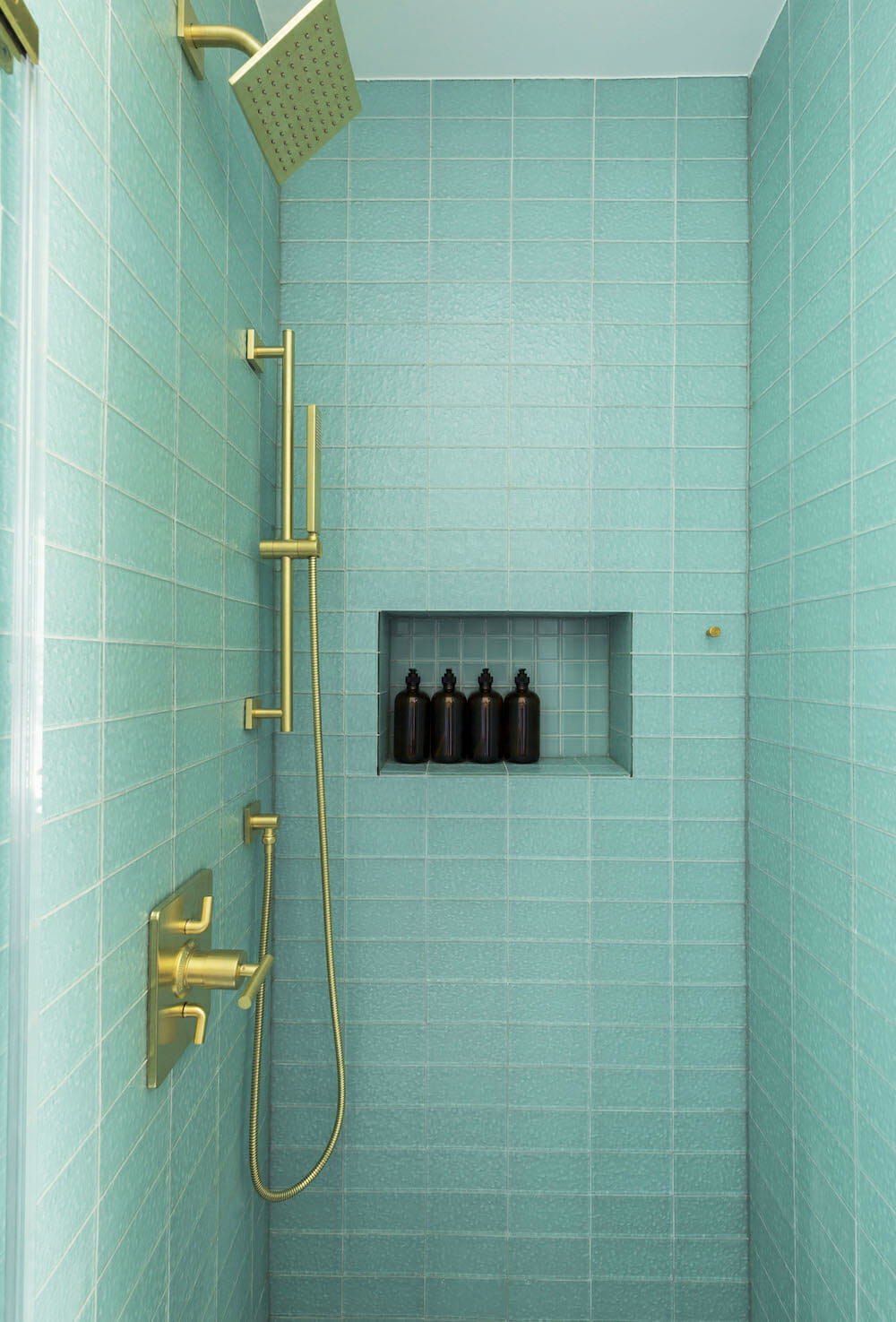 3. Work with, not against, structural and plumbing challenges
There are some things you can work around in a renovation and often, pipes aren't one of them (especially if they're risers). In Angela's bathroom renovation, her contractor made use of space that would've otherwise been dead and installed covert shelves for toilet paper and towels.
4. Install a swinging shower door
Shower doors: some slide, some stay put, and this one swings. The smart solution allows the door to glide over the toilet, making cleaning and access to the tub fixtures, easier. Read more on how Sonya and Aaron made the best use of their 42-square-foot bathroom.
5. Instead of centering a sink, offset it
It's pretty standard to place a sink at the center of a countertop or vanity. Setting it to the side, however, preserves counter space, as seen in one Sweeten homeowner's renovation. Sometimes symmetry isn't the answer!
6. Create a custom shelf for toilet paper
Never will you have to go hunting for a new roll when it's placed strategically next to the toilet, like in Sara and Mike's rustic bathroom. Plus, it frees up space in linen or storage closets for towels and cleaning supplies.
7. Install recessed cabinets behind the door
When there's no room for shelves or a standard cabinet, recessed cabinets like in Dianna and Todd's bathroom, are another storage option. Other perks: they don't get in the way of the door when it's opened and blend into the surrounding wall. 
—
Can't get enough reno inspiration? Dive into these ideas for clever kitchen storage, two-toned cabinets, and open kitchen shelving.
Sweeten handpicks the best general contractors to match each project's location, budget, scope, and style. Follow the blog, Sweeten Stories, for renovation ideas and inspiration and when you're ready to renovate, start your renovation on Sweeten.