Making a stylish storage statement one shelf at a time
Upper cabinets have long been a mainstay in kitchen design and frankly, always will be. But there's something to be said for open shelves: they make a kitchen feel lighter, more effortless, and more open. Plus, they pretty much force you to stay organized because there's nothing for clutter to hide behind. See how Sweeten renovators incorporated the look into their own culinary spaces.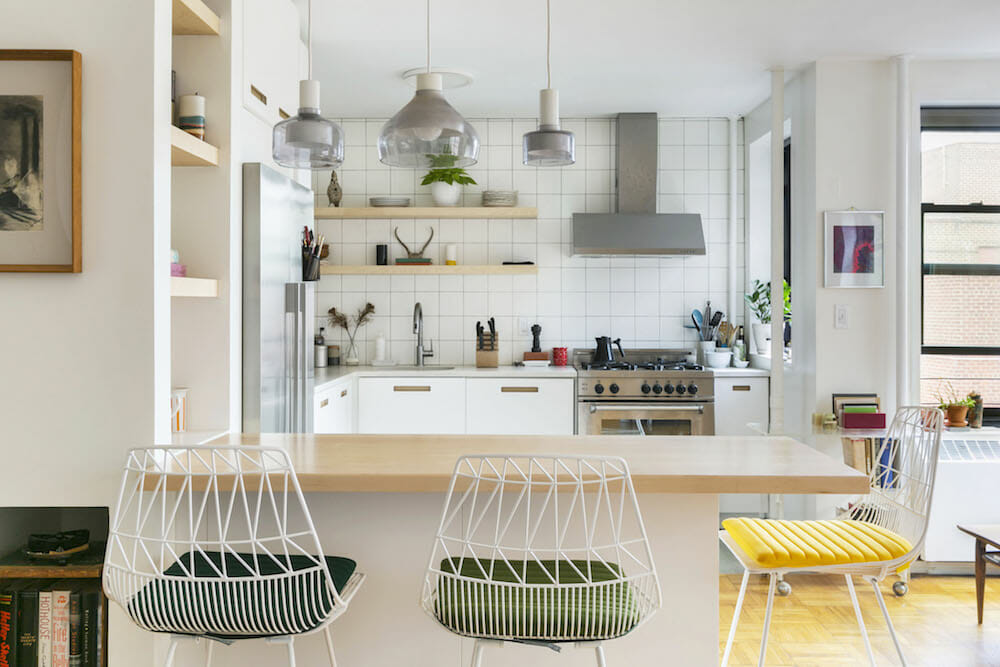 The homeowner wanted a "mid-century Scandi meets '70s Italian modern" kitchen, which meant using clean lines and leaving the space as open as possible. Custom-made floating shelves behind the peninsula, and all along the sink wall, do the trick. They provide plenty of storage for everyday items and decorative accessories, without overwhelming the kitchen.
Reconfiguring the kitchen layout allowed Jeremy and Chris to extend the cabinetry and add an integrated refrigerator on one wall, so the opposite one could host a banquette, sink, and long open shelves. In addition to keeping the space from feeling too enclosed, the shelves show off the Carrara marble backsplash.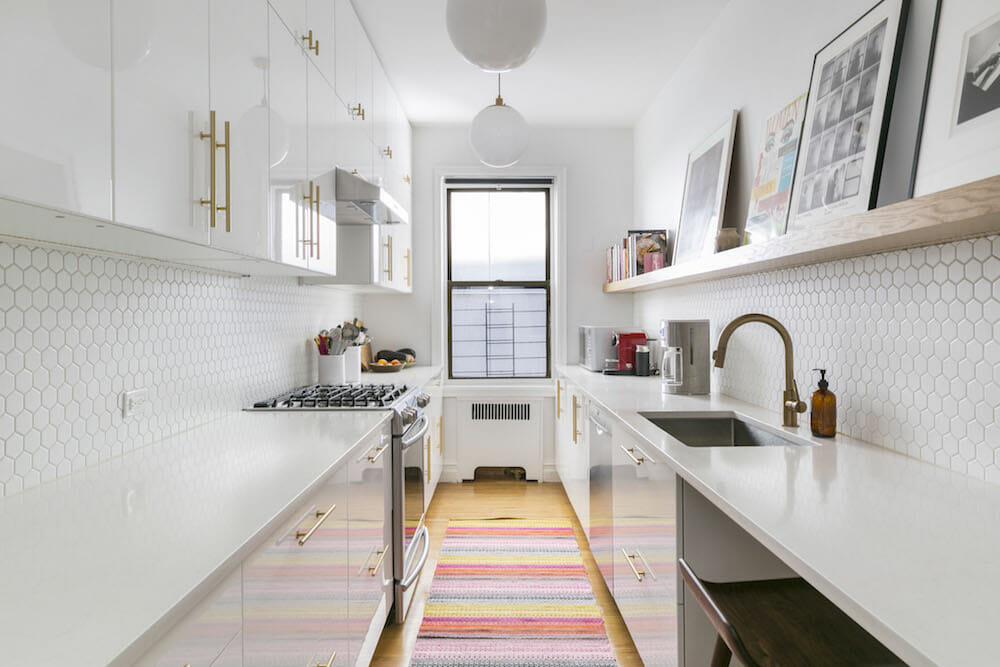 Custom wood shelves that run along one wall of Sheilaja and Sergio's galley kitchen, provide a nice contrast to the otherwise all-white palette. Plus, they hold books and artwork that bring a personal touch to the cook space.
This tiny kitchen looks much bigger than it is thanks to the exposed back wall anchored with white oak shelves. Not only would closed upper cabinets have suffocated the space, but they also would've limited the refraction of light from the living area.


Bellamy and Zak's kitchen presented a few design challenges, as they needed to add a backdoor for backyard access and accommodate non-negotiable double ovens. All said and done, there wasn't a ton of remaining wall space for more upper cabinets, so instead the couple chose shelves to host ingredients and dishware.
Nazli wanted an open feel for the parlor floor of her family's brownstone. "My solution was to forgo upper cabinets so there's a clear line of vision from the front the of the room all the way to the dining room," she shared. To make up for the lack of storage from closed cabinets, she opted for shelves on the opposite wall that frames a walk-in pantry.
—
Small kitchens don't have to lack in storage or style, check out these small but mighty cook spaces.
Sweeten handpicks the best general contractors to match each project's location, budget, and scope, helping until project completion. Follow the blog, Sweeten Stories, for renovation ideas and inspiration and when you're ready to renovate, start your renovation on Sweeten.