5 Different Takes on Black-and-White Bathrooms
Thinking of designing a black and white bathroom space? Here's proof they're not all same.
When it comes to bathroom design, there's no combination more iconic than black and white. The traditional pairing can be executed in many ways, from tile to fixtures, in a range of textures and patterns. While it's a common choice, renovators can take endless approaches to reflect their personal taste. See how these homeowners, who worked with Sweeten, a free service matching renovators with vetted general contractors, made B&W their own.
1. Tile and Grout
Pallavi and Keyur had a black-and-white palette in mind when they envisioned their bathroom renovation. The execution is on-point thanks to the thoughtful mix of tile and grout colors. The shower-bath wall features long white tiles offset with a darker grout. On the other hand, the bath siding provides a welcome inverse effect. The siding features smaller black ceramic with white grout. The natural-wood vanity brings warmth and contrast to the space.
2. Statement Floor Tile in Black & White bathrooms
A last-minute addition proved a good decision in Mary Ann and Frank's renovation. Their guest bath took a traditional route with the old-fashioned sink, glass walk-in shower, and subway-tile bath. It was the fun graphic floor tile that brought an unexpected contemporary touch.
3. Quintessential Color Blocking
If you didn't know it was a reno, you'd think Lindsay and Nicholas' bathroom is all original. The quintessential black-and-white bathroom features full-tiled white walls with black chair-rail accent tiles. Matte black hexagonal tile floors the space.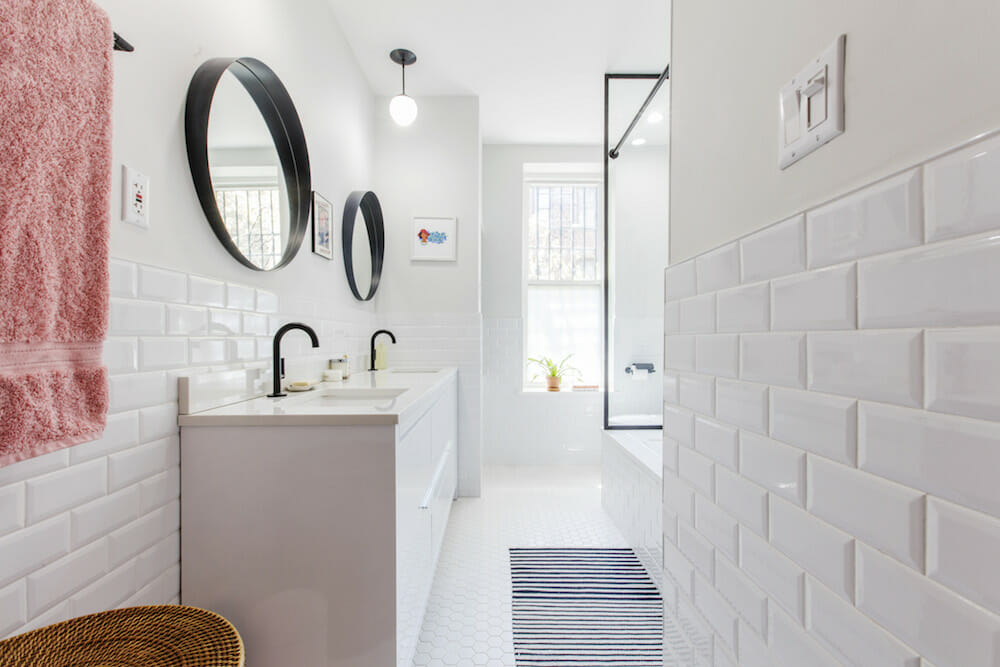 4. Pops of Black
A leak made Katie and Lance's bathroom renovation an urgent matter. As a result, their focus leaned toward function over aesthetics. They pared down their vision of intricate floor tiles and a teak vanity. Still, the final result looked like anything but an afterthought. The couple chose to create a mostly-white bathroom with small pops of black from hardware and accessories. The result feels completely effortless and relaxing.
5. Fun Florals
Nancy and Aram were required to stick with the existing footprint of their bathroom. As a result, they opted to change all their fixtures and room details. For the tile, they mingled textures. The couple chose a circular dark gray-and-white tile for the shower, a floral-like motif for the floor, and a standard subway wall tile.
—
Looking for storage inspiration? See how these renovators used open shelves in their bathrooms.
Sweeten handpicks the best general contractors to match each project's location, budget, and scope. Additionally, our contractors will help you until project completion. Follow the blog for renovation ideas and inspiration. Or, if you're ready to renovate, start your renovation on Sweeten.