Hardwood Floor Patterns, from Classic to Dramatic
From wide-plank to herringbone, these popular hardwood floor patterns spice up any home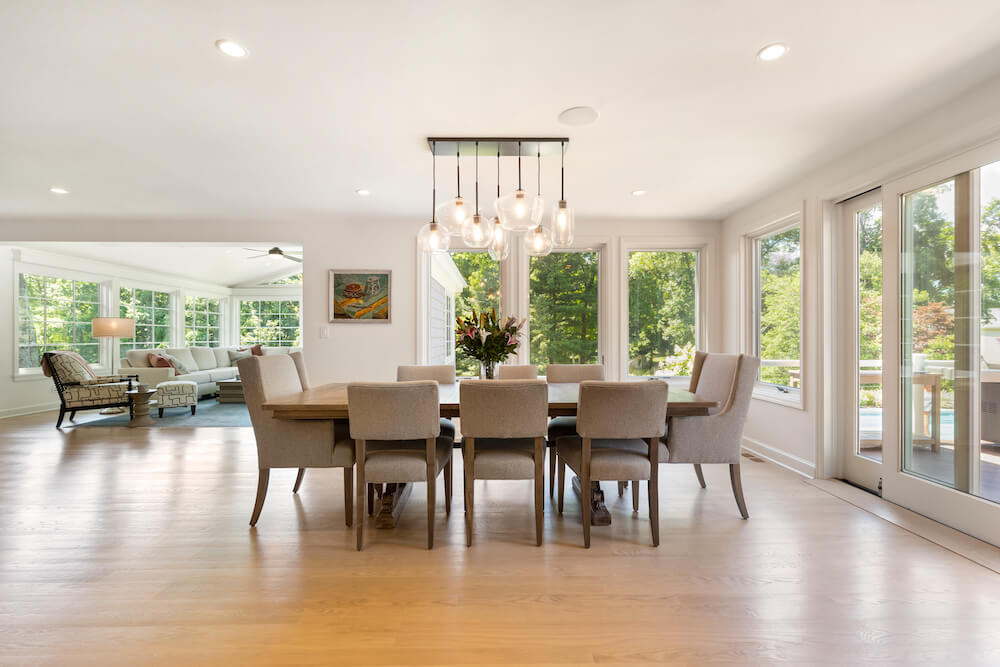 (Above) Sweeten renovation by Shana Sandberg of Revel Craft and Design
The popularity of using hardwood for flooring in homes dates back hundreds of years. Up to today, the material has proven to remain steadfast through time and trends. 
Whether you choose geometric shapes like herringbone or chevron, or wide plank versus classic width, it anchors the whole home. Typically installed throughout, wood floors cover a large square footage. It has a substantial impact on your home's personality and design style. No surprise, then, the perennial wood floor is often chosen for its unifying qualities and timelessness.
Here, Sweeten renovators show how their hardwood floor ideas added to their home overall. Sweeten matches residential renovation projects with vetted general contractors, offering know-how, support, and up to $50,000 in renovation financial protection—for free.
A herringbone wood floor in Crown Heights
Janet and Jerry lived on Long Island but bought a multi-story fixer-upper in Brooklyn as an investment property. Plus, it serves as a place to stay when they work late in the city. They updated the townhouse, keeping the small fourth floor as their own. For their one-bedroom unit, the goal was to create an open, airy studio. One of their pressing challenges was the hardwood floors. They were covered by old vinyl and carpeting.
They chose white-oak flooring that would be custom laid in a herringbone pattern. Unfortunately, the lead time was two months just to get the wood custom cut. So, they adjusted their plans and found a pre-cut herringbone wood floor that could be installed quickly. Their quick fix became a beautiful solution.
Renovate to live, Sweeten to thrive!
Sweeten brings homeowners an exceptional renovation experience by personally matching trusted general contractors to your project, while offering expert guidance and support—at no cost to you.
Herringbone pattern wood enriches a kitchen
For Nazli and Larry, updating their historic Brooklyn brownstone was a labor of love. They wanted to merge modern and traditional styles. The challenge was how to do so within the townhouse's long and narrow dimensions. The couple also struggled between managing their budget and getting their absolute must-haves.
However, some things Nazli wouldn't compromise on. One was the wood floors. They wanted to make a statement in the kitchen so they splurged on walnut and installed it as a herringbone pattern. It gives the kitchen a rich, finished look, which extends into the parlor. To stay within budget, they used a less expensive white oak for the upstairs—an area that sees much less traffic. 
Pro tip: There are a variety of wood floor species—all at varying price points. Oak, maple, and cherry are popular choices as well as bamboo, walnut, ash, and mahogany. Shop around to find the one that fits your budget and style. 
Wide-plank wood flooring
For these Sweeten renovators, redoing their Greenwich Village condo included gutting the place and adding a second bedroom. The plan was to maximize their 16-foot ceilings to make the 850-square-foot space larger and more modern. They turned it into a gallery-like space with black steel accents contrasting bright white walls. They kept the finishes simple giving an airiness to the space. One major design detail that achieves this is the contemporary-looking wide-plank wood flooring in a neutral stain. The home became more open, expansive, and refreshed. 
Pro tip: By definition, a wide plank is wider than today's standard 2½– to 4–inch boards. And they are believed by many to increase property value due to their current popularity and relatively expensive price.
Wide plank flooring in white oak
Working from home was the reason for moving into their 1950s home in Los Angeles. Like a lot of people who found they needed a home office during the pandemic, Amy and Kevin needed a larger space. So the 1,538-square-foot house was perfect even if it was in need of a little TLC.
They hired a Sweeten contractor to fix up the living room, kitchen, and bathrooms. But first things first. They started by laying down new flooring throughout the house. "We chose white-oak engineered hardwood in 8-inch planks to showcase the oak's natural grain and make the house's interior feel cohesive," says Amy. And a bonus: The lighter floors compliment the living room's natural wood ceiling.
Classic wood floors in a Westchester County compound
Shana Sandberg of Revel Craft and Design came to Sweeten to help renovate her client's home in Harrison, New York. The homeowners wanted to turn the 1953 estate into a convenient, multi-generational gathering spot for their family. The home needed an overhaul of the kitchen and bathrooms. The renovation plans also called for a new 750-square-foot addition to act as a large family room. The look of the home is contemporary classic brought together by the beautiful white-oak classic wood floors seen throughout. The homeowners chose variegated coloring to create a sense of refreshed modernity with a nod to the classic.  
Pro tip: Variegated wood coloring and mixed-width patterns add versatility and work well with both classic and contemporary designs.
—
Sweeten handpicks the best general contractors to match each project's location, budget, scope, and style. Follow the blog, Sweeten Stories, for renovation ideas and inspiration and when you're ready to renovate, start your renovation with Sweeten.