5 Popular Bath Tiles and How Much They Cost
When it comes to tiling your bathroom floor or walls, there are many options to choose from (some would say TOO many options). It's easy to get overwhelmed and opt for subway tile; with its clean lines and modern appeal, it's a quick and painless choice that looks good in any space. To simplify the process, we've rounded up some of our favorite bathroom tile trends—along with pricing info—to guide your search.
SUBWAY TILE

(TOP) Hari and Kaity's bath (BOTTOM) Katie and Lance's bath
In Hari and Kaity's bath, white subway tile is perfect for a dressed-down look. If you want something more modern, like Katie and Lance, a beveled edge adds interest. Standard subway tile costs around $2-$3 per square foot; the beveled edge variety costs around $4 per square foot.
GLAZED CERAMIC TILE

(TOP) Lauren's shower (BOTTOM) Meredith's bath
Glazed ceramic tile makes a bold statement. In Lauren's shower, the subtle tile provides just enough contrast and exudes a spa-like sense of calm. A wash of blue glaze gives Meredith's wall tile a unique watercolor effect. If you're looking to add some glazed tile to your space, expect to spend around $9 per square foot.
HEXAGON TILE

(TOP) Nikki and Chris' bath (BOTTOM) Lia and Chris' bath
In Nikki and Chris' bath, a black hexagon tile with white grout grounds the design and gives it a modern vibe. But this tile also has a softer side, as seen in the Carrara marble version in Lia and Chris' bath. Porcelain hexagon tile starts around $10 per square foot; marble begins around $15 per square foot.
PENNY TILE

(TOP) Alicia and Ed's bath (BOTTOM) Rachel and Michael's shower
Penny tile is a classic option that gives off major vintage vibes. It works as floor tile in Alicia and Ed's retro-inspired bath and transforms into a waterfall mosaic in Rachel and Michael's shower. This kind of tile can cost as little as $5 per square foot for white porcelain and up to $10 or more for colorful mosaics.
BASKETWEAVE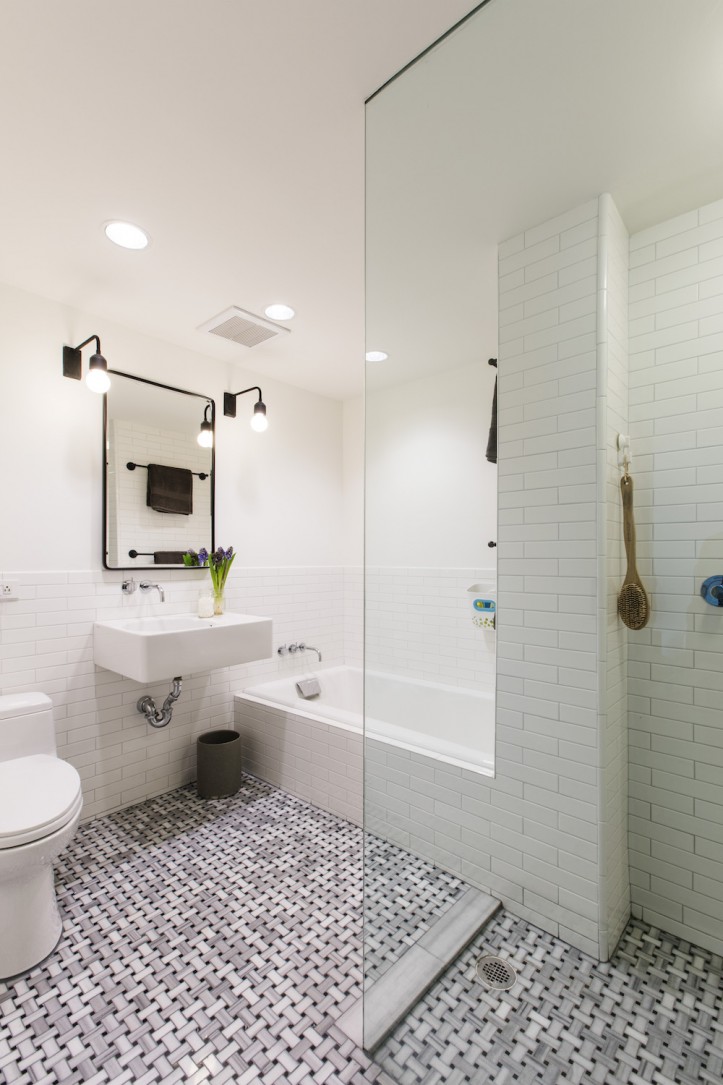 (TOP) Tina and Fletcher's master bath (BOTTOM) Tara and Mike's bath

Basketweave is truly old-school, but it's been making a steady comeback. It feels surprisingly modern as part of the minimalist design in Tina and Fletcher's master bathroom. In Tara and Mike's bath, the tile lends itself to a more traditional look without making the space feel dated. Lower-end options like porcelain cost around $8 per square foot; high-quality marble begins around $30 per square foot.
—
But wait, there's more! We've got plenty of floor tile inspiration for your bathroom renovation.
Refer your renovating friends to Sweeten and you'll both receive a $250 Visa gift card when they sign a contract with a Sweeten general contractor. 
Sweeten handpicks the best general contractors to match each project's location, budget, and scope, helping until project completion. Follow the blog for renovation ideas and inspiration and when you're ready to renovate, start your renovation on Sweeten.