5 Popular Bath Tiles and How Much They Cost
Shower and floor tile set the personality of a space. Here are popular styles and the bathroom tile costs.
Choosing tile for your bathroom floor and walls is the fun part for many. Often a particular tile is spotted and is a "must-have" and the space is designed around it. The tile becomes the focal point. Other times a fixture style or a certain color palette is leading the design. In this case, the tile would be chosen as a supporting—but important—background role. In terms of price, the bathroom tile costs for a remodel will range depending on colorway, material, shape, pattern, and finish.
We've rounded up popular looks to guide your search and the prices you can expect to pay. An experienced general contractor will hire the right subcontractor depending on the type of tile being installed. 
Sweeten matches home renovation projects with vetted general contractors, offering guidance, tools, and support—for free.
Herringbone tile
(From top) Mitzie and Jenifer's bathroom floor tile; and Gus and Katherine's green bathroom tile
If you're looking to showcase a single feature in the bathroom, consider the herringbone pattern. Sweeten homeowners Mitzie and Jenifer laid down their floor with cement tile in Federal Blue. Katherine and Gus set matte black fixtures against a pale green ceramic tile on the backsplash and shower wall.
Cost for herringbone tile styles
Herringbone bathroom tile costs start around $3 per piece and can go up to $17 per piece. 
Hexagon bathroom tile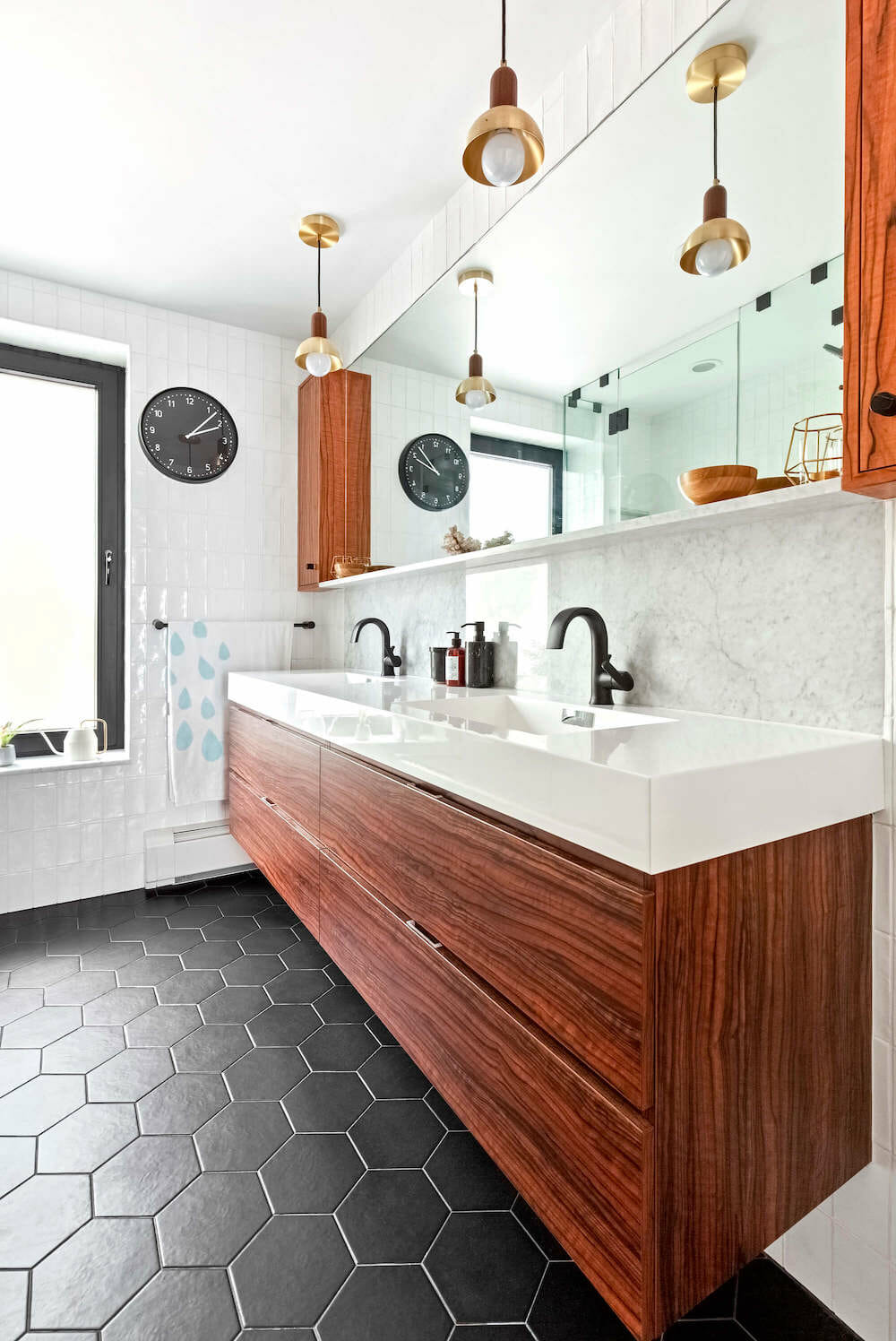 (Top to bottom) Jill's master bathroom, Erica's serene bathroom, and Lia and Chris' loft bath
In Jill's bath, a bold black hexagon floor tile balances a long double-sink vanity. The tile can also exhibit a softer side in a neutral color as seen on Erica's shower wall. Check out her creative backsplash design idea. Lia and Chris' smaller scale on the floor can resemble a mosaic. The smaller the tile, the more grout is used, helping with the grip on the floor so it's less slippery.  
Cost for hexagon tile styles
Porcelain hexagon bathroom tile costs start at around $10 per square foot; marble begins at around $15 per square foot.
Renovate to live, Sweeten to thrive!
Sweeten brings homeowners an exceptional renovation experience by personally matching trusted general contractors to your project, while offering expert guidance and support—at no cost to you.

Start your renovation
Subway tile: A go-to classic design
(Above) Nikki and Chris' bathroom remodel
Sweeten homeowners Nikki and Chris aimed for a prewar look. Iconic of old New York, white subway tile lined the shower and halfway up the bathroom walls. The white tile was the right background for their decorative black-and-gold pineapple wallpaper. 
Cost of subway tile
Standard ceramic subway tile costs around $2 – $3 per square foot. The cost increases with marble around $6 – $9 per square foot.
Subway tile variation
(From top) Katy's beach house bathroom; and Steve and Lewis' brownstone half bath
A longer subway tile has been growing in popularity. It has just enough variation to give off a contemporary vibe. Sweeten homeowner Katy's master bathroom mixes a glossy subway tile with a patterned hex in black and white. Steve and Lewis went with a tumbled, handmade slimmer variation in cerulean blue for a small niche half bathroom.
Cost of elongated subway tile
For an elegant variation on the subway tile, a 3″ x 12″ tile in polished ceramic spans a price range between $4 – $16 per square foot.
Penny tile

(From top) Alicia and Ed's bath floor tile; and Rachel and Michael's walk-in shower
Penny tile is a classic option that gives off major vintage vibes. It works as floor tile in Alicia and Ed's retro-inspired bath and transforms into a waterfall mosaic in Rachel and Michael's shower.
Cost for penny tile
This kind of bathroom tile can range from $2 per square foot for porcelain to $10 or more for colorful mosaics.
Basketweave tile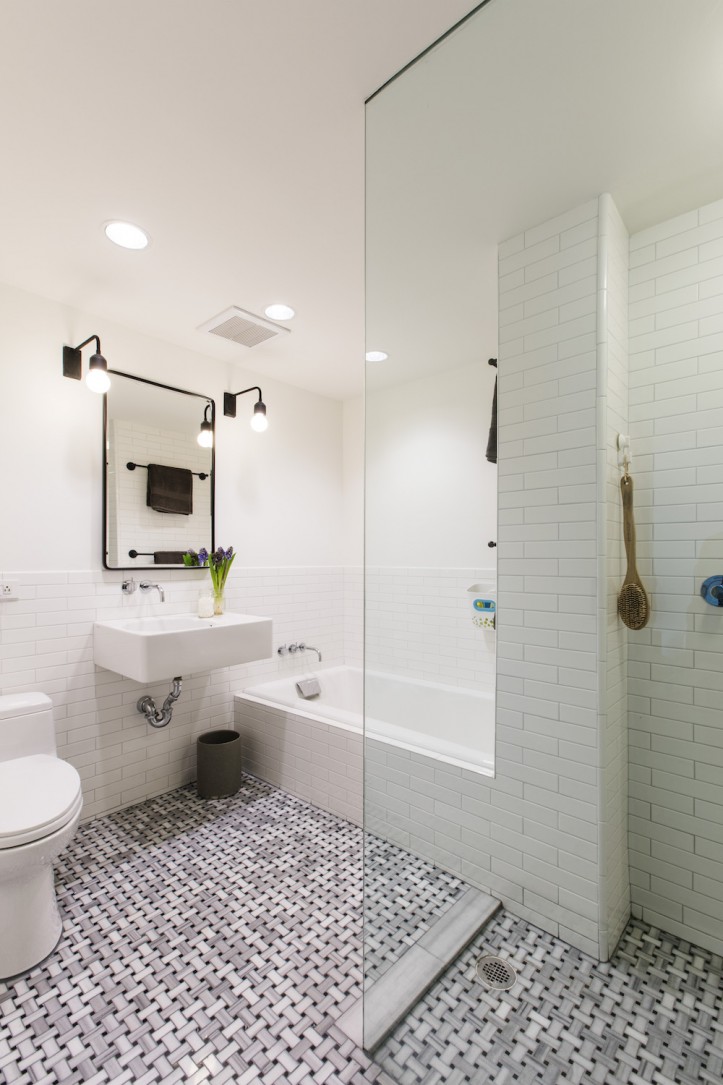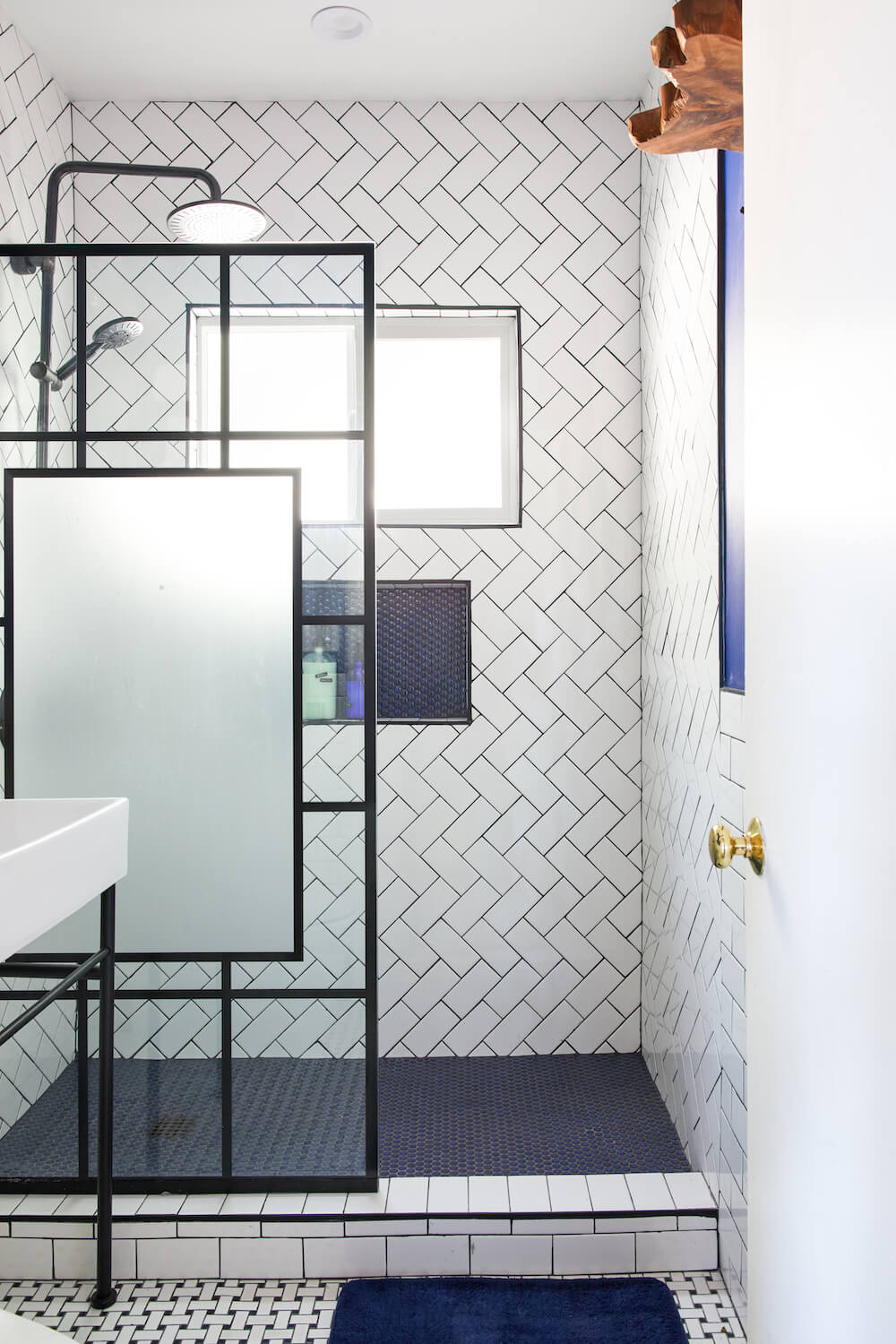 (From top) Tina and Fletcher's master bath; and Cory and Andrew's bath

Basketweave is truly old-school, but it's been making a steady comeback. It feels surprisingly modern as part of the minimalist design in Tina and Fletcher's master bathroom. A variety of tile patterns coexist in Cory and Andrew's bathroom. For the couple, the basketweave design complemented the penny tile and herringbone shapes. 
Cost for basketweave tile
Bathroom tile costs for lower-end options, like porcelain, cost around $4 per square foot. Expect high-quality marble to begin at $15 per square foot.
When you're ready to get started on your bathroom or home remodel, work with Sweeten to renovate with the best contractors.
Popular Questions Asked
What is subway tile?
Reminiscent of the tiles in New York City subway stations, subway tile is a glazed ceramic tile frequently used in kitchens and bathrooms. Laid in a horizontal pattern, subway tile makes a great backsplash near cooking areas or to enclose wet spaces like shower stalls.
How much is subway tile?
For standard ceramic subway tile, costs hover around $2 – $3 per square foot; whereas marble costs around $6 – $9 per square foot.
—
Sweeten handpicks the best general contractors to match each project's location, budget, and scope, helping until project completion. Follow the blog for renovation ideas and inspiration and when you're ready to renovate, start your renovation on Sweeten.