When Foodies Renovate, the Home Welcomes
Color and patterns find a home in the Clinton Hill Co-ops
When avid entertainers embark on an apartment renovation, it's sure to lead to greatness in the kitchen. That was the case in this 1940s Brooklyn co-op that Jessica, a brand strategist from London, and Jesse, a filmmaker and content producer from Queens, bought together soon after getting married. The couple planned to renovate the 1,000-square-foot, two-bedroom home, with their primary focus on increasing the functionality of the cooking space and storage in other rooms. They posted the project on Sweeten, a free service matching homeowners with vetted general contractors, and chose their contractor. Later, they hired the principals of Blumenthal Architecture and Interiors to lend their expertise. See how Jessica and Jesse created a dream home for themselves and their dog, Kevin.  
Guest blog post by Sweeten homeowner Jessica
Our story begins when we started looking for a home, and specifically a kitchen, we could love. We were living happily in Brooklyn in a one-bedroom rental, but after we got married, investing in an apartment for the long-term was our goal. We noticed that well-renovated places coming on the market were triggering bidding wars and started thinking about buying an apartment to redo. Being big foodies, we got excited to build a beautiful kitchen to cook in.
We came across a cluster of buildings called the Clinton Hill Co-ops and were attracted by the generous square footage of the apartments, which were built in the mid-20th century. When a two-bedroom needing updates became available, we snapped it up. 
We'd hired our Sweeten contractor, along with our team from Blumenthal Architecture and Interiors. We planned to open up the kitchen to the living room and add a peninsula where we could prepare food or just hang out. Plumbing would be relocated for a better cooking layout. However, a partition surrounding the existing refrigerator closed off the kitchen, disrupting flow. 
The solution: Demo the partition and move the fridge, thereby creating space for a six-foot peninsula. It was designed with full-length drawers for pans and dinnerware, built-in shelves at the end of the peninsula for cookbooks, and toe-level kick-drawers, which let us utilize every inch. It also has a wine fridge! We went for under-cabinet lighting and pull-out components: a pantry, spice rack, and garbage bin. 
It's no joke when your general contractor says everything must be in stock when purchased.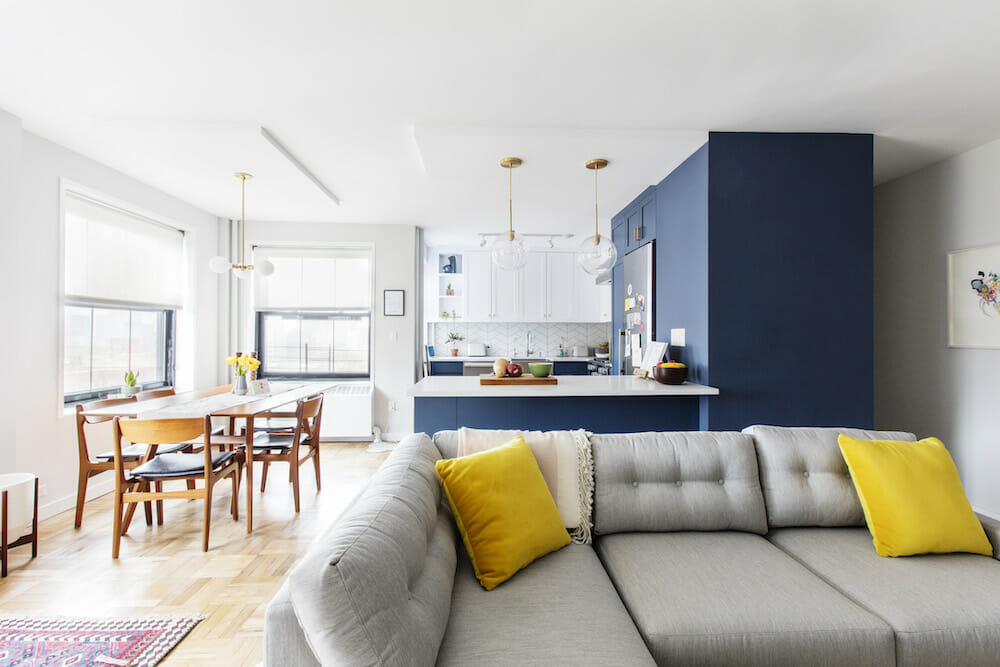 WATCH: Video with more ideas on creating an efficient kitchen

Stef Steen, a color specialist based in the UK, helped us make minimalist palettes with touches of strong color for soul. Our cabinets are custom, the uppers in white and lowers in dark royal blue. People say not to mix shaker and flat-front cabinets, but we liked the flat style for the drawers, where protruding pulls can be annoying. We're not disappointed. We settled on brushed brass cabinet hardware—after ordering three different styles. One of our favorite aspects of the kitchen is a graphic tile with dark grouting for the backsplash. 
Renovate to live, Sweeten to thrive!
Sweeten brings homeowners an exceptional renovation experience by personally matching trusted general contractors to your project, while offering expert guidance and support—at no cost to you.

Start your renovation
Stef made a booklet with Pantone numbers for matching paint, tile, and accessories. We pulled our kitchen colors to other rooms, adding accents in green and yellow. 
Even though we hadn't lived in the apartment yet, we thought hard about how we'd use every space. Their contractor took some square footage from the kitchen to widen the hallway making room for a long built-in bookshelf. For storage in both bedrooms, separate closets were merged together as a single built-in with full-height doors and shelving.
To reach optimal electrical aspirations, layouts and furniture placement were carefully planned for overhead lighting installations in the bedrooms and living rooms. Phone chargers were also built into kitchen drawers and outlets were tucked away for electric toothbrushes and hairdryers in the bathroom.
We rolled with the geometrics, doing graphic tile in the bathroom, too, and pairing it with less expensive, easier-to-clean porcelain. (It's no joke when your general contractor says everything must be in stock when purchased. After we were promised timely shipping on the bathroom wall tiles by a retailer, the day came and they weren't there; I spent a stressful morning trying to find something similar.) The tile contrasts nicely with the simple brass fixtures and wood vanity. 
With the expertise of our construction and design teams, our goals came together in a vibrant space. Our contractor met with us weekly—or more—to check on progress and we felt supported knowing we could turn to Sweeten if something went wrong. Jesse and I asked our contractor to copy us both on communications, which worked for us. 
Seeing our space transform and our vision come to life was so thrilling. We love our kitchen and take such pleasure in cooking and entertaining in it. 
Thank you, Jessica and Jesse, for sharing your new home with us!
LIVING SPACE RESOURCES: Paint in Pelican Grey: Benjamin Moore. Rugs: Nordic Knots. Sofa: Joybird. Window shades: The Shade Store.
KITCHEN RESOURCES: Frosty Carrina countertop: Caesarstone. Vertice backsplash tile: Ann Sacks. Cabinets: Custom by contractor. Cabinet paint in Kensington Blue and Super White: Benjamin Moore. Cabinet hardware, pendant lighting (over dining table): Schoolhouse. Dishwasher, stove, and hood: Miele. Refrigerator: Liebherr. Wine refrigerator: Wine Enthusiast. Sink: Signature Hardware. Faucet: Grohe. Pendant lights (over island): West Elm. 
BATHROOM RESOURCES: Floor, wall, and shower tile: Cancos. Casa Mila graphic shower wall tile: Ann Sacks. Vanity hardware: Schoolhouse. Shelves: Rejuvenation. Shower fixtures, toilet, and vanity mirror: Kohler. Vanity: Custom by contractor. Sconce: Cedar & Moss. 
MASTER BEDROOM RESOURCES: Sconces: Rejuvenation. Closet system: California Closets. Paint in Alaskan Husky: Benjamin Moore. Window shades: The Shade Store.
—
The contractor you choose needs to have the right credentials. Read why they should be licensed here.
Sweeten founder and CEO weighs in on what to know before renovating a brownstone.
Sweeten handpicks the best general contractors to match each project's location, budget, scope, and style. Follow the blog, Sweeten Stories, for renovation ideas and inspiration and when you're ready to renovate, start your renovation on Sweeten.