An NYC Rental Becomes Home, Sweet Home
A self-proclaimed millennial's first renovation in Midtown East
Sherry, a recent college graduate, was excited to make her family's rental property in Manhattan into her first home. Once she got a job offer in New York, she knew it was time to remodel the outdated space. The renovation process started with a lot of compromise between Sherry and her then-boyfriend, but over time, evolved into a project all her own. After posting her project to Sweeten, a free service matching renovators with vetted general contractors, she chose the one she felt would bring her ideas for each room to life. Here, the journey to the final design of her first major renovation.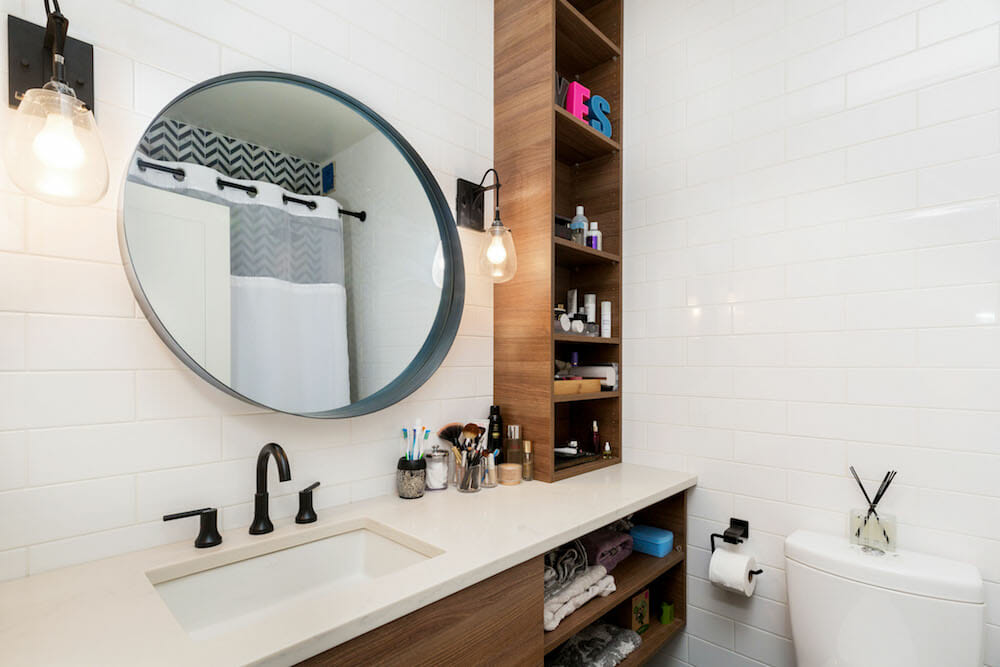 Guest post by homeowner Sherry in Manhattan's Midtown East 
My family purchased an apartment in Midtown East during the height of the 2008 financial crisis and immediately turned it into a rental property. While in Connecticut for college, I dreamt of moving to New York and making that apartment my first home. The property hadn't been renovated since being built in the '80s and felt outdated. And there were practical issues to consider, including extensive water damage on the hardwood floors from a tenant who had left the living room windows open for weeks. When I started a job in New York last year, it was time to make my dream into a reality and take the plunge on renovating the space.
Initially, I was planning on moving into the apartment with my now ex-boyfriend and we each had a lot of ideas for what needed to be addressed in the remodel. While I was mostly focused on making aesthetic and design improvements, he thought we needed to change the entire floor plan by moving walls and doorways around. As we were trying to find a compromise, we heard about Sweeten and decided some expertise and personal attention would be helpful in guiding us through the home renovation process.
We posted our project to Sweeten and were matched with several potential general contractors who could make the changes we wanted within budget. We met with one who spent hours discussing all of our renovation ideas and possibilities in detail. We liked his vision and readiness to tackle the challenges of our space and knew immediately that he was the right contractor for us.
As we honed in on the details of the remodel, my boyfriend and I spent countless hours debating choices about tile, paint colors, and finishes. I realized the project wasn't going how I had envisioned and about three months into the process, we broke up. I went back to the contractor and we agreed to scrap the original plan and completely redesigned everything in 48 hours. By the end of those two very stressful (but liberating!) days, we were ready to move forward.
Renovate to live, Sweeten to thrive!
Sweeten brings homeowners an exceptional renovation experience by personally matching trusted general contractors to your project, while offering expert guidance and support—at no cost to you.

Start your renovation
One of my first priorities was to update the flooring throughout the apartment. I knew I needed to address the water damage in the living room and also wasn't in love with the original floorboards, which were narrow and felt outdated. I wanted to update the space in a more modern and millennial style, which meant making design choices that had a sense of utility while also being simple, sleek, and refined. We installed beautiful, wide, oak floorboards that anchored the space in an elegant way and became the foundation for the rest of my design choices. There's a sense of an overall artistic feel leaning toward urban chic (simple, cool tones).
We needed to find ways to enlarge the living room and kitchen as much as possible. We decided to remove a closet near the front door to add space to the living area while slimming the walls around the kitchen to keep it as open as possible. The decor was kept simple with lots of neutral grays and blues, which helped create the illusion of more space.
The bathroom and bedroom, however, would have strong design statements. In the bathroom, there were two: a beautiful, circular mirror with a beveled, asymmetrical frame that I fell in love with instantly, and the chevron shower tile (that I was inspired to use after looking through past Sweeten projects!) I couldn't resist adding two gorgeous sconces next to the mirror and lots of built-in storage. My Sweeten contractor helped bring these ideas to life within my budget; I made my choices for the lighting, the mirror, and tiles within the contractor's app and signed off on each decision.
For the bedroom, I wanted to cultivate a more classic feel than what I had in the rest of the apartment. I chose to build the design around a Nepalese rug I owned, which had earthy tones and hints of red. The contractors customized my closet for me and painted one of the walls a soothing gray to complement the deep hue of my red velvet headboard.
Overall, my experience with Sweeten and my contractors could not have been more positive! Everyone involved was great about communicating challenges while still striving to make my dream a reality. Now that my cat, Zelda, and I have moved in, it's such a pleasure to get ready every day in front of my beautiful bathroom vanity and walk on my smooth, new, hardwood floors knowing that I hand-picked every element. Designing your space from top to bottom is something I would recommend to everyone—the sense of satisfaction and pride in your space is well worth all the work involved!
KITCHEN RESOURCES: Gallery Series 30″ gas cooktop, #FGGC3047Q: Frigidaire. Custom flat-panel kitchen cabinets in Meteor Gray: Miralis. Cabinet hardware in brushed nickel: Atlas Homeware. Gray Calcutta quartz countertops: MSI. Carrera chevron backsplash: Classic Tile. Cement floor tiles: Tulum. Trinsic pull-down kitchen faucet in Arctic stainless: Delta. Stainless steel sink: Vigo Industries. Whirlpool electric oven, #WOS51ES4ES: Best Buy. Liebherr refrigerator, #CS1640: AjMadison. Square ceiling light: WAC Lighting.
LIVING SPACE RESOURCES: Living room paint, Cloud Cover #OC-25; living room accent paint in Storm #AF-700; bedroom accent paint in Weimaraner #AF-155: Benjamin Moore.
BATHROOM RESOURCES: Matte black hexagon 8″ Spanish bathroom floor tile: Merola Tile. Bathroom wall tiles: Classic Tile. Shower rod: Allied Brass. Ara matte black toilet paper holder and towel bar: Delta. Shower fixture: Brizo. Custom flat-panel vanity: Miralis. Cotton Aquia two-piece toilet: Toto. Teardrop glass wall sconce: YLighting. Crescent 32.5″ round wall mirror: CB2.
—
Emily renovated a studio apartment that previously served as a rental property.
Sweeten handpicks the best general contractors to match each project's location, budget, and scope, helping until project completion. Follow the blog for renovation ideas and inspiration and when you're ready to renovate, start your renovation on Sweeten.