A Living Room and Closet Renovation in Brooklyn Heights
We're back in beautiful Brooklyn Heights to tour the rest of Hari and Kaity's gorgeous one-bedroom apartment. Last week, we showed off the couple's new kitchen and bath and now we're on to the creative ways in which they upped the glamour of their living and bedroom spaces and doubled (quadrupled?!) bedroom closet storage.
Hari and Kaity certainly did their homework when it came to collecting interior design inspiration and research. Perusing Pinterest and just about every architecturally-focused gallery out there, they pooled ideas and thought about renovations that had taken place in a neighboring apartment. They both loved the look of NYC's quintessential pre-war buildings but also wanted to leave some room for more modern finishes. While the couple's original Sweeten project post was mainly focused on upgrading their kitchen, their renovation evolved with the help of their Sweeten contractor and his team, as it began to make sense to take on work in other rooms while they were all at it.
Renovate to live, Sweeten to thrive!
Sweeten brings homeowners an exceptional renovation experience by personally matching trusted general contractors to your project, while offering expert guidance and support—at no cost to you.

Start your renovation
The apartment's floors had lost their luster, the living room was a blank slate, and the bedroom closet was clearly not cut out for a couple. Their contractor got to work, devising a plan to deliver smart upgrades in those high-impact places.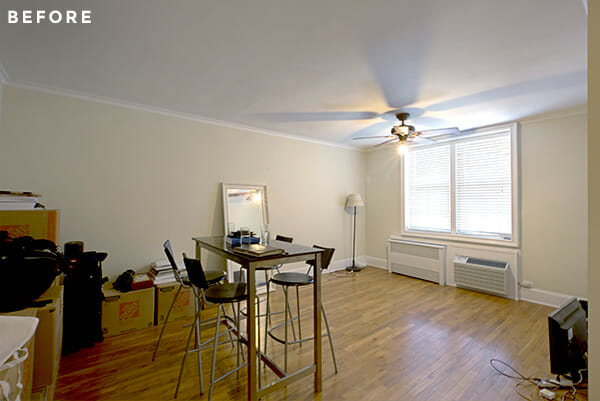 Jamal and his team sanded and stained the wood floors, bringing a rich depth and gleam to the wood planks that would serve as the basis for transformation in the living room and bedroom. Hari and Kaity initially pictured adding wainscot paneling to their living room and hallway, but after much debate decided it would be wasted once hidden behind furniture, so they opted for a series of decorative picture frame moldings instead. The simple addition was a low-cost and non-invasive way to give dimension to the boxy living room, and helps play up the shape of the apartment's lovely window. They also decided to do away with ceiling fans, adding a glamorous tiered West Elm chandelier. This before and after is a testament to how refinished flooring, fresh paint, and luminous lighting choices can be enough to completely change a home!
Next up, the bedroom and its limited closet space. Square footage in the bedroom left plenty of room for furniture, but the single closet was not a long-term option. Their Sweeten contractor set his sights on the bedroom's far wall, seeing just enough room to create closets out of thin air without cutting off access to the bedroom window.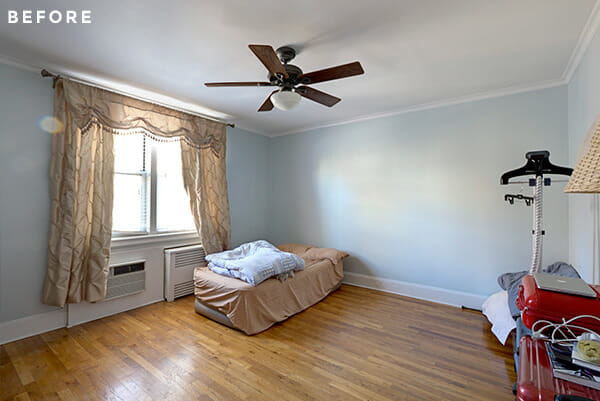 He built out two full-size closet structures, filled the interiors with Kaity's vision for custom shelving and storage, and finished the additions with detailed paneling on the new closet doors. Hari and Kaity replaced all of the silver lever door handles throughout the home with brushed black knobs—another simple upgrade with striking effect.
And what to do with the old bedroom closet? Because the original closet was so close to the bedroom's entryway, an open office nook was a smarter use of space. The sliding doors were removed and a cozy little studious retreat fell into place.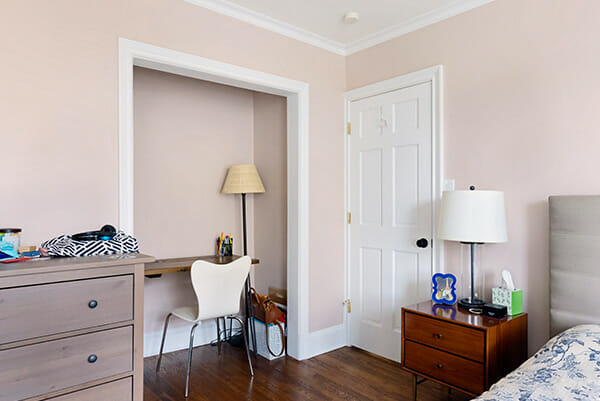 Living and bedroom selects >> lighting: West Elm / living room walls: Benjamin Moore in Huntington White / bedroom walls: Benjamin Moore in Gobi Desert / floor stain: Provincial Stain Semi-gloss
—
Sweeten handpicks the best general contractors to match each project's location, budget, scope, and style. Follow the blog for renovation ideas and inspiration and when you're ready to renovate, start your renovation on Sweeten.