My Sweeten Story: A Proper Dining Room Emerges for Entertaining
A family in Windsor Terrace Brooklyn calculates an extra room and bigger kitchen
Homeowners: Sheilaja and Sergio

posted their

renovation project

 on Sweeten
Where: Windsor Terrace, Brooklyn, New York
Primary renovation: Renewing a 1,100-square-foot co-op with a dedicated dining space

Homeowner's quote: "We feel lucky we were matched up with our contractor. He was honest and clear with us throughout the process in terms of what would and would not be possible and what the costs would be."
Sweeten's role: 

Sweeten

 matches home renovation projects with vetted general contractors, offering guidance, tools, and support—for free..
Written in partnership with Sweeten homeowner Sheilaja. "After" photos by Kate Glicksberg for Sweeten.
The magnetic pull of a quaint neighborhood
When my husband Sergio and I started our home search, we were living in a one-bedroom rental apartment on the Upper East Side, where he had lived for almost ten years. Motivated by a desire for more space for our daughter, Lara, we began to look for an apartment to buy. During our search, we kept returning to Windsor Terrace in Brooklyn. I had lived in the borough for many years and was keen on moving back. We were drawn to its small-town neighborhood vibe and proximity to Prospect Park.
kitchen-before-renovation
split-image-kitchen-before-reno
split-image-bathroom-before-reno
closets-before-renovation
We purchased an approximately 1,100-square-foot, two-bedroom, one-bath co-op in a lovely prewar building. From the beginning, we knew we wanted to renovate the kitchen and bathroom and create a dining room in the entry where we could gather friends and family for dinner since both of us enjoy cooking and hosting.
Shortly after closing, we looked to Sweeten to find a general contractor. After meeting with several, we decided on a general contractor. He was terrific and willing to work with both our budget and strict timeline for the project. The renovation was expected to take about 10 weeks.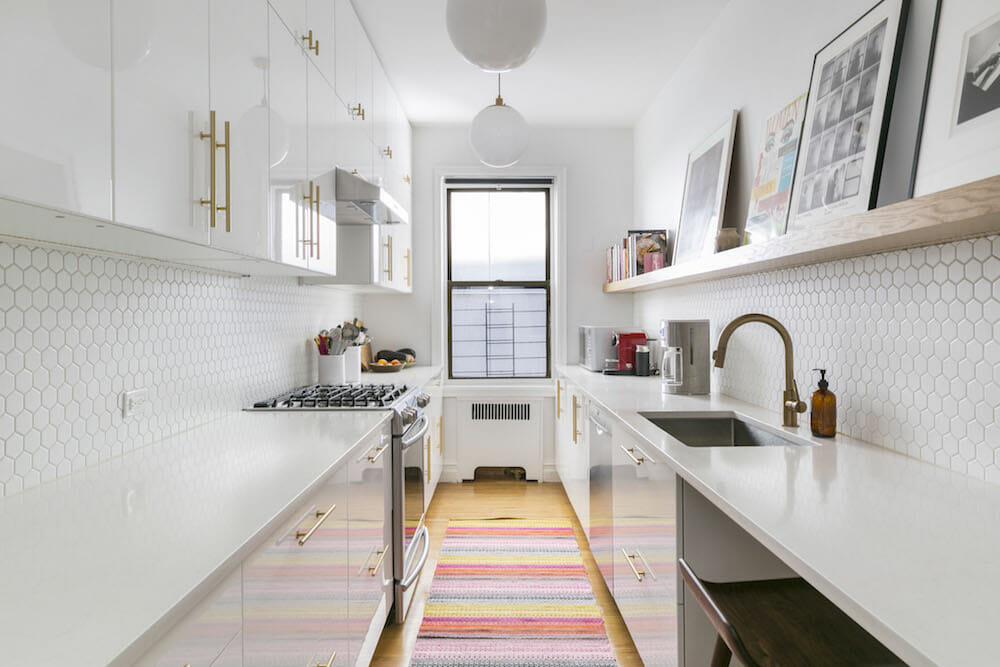 A galley kitchen that multitasks
The galley kitchen was, without a doubt, the biggest part of the renovation. There were upper and lower cabinets on both sides and an open space at the far end, which could accommodate a small table and chairs.
Since we were already planning for a dining area outside of the kitchen, we didn't need a table in the kitchen as well. We opted to have lower cabinets run the length of the room on both sides, giving us more storage and tons of counter space. Upper cabinets were installed on one side, while custom wood shelves ran along the length of the room on the opposite side, making the kitchen feel wider and more open. The wood provides a nice contrast to the all-white kitchen, as well as some open storage and a place to display artwork.
With our new larger kitchen, we've been cooking a lot more, including lamb tagine and homemade pasta. We're hoping to start making bread as well.
Renovate to live, Sweeten to thrive!
Sweeten brings homeowners an exceptional renovation experience by personally matching trusted general contractors to your project, while offering expert guidance and support—at no cost to you.
We selected glossy white cabinets to reflect more light. The Caesarstone counters are white with a light gray marbling and the backsplash tiles are a white matte hex. We decided to replace the linoleum tile floors with wood floors. Our Sweeten contractor did a great job matching the flooring design and color to match the wood floors in the rest of the apartment, which created a nice sense of continuity between the spaces.
And finally, we created a small bar area with stools, since we now had so much more countertop to work with. This has definitely become one of our favorite places to hang out in the apartment to read and have coffee in the morning while one of us cooks. Lara loves it too; sometimes she'll sit at the counter and draw and other times she'll want to help us prep some items for cooking.
A dining room emerges with space planning
"We created a small bar area with stools since we now had so much more countertop to work with."
Before the renovation, the foyer was a long, narrow area that we wanted to transform into a dining room. We removed two large closets in the entryway, which essentially doubled the size of that space. To compensate for the loss of storage in the foyer, we added additional storage in the kitchen. Now that we have a dedicated dining room that opens into the living area, we can display our artwork consisting primarily of portraits—a mix of photographs, paintings, and drawings.
In the master bedroom, we removed a wall of closets and cabinets that was added on at some point. We opted to replace it with a freestanding wardrobe instead.
Creating a black-and-white bathroom
The bathroom was fairly small in size, so our goal was to make it feel as open as possible. We installed a wall-mounted sink without a base and a slightly narrower toilet. Fortunately, there is a closet in the bathroom so storage was not an issue. Above the sink, we installed a large mirrored cabinet with LED lighting, which also helps make the room feel a bit bigger. We kept the color scheme a simple black and white with black fixtures.
As first-time renovators, we greatly appreciated how responsive our Sweeten contractor was to our calls and emails throughout the renovation. In the few instances where something needed to be adjusted or redone, he was willing to take the extra steps to make sure we were satisfied with the outcome.
Overall, we are really happy with the finished product. Our new space feels open and has a great flow. We were able to keep many of the original prewar details that attracted us to our Windsor Terrace apartment in Brooklyn. We absolutely love our new kitchen and bathroom. We feel lucky we were matched up with our contractor. He was honest and clear with us throughout the process in terms of what would and would not be possible and what the costs would be.
Renovation Materials
KITCHEN RESOURCES: Sektion cabinets in high gloss white: Ikea. Lew's Hardware brushed brass bottom cabinet pulls: Lowe's. Quartz countertops in Frosty Carrina, #5141: Caesarstone. Stainless steel 30" sink from the Standart PRO Series: Kraus. Delta Trinsic faucet in Champagne Bronze: Home Depot. KitchenAid counter-depth 36"-wide refrigerator, #KRFC302ESS: Appliances Connection. Samsung slide-in gas range, #NX58H9500WS/AA: Appliances Connection. GE under-the-cabinet 30″ hood, JVX5300SJSS: Appliances Connection. Large sculptural glass globe pendants: West Elm. Wainscot acacia wood bar stools: CB2.
BATHROOM RESOURCES: Hex matte porcelain mosaic bathroom floor tile, #615823: The Tile Shop. Ceramic wall-mounted sink: Appliances Connection. Godmorgan medicine cabinet: Ikea. Amba radiant electric towel warmer, #RSWH-P: Wayfair.
LIVING ROOM RESOURCES: Minka Aire Fans Light Wave ceiling fans: Lumens.
BEDROOM RESOURCES: Pax closet with Meraker doors in matte gray: Ikea. Minka Aire Fans Light Wave ceiling fans: Lumens.
DINING ROOM RESOURCES: Sputnik chandelier: West Elm.
A note on fixture and appliance deliveries: If you're on a tight timeline, Appliances Connection has over 50,000 items in stock and ready to ship nationally. If you're in the NY/NJ metro area, in-stock items typically deliver within 2-3 days.
–
Sweeten handpicks the best general contractors to match each project's location, budget, scope, and style. Follow the blog for renovation ideas and inspiration and when you're ready to renovate, start your renovation on Sweeten.