Why a Galley Kitchen Rules in Small Spaces
Get galley kitchen design inspiration for your own small cook space
Just because a kitchen is short on square footage, it doesn't mean it has to lack in function, organization, or style. The key to owning and making the most of the space is a layout that maximizes efficiency, like a galley. By definition, a galley kitchen consists of two parallel sides with a narrow passage in between. The best distance between the two walls is four to six feet to maximize efficiency and workflow—which is why a kitchen on the smaller side (less than 90 square feet) benefits from a galley kitchen layout. Check out these examples of Sweeten renovators' kitchens to see how this type of small-space layout can work for you.
A minimalist take on a galley kitchen
Ylia and André originally planned for a white kitchen with shaker cabinets and a subway tile backsplash. During the renovation, they began to find the look of Scandi minimalism appealing. They found kitchen cabinets in a smoked finish and wood flooring sourced from Sweden.
Smart design expands this tiny galley kitchen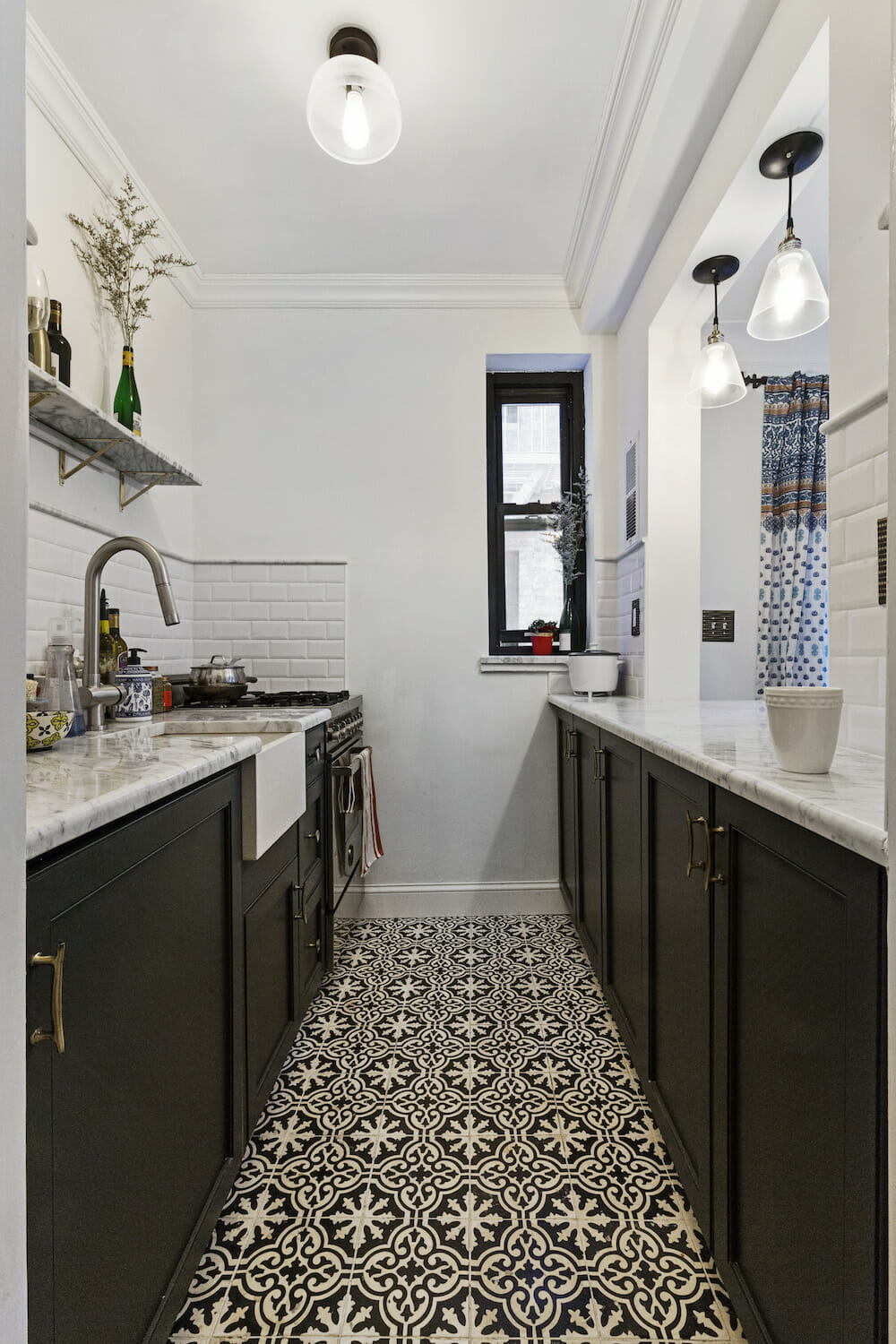 The six-foot-wide galley kitchen in Emily's prewar apartment was completely cut off from the living room. To open it up and make the layout more ideal for entertaining, her contractor created a pass-through window with an extended counter and two stools on the non-kitchen side.
A pass-through window brightens up a dark kitchen
Megan didn't want to change her galley kitchen floor plan or footprint, she just wanted to give the dark space a facelift. All new fixtures contributed to the lighter look, as did the extension of a pass-through window into the main living space. Her contractor knocked down the bar to countertop height and enlarged the opening which lets in all the light from the neighboring room.
Broadening a tiny galley kitchen by adding (and removing) walls
Rethinking the walls surrounding their kitchen gave Jill and Aaron the idea to open one side up and close off another. Closing off the doorway between the galley kitchen and dining room—and opening up the wall between the kitchen and living room—allowed them to create a much more open and functional space. The new layout feels extra roomy and is ideal for entertaining.
A focused wall of cabinets suits a narrow galley kitchen
To maximize Jenna's narrow galley kitchen, a run of upper and base cabinets sit along one wall, and face a flush refrigerator and uncluttered wall. Although she admits, "I'm in the process of creating a "bucket list" installation for the remaining wall, though I'm enjoying the space the empty wall creates." With only the width of a range to work in, this layout presents an efficient way to navigate this space.
Open shelves in a galley kitchen look stylishly neat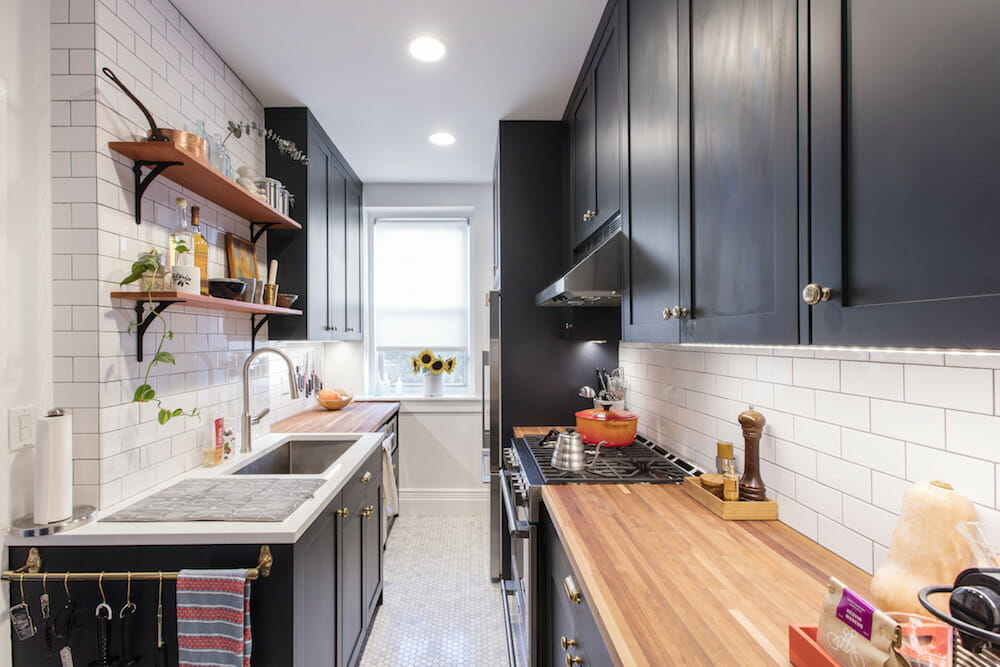 Open shelving takes the place of upper cabinets along half of the wall in Daniel's kitchen, eliminating the feeling of claustrophobia that plagued the old kitchen. Moving the fridge away from the entryway, where it had made entering the kitchen difficult, to a spot at the opposite end creates symmetry and makes it easier to move through the space.
Rearranging the dining area allows for added storage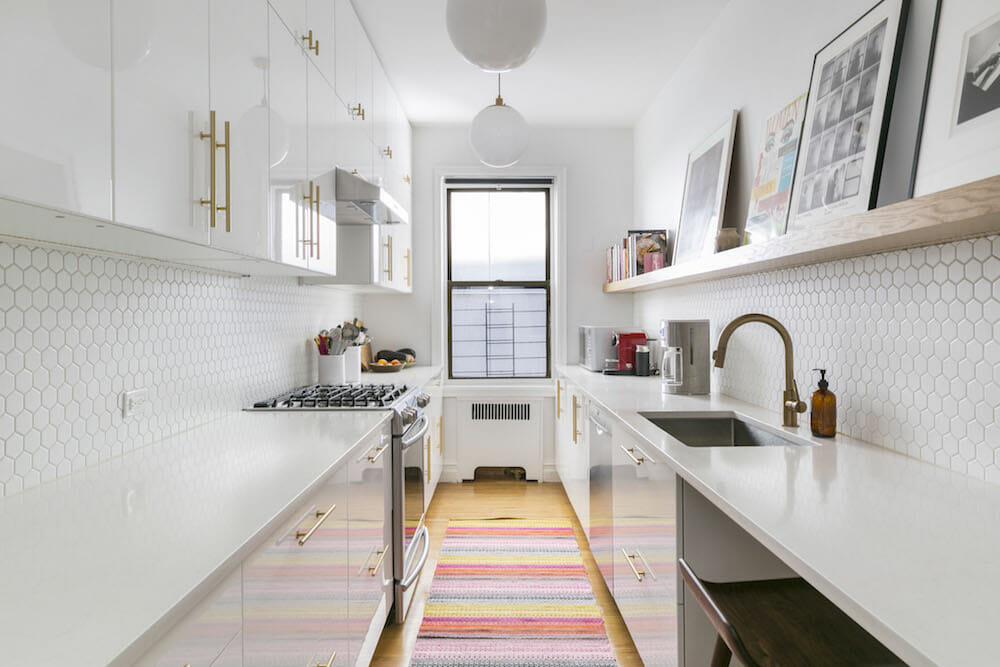 Sheilaja and Sergio's long galley kitchen had a dining space at the end that they no longer needed (thanks to moving it in the living and entryway area). They instead used that extra space to take advantage of the room's length and install lower cabinets all the way to the window wall. To make it feel even bigger, they opted for one long wood shelf opposite the wall of upper cabinets.
Narrow cabinets save on space while stowing belongings
Sandra and Michael overhauled their existing galley kitchen layout to add more cabinet and counter space. They chose narrow base cabinets (basically wall cabinets) to save the square footage without making it feel more cramped.
Removing a bulky fridge frees up valuable space
In Hari and Kaity's galley kitchen the refrigerator placement minimized counter space and the surrounding walls made the whole space tight. They relocated it to a spot a few feet outside of the kitchen walls. A cutout in the wall at the entrance also helped free up space. Pro tip: if you're unsure about taking down walls, moving your refrigerator can be an alternative to free up space while preserving the existing layout.
Switching appliances reshaped this galley kitchen
The stove and fridge in Kelly's galley kitchen were both tiny, but she wasn't sure if she could make room for full-sized versions. She moved the refrigerator to a spot outside of the galley enabling her to upgrade to the standard size for both appliances without sacrificing prep or cabinet space.
—
Preserve prep space by moving small appliances off the counter and out of sight with this smart storage trick.

Sweeten handpicks the best general contractors to match each project's location, budget, and scope, helping until project completion. Follow the blog, Sweeten Stories, for renovation ideas and inspiration and when you're ready to renovate, start your renovation on Sweeten.
What is a galley kitchen?
A galley kitchen consists of two parallel sides with a narrow, hallway-like passage in between. The ideal distance between the two walls is four to six feet, which helps to maximize efficiency and workflow. Homeowners with smaller kitchens–meaning less than 90 square feet–would benefit from a galley kitchen layout.
How to make a galley kitchen look bigger
There are several ways to make a galley kitchen's hallway-like appearance look bigger. First, using built-in refrigerators and dishwashers–which are only 24 inches deep–creates a seamless, flush line between appliances and cabinets. This eliminates protruding handles or edges. Second, choose your color palette wisely. Light-colored cabinets, like white, gray, and agave, make small spaces look bigger, as do glossy, reflective surfaces. Third, talk to a contractor about adding a pass-through window. These open up the space and allow for guests to mingle while the hosts prepare food. Lastly, look at the overall placement of your cabinets and appliances. Move bulky items, like fridges, away from the kitchen entrance as these can create visual barriers to the space and make it look smaller.