An Art-Filled Apartment Renovation 40 Years in the Making!
This Upper East Side apartment is now the perfect showcase for travel treasures and curated art collection
This week's dispatch comes from the interior designer of a New York City apartment re-do. Samantha was brought on to help modernize a client's apartment, and while she was up for leading the ambitious design needs, she needed help finding a general contractor who could execute beautifully on the plans. Her client had filled his home with art and travel finds over the course of four decades in the space, and what started as a "refresh" project evolved into a total apartment renovation to create a light and bright canvas for treasured pieces and cherished friends. 

Guest post by Samantha Stein, Interior Designer
The stars aligned when a good friend put me in touch with a potential client I'd known for years. Ron, the homeowner, had been living in the same Upper East Side post-war apartment for 40 years (!) and was ready for some interior changes to freshen it up. We met to discuss priorities and a design vision, and then turned to Sweeten for help choosing a contractor for the project.
We were able to use Sweeten's network to narrow our contractor choice down to one firm, which was experienced and great to work with. They had a reasonable price for our initial wish list, and after we began working with them, we grew more comfortable expanding into more custom solutions and additional scope, for what would ultimately become a full gut renovation.
Initially, the theme of the renovation was a relatively minimal 'refresh' – new paint, strip and refinish floors, clean-up details such as the custom five inches of crown molding in the living room, add custom millwork covers for the old and dilapidated radiator units, and complete a full renovation of the very outdated kitchen.
Ron, the client, wavered back and forth about updating his traditional apartment into a more modern space with an open-concept living and kitchen area. Ultimately, however, his classical taste and the way he uses the apartment in his daily life led us to leaving an enclosed kitchen, but updating its finishes and changing a few details to make the whole living area feel larger and flow more seamlessly.
We removed both doors to the kitchen in favor of open entryways, demolished the two china cabinets that were edging into the dining space, and intended to continue the existing parquet into the kitchen. But, the more we discussed matching the existing parquet in rooms that had either outdated carpeting or badly damaged linoleum, the trickier it seemed it would be to get the clean, flowing feeling that Ron was looking for. After weighing costs and options with George's team, we decided that going with a wide-plank engineered wood throughout the entire apartment (with the direction of the planks leading your eye out to the living room windows) was the right solution for a cohesive, flowing apartment. Ripping out the parquet allowed us to fully level and soundproof the subfloor, as well as fully waterproof the kitchen area. Great sighs of relief went up all around when the 40+ year old parquet and carpeting pieces were hauled out, and the textured wood floors (supplied by Glen Floors) look fantastic.
Renovate to live, Sweeten to thrive!
Sweeten brings homeowners an exceptional renovation experience by personally matching trusted general contractors to your project, while offering expert guidance and support—at no cost to you.

Start your renovation
Ron has a fabulous lifelong collection of china, music, and incredible books on art, music, and travel that were hiding around the apartment. So, one of the top priorities for the renovation was storage. Curating a selected display of these items felt to me the best way to celebrate his travels and life experiences – they should be an integral part of the apartment without looking kitschy or messy. I had originally proposed a huge built-in wall of custom shelving and cabinetry, but pricey bids from other contractors made us step back. Once we started with George's team, however, we felt confident we could bring back this concept to make up for the lost kitchen/dining storage.
We drew inspiration from several interiors that featured shelving surrounding a 'nook' for the sofa, and Michael and Dennis were able to help us flawlessly execute this vision with a stunning custom piece. The weight of the real wood doors, soft-close hinges, adjustable shelving, and hardware we selected from Nassau Suffolk Hardware make it all fit in perfectly—it's hard to believe it wasn't there before. We added two brass sconces from Ralph Lauren Home to softly light the sofa area at night.
The kitchen was where the majority of the hard work happened. Our expert team was able to match my every demand. We re-centered the sink on the windows, removed a dropped ceiling section just above the windows, and gained upper cabinets by replacing the double wall ovens with a more conventional range. We saved a ton on appliances with some lucky timing with a big sale at Thermador, and chose a refrigerator, gas range, recirculating hood, and dishwasher from their Professional Series line.
The custom cabinets, again made from real wood, fit perfectly and are of incredible quality. We ordered the Kohler sink from Wayfair and the Rohl faucet from Nassau Suffolk Hardware. Our experts helped us choose Caesarstone quartz countertops instead of a pricier granite or marble, and we are impressed with their quality. Under-cabinet lighting and a few LEDs above the sink, in addition to the overhead fixture, make for lots of different ways to light the kitchen at night. The kitchen alone makes the entire apartment feel new and fresh, and its traditional accents (crown molding and the custom bevel on the countertops) keep it in the same design family as the rest of the apartment.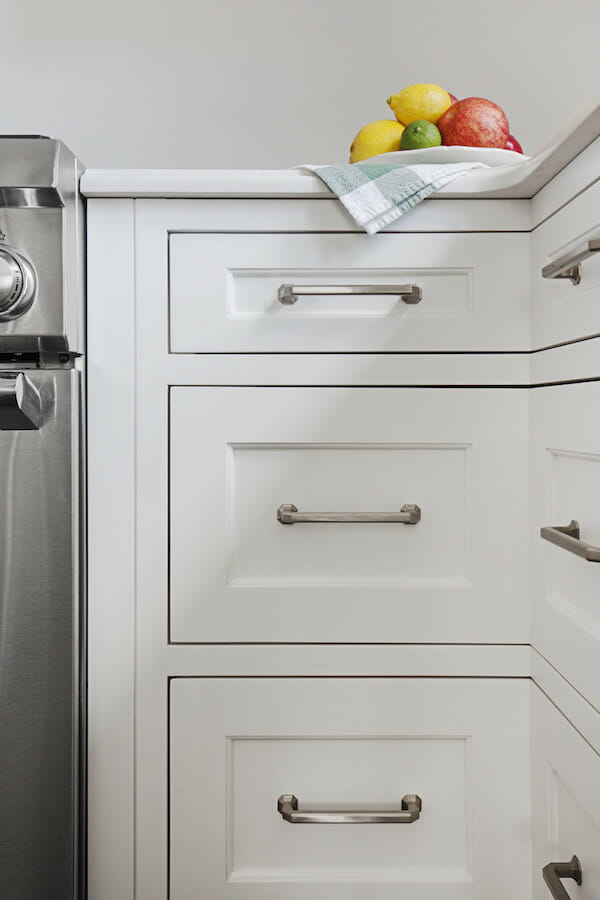 In the bedroom and living room, we carefully selected vintage rugs to soften the newly wood-clad floors. Custom millwork radiator covers with picture-frame molding and Caesarstone tops replaced falling-apart metal enclosures for the A/C and heaters under the windows. Each has a powder-coated metal grill inset into the top and they act as gorgeous shelves to display a few more curios. These new units alone make the apartment look so much better!
Michael and Dennis also helped us outfit each of the seven closets in the apartment with custom shelving, so that we could reorganize all of Ron's belongings to make more sense for his daily use.
We were so happy with their work that toward the end of the project, we even decided to hit on a long term wish list item for Ron: a deep-soaking tub in the master bath, and brand new shower and sink hardware (all from Rohl through Gracious Homes) in both bathrooms!
In the end, the full renovation took a lot of hard work, energy, and time. Ron loves showing off his new space and everyone is thrilled with the results. We're grateful to the team at Sweeten for matching us with George and his crew, who were dependable and creative. They were flexible enough to work with us to incorporate lots of changes on the fly, and helped make our initial fantasy vision into a tangible reality.
Living Room selects >> wide-plank engineered wood floors: Glen Floors / adjustable shelving and hardware: Nassau Suffolk Hardware / brass sconces: Ralph Lauren Home / built-ins: custom
Kitchen selects >> cabinets: custom / fridge, gas range, hood, and dishwasher: Thermador Professional Series / sink: Kohler / faucet: Rohl / countertop: Caesarstone quartz
Bathroom selects >> Bathtub, shower fixtures, and sink hardware: Rohl
—
Sweeten handpicks the best general contractors to match each project's location, budget, scope, and style. Follow the blog for renovation ideas and inspiration and when you're ready to renovate, start your renovation on Sweeten.