An Eclectic Bath Is a Mix of Mid-Century and Global Style
Wait until you see the intricate tile floor
Homeowner: Allyson, an attorney, posted her bathroom remodel on Sweeten
Where:

East Flatbush, Brooklyn

Primary renovation:

 

Remodeling the bathroom in a

1920s home

to fit a more creative and modern aesthetic
Written in partnership with homeowner Allyson
Starting with the bathroom
Allyson purchased her East Flatbush, Brooklyn home with the intent to renovate and make it her own. Over the years, she collected goods and artwork from around the world. Her first home would showcase those finds and express her creativity. Allyson posted her renovation project to Sweeten, for a full bathroom makeover and hired her general contractor.
An electrical inspection revealed a full electrical update was required. According to the electrician, stereo wire had been used to establish connections. Therefore, it was a matter of when, not if, the house would catch fire. Her scope had just expanded.
Personalize and modernize a dated bathroom
Allyson had a very clear vision for the space. "I wanted my bathroom to combine and reflect my love of vintage, mid-century modern, Afrocentrism, brass, and natural wood elements," she shared. A separate shower and bathtub were also important. The 1950s wall hamper was removed and a closet in the adjacent bedroom was claimed to build the shower. P.S. That bedroom turned into a full walk-in closet!
Every element, from the flooring to the vanity, was a result of Allyson's pursuit to personalize the space. She and her contractor worked together to ensure the materials she found were the right size and configuration. "I took on the part of figuring out what I wanted. He would instruct what mechanisms it'd need to fit," she said. Her contractor turned a vintage credenza Allyson found online into a vanity. She installed brass sinks that were sourced from Australia.
Renovate to live, Sweeten to thrive!
Sweeten brings homeowners an exceptional renovation experience by personally matching trusted general contractors to your project, while offering expert guidance and support—at no cost to you.

Start your renovation
Using geometric spaces and salvaged materials
The bathroom floor, a mix of marble tile and brass rod inlays, required laying it out in a separate room and individually cutting the brass pieces. "I knew I wanted a look that was geometric, unusual, and somewhat imperfect," Allyson said. The "new" door, an 1800s brownstone pocket door from Big Reuse, a nonprofit for salvaged and surplus building materials, became Allyson's personal undertaking and definitely earned her some sweat equity. After at least two months of stripping and sanding to remove seemingly endless layers of paint and varnish, she decided to leave it to the professionals. "I could not be happier with having that vintage element added to my bathroom," she said. Overall the scheme is a mix of cool and warm tones, with brass making an appearance in the shower and bathtub fixtures, as well as the lighting. The shower tiles, a rich aqua, have a windblown texture—the idea behind them was to make you feel like you're surrounded by water.
The biggest and most time-consuming part of the renovation was sourcing all the materials. Allyson hit all the stops: Etsy, Instagram, Anthropologie, and international sites to find ideas. The process even inspired her to start a business called Cultivate Self, where she'll curate items inspired by global design and travel, and share her tips for cultivating a home.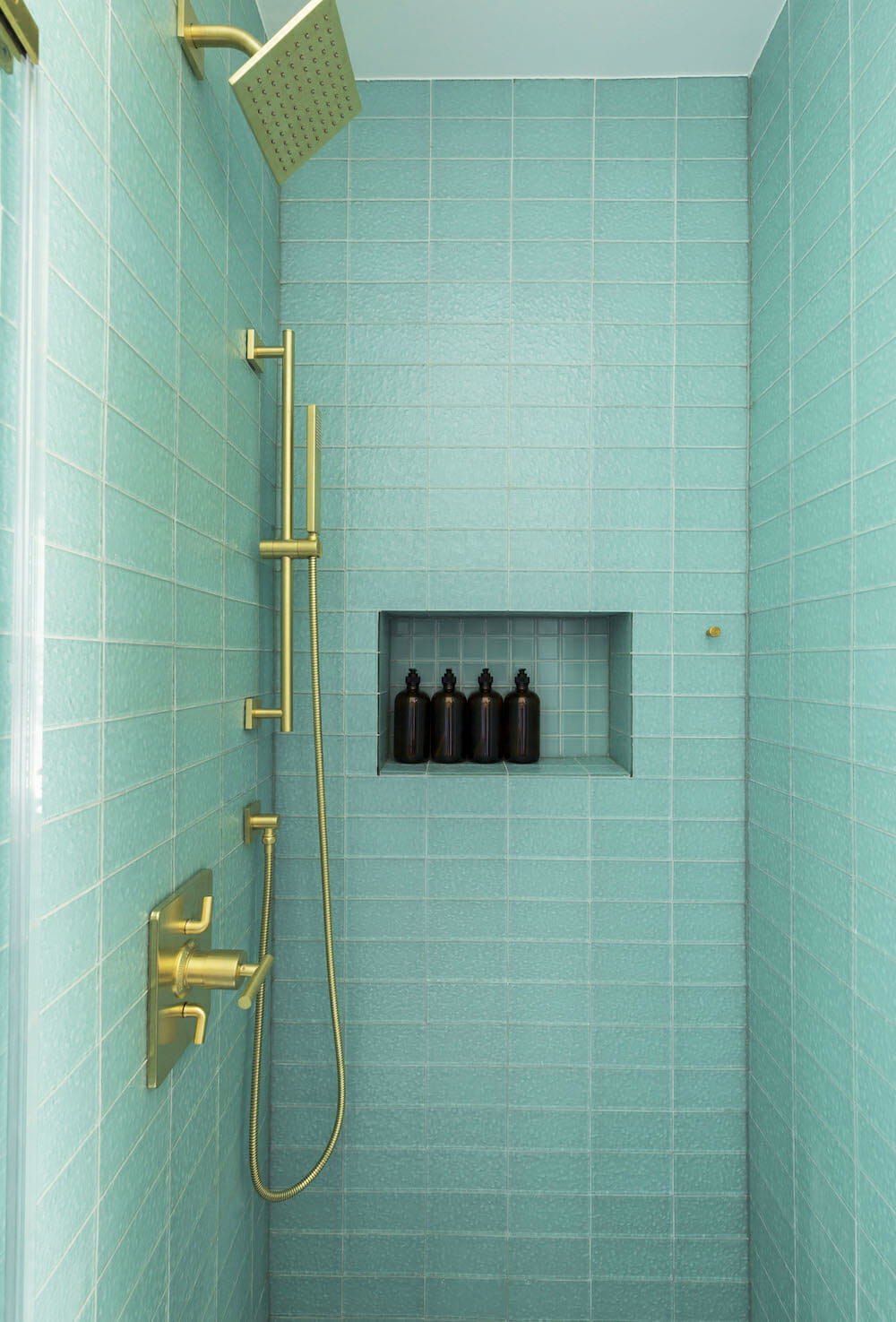 Having a flexible general contractor
Throughout the entire process, Allyson's contractor helped to achieve her vision. "My contractor was patient and never dismissed my ideas as ridiculous or impossible.  If something wasn't how I liked it, he made sure that it was corrected. Because a lot of the items I wanted to use came from outside of the country, he worked around my undependable delivery schedule.  He took a potentially stressful situation and provided steady guidance and expertise," Allyson said. "I truly appreciate their amazing work and help in making this renovation happen. I really feel like my bathroom reflects my creative vision and I love every inch of it."
While she's still very much in the weeds of the rest of her renovation, the homeowner and first-time renovator has advice to share. "Don't be afraid to take risks. I read that if you're not doing something in your renovation that scares you, you're not doing it right."
Bonus: The brass inlay and marble floor was inspired by a backsplash Allyson saw on Instagram.
Renovation materials
BATHROOM RESOURCES: Thassos 1×1 white marble tile, Thassos white Greek marbled honed subway tile: Houzz. Brass rod inlays, #MTL-03-BR: Inlay Product World laid by contractor to create custom flooring pattern. Wall tile in Glassio Lumiere 3×6 Angel Feather crackle subway tile; California Faucets shower fixtures (handshower #9128S, shower head #SH-177-6, arm flange #9132C, flange #9103)  in satin brass; California Faucets wall-mount faucet, #TO-V6602-7; California Faucets wall mount tub spout, #TS-65: Decor Planet. Brass basin sink, #10284 and bathtub handshower: JustinPlace. Shower wall tile in Glasstints dune textured glass in Aqua and shower floor and niche in Glasstints corundum texture glass tile in Aqua Beryl: Interstyle. Broyhill credenza converted into vanity by Sweeten contractor. Reclaimed 1800s pocket door and vintage wood (for floating shelves): Big Reuse. Emtek mid-century pocket door lock; Maykee barnet oval bathtub: Amazon. Perch round mirror with shelf: CB2. Double bare bulb wall sconce and mini helix flush mount light in brass; wall brackets for floating shelves in brass, towel rack, toilet paper holder, and wall hook: Pepe & Carols. Kohler Persuade dual-flush toilet, #K-3815-0: Home Depot.
—
This is how much it costs to renovate a bathroom in New York City.
Sweeten handpicks the best general contractors to match each project's location, budget, scope, and style. Follow the blog, Sweeten Stories, for renovation ideas and inspiration and when you're ready to renovate, start your renovation on Sweeten.