Celeste's Sweetened Park Slope Bathroom – Homeowner Guest Post
This week, we have a full bathroom renovation guest report in from Celeste G., a condo owner and marketing, brand building, and copywriting triple threat in Park Slope. Read on down for Celeste's debrief on her Brooklyn bathroom before and after!
Homeowner guest post by Celeste G., Park Slope homeowner
I purchased my one bedroom condo in Park Slope in 2008. It was new construction, which was great because I am the exact opposite of handy or DIY. The "design" of the apartment was standard for new construction buildings at the time: bamboo floors, limestone tile, and dark cherry cabinetry. I lived in the apartment for a few years before considering any cosmetic changes and around year three, I noticed that the limestone tiles in my bathroom had darkened in some spots. In fact, the tile had never been sealed and as I learned the hard way, limestone is extremely porous. Several failed cleaning experiments later, I had nearly ruined the color and texture of a small patch near the sink vanity. As a clean enthusiast, the sight of the floor drove me bananas, but I wasn't ready to take on what felt like an overwhelming renovation.
Instead, I decided to replace all the bamboo floors in my apartment (why start small when practically moving out of your home is an option?!). Luckily this foray into renovation was successful and the change in flooring literally changed the entire look and feel of the whole place. I felt confident tackling my tiny bathroom.
I did some research on what I might spend (why are toilets so expensive???) and asked my friends for contractor recommendations. My building required contractors with a certain amount of insurance, so I started looking beyond friend recommendations and luckily landed on Sweeten. I posted my project and was matched with three contractors including Sweeten Experts Paulina and Albert. All I knew for sure was that I liked the idea of a gray/black/white graphical floor, and I definitely needed more storage space because clutter makes my eyes swim — during our first meeting, I felt that Paulina understood the general aesthetic I was interested in and suggested a number of possibilities to open up the small-ish space. I sent her a few pictures from Pinterest and she developed 3D models based on my bathroom's measurements. For someone spatially challenged, the modeling was enormously helpful. I could see the transformation and make adjustments before touching a thing. For example, we initially thought gold hardware would elevate the bathroom's overall look but once I saw it in the model, I opted to go with chrome instead.
Once we were decided on the 3D model, Paulina sourced floor and wall samples and sent me a photo of the type of wood planned for a custom vanity. I presented a lot of options to her and relied on her expertise for guidance. For example, a friend of mine replaced her bathroom sinks with Corian surfaces and I really liked the seamlessness of it. I shared a photo with Paulina and she designed the sink and vanity with a beautiful, white Corian top, complete with side cutouts to add some dimension and visual interest. Honestly, I was unsure about the cutouts initially but after seeing it in the 3D model, I decided to give it a whirl.
Renovate to live, Sweeten to thrive!
Sweeten brings homeowners an exceptional renovation experience by personally matching trusted general contractors to your project, while offering expert guidance and support—at no cost to you.

Start your renovation
The main challenge with this bathroom was the lack of storage space. I asked Paulina for a deep medicine cabinet along with a good amount of storage space in the vanity. I got my wish in spades. As we were discussing options, I pointed out that there was no place for a trash bin. Paulina worked it into the design of the vanity so not only do I have space for a small trash bin, it's also completely hidden from view.
The original inspiration for the renovation was again, the floor. I fell in love with a cement tile in a M.C. Escher-like pattern. Paulina ordered samples for us to review but expressed some second thoughts about the durability and appearance of that tile. Maybe two or three days later, she emailed me to say that she was concerned about this particular pick and suggested I look at some marble tile with a similar pattern at a showroom nearby. I'm so glad I took her up on it. The marble option, from Walker Zanger (in Facet Ash), was not only more in line with the aesthetic I wanted but also less expensive and more durable. I kept my original tub and Kohler toilet, and framed the room in a new beveled, white subway tile. I kept the walls white and Paulina's team installed a Minka-Lavery Downtown Edison lighting fixture.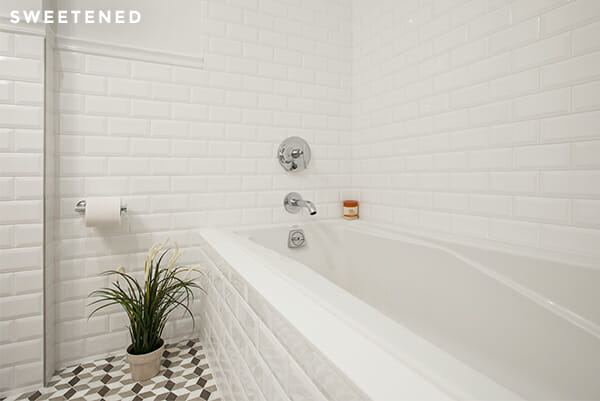 The two weeks of actual renovation are a blur to me now. They seemed to go by very quickly and yet take forever. I was close enough to check on progress every day and Paulina's team really did work fast. The transformation was fun to watch, even though I admittedly had a few panicked moments and doubts about the chair rail tile (why do I even know what this is?) and the vanity. I remember one email I sent Paulina after the vanity was installed. I spent maybe 10-15 minutes in the bathroom while it was still under construction trying to get the drawers to the vanity open, and then emailed to ask if the drawers would be easier to open when the bathroom was finished. It didn't occur to me that the pulls hadn't been installed yet. Thankfully, Paulina has a good sense of humor…!
A few months later and I still love my new bathroom. When I think back to that stained limestone tile and cherry wood vanity, I can't believe it took me seven years to switch it up.
—
Thank you, Celeste, for this most insightful look into your bathroom renovation! We love that iconic tile and are so happy to have made the introduction to your expert design and build team.
Selects >> floor tile: marble Walker Zanger in "Facet Ash" / toilet: Appliances Connection / countertop: white Corian /  lighting fixture: Minka-Lavery
Sweeten handpicks contractors to match each project's location, budget, scope, and style. Follow the blog for renovation ideas and inspiration and when you're ready to renovate, start your project on Sweeten.