A Grimy Bathroom Cleans Up Nicely
A soothing white palette leads the way in this refresh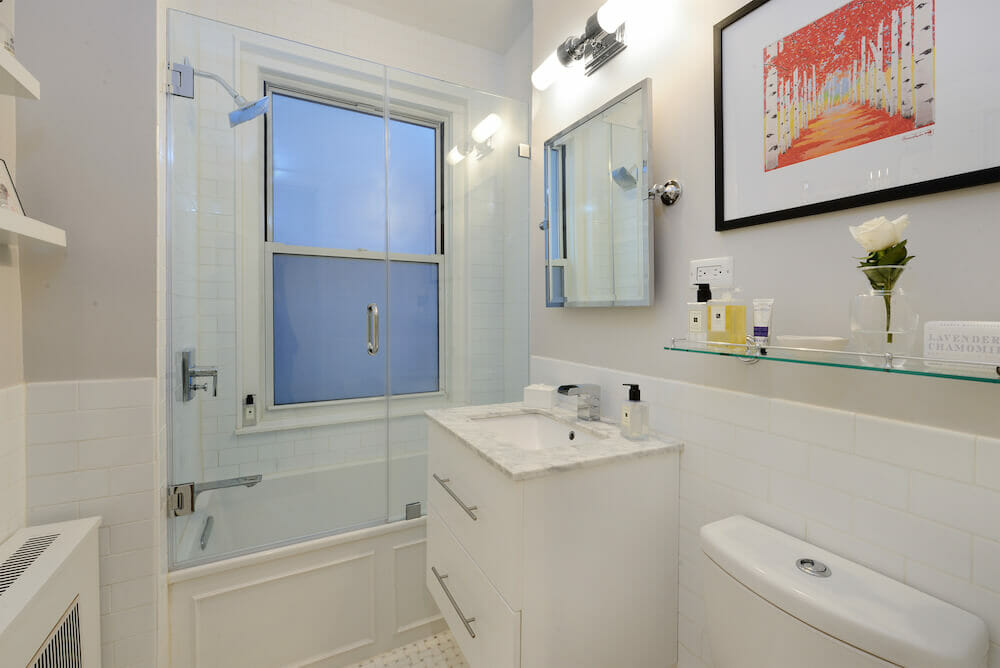 Project: A rip-and-replace bathroom in Yorkville, Manhattan
Before: Deborah purchased this 1-bed, 1-bath co-op apartment and within a year, she could no longer live with the old, grimy tiles and outdated look, so she turned to Sweeten. Her Sweeten design-build firm went to work freshening up the space (she redid her kitchen as well; see results here). The goal was to modernize the small space with new fixtures and finishes while retaining the original footprint. "I wasn't allowed to expand the existing footprint," says Deborah, "because my co-op wouldn't allow a 'wet space-over-dry-space' rule."
When they went to demo the bathroom, the contractor discovered that the waste lines were all sunk into the floor, rather than the walls, where they are usually found. They had to redo them all, which added an additional week to the project for inspections and approvals and an extra cost.
After: A calm color palette provides a serene spot to get ready for the day. White subway tile and a subtle gray paint on the walls are paired with a modern white floating vanity with custom pull-out drawers, which provides more accessible and usable space than traditional doors. The vanity, with ample storage, was a suggestion by her contractor and "meant I didn't need a bulky medicine cabinet," said Deborah.
A metal grille cover was created for the radiator. A combination of white-plank open shelving and a glass shelf above the toilet provide plenty of display space for small toiletries. The Sweeten contractor also came up with the idea to add the paneling on the side of the bathtub for a classic look, as well as framing the window in white Thassos marble molding. Topped off with a frameless shower enclosure, the space is functional and beautiful, a major improvement from its predecessor. "My contractor was excellent with design," she said. "I am thrilled with my new bathroom."
Bonus: Everyone loves a window in the bathroom, and the Sweeten contractor was sure to frame this one with a waterproof application that would keep the space watertight for years to come.
Style finds: White Thassos Mosaic floor tile and Abecks ceramic wall tile: Complete Tile. Brushed nickel shower fixtures and sink: Appliances Connection. Faucet: Signature Hardware. White floating vanity: Plain and Fancy. Toilet: Appliances Connection.
See Deborah's full kitchen transformation here!
—
Mary Ann and Frank designed a calmer, less cluttered space for their master bath.
Refer your renovating friends to Sweeten and you'll both receive a $250 Visa gift card when they sign a contract with a Sweeten general contractor.
Sweeten handpicks the best general contractors to match each project's location, budget, and scope, helping until project completion. Follow the blog for renovation ideas and inspiration and when you're ready to renovate, start your renovation on Sweeten.